Everyone knows that aging increases one's risk of bone loss and fractures. This is especially true for menopausal women who account for
two out three
cases of osteoporosis. While genetics can play a large role in the slow decline of bone mass with age,
dietary habits
can also have a strong effect on bone mineral density (BMD).
This is where dietary supplements come in handy as they increase the amount of bone-building nutrients in our diet. Although scientists are still uncertain regarding the efficiency of these supplements, there is sufficient amount of evidence that these supplements can help keep our bones strong and healthy.
If you searching for bone supplements that will reduce your risk of osteoporosis and bone fractures, keep reading to find out more about bone supplements and take a look at some of our favorite top rated products.
Top Bone Supplements of 2019 Revealed
With each new year, new discoveries regarding bone health are made available to the wider public. Some of the best dietary supplement manufacturers keep up with these discoveries by improving their products that are made according to the latest scientific research. Some of the up-to-date products for bone health are listed here.
Bonexcin – Natural Bone Support Supplement
Learn More
Bonexcin is a natural bone health supplement produced by Vitaloix Labs in an FDA-approved facility. The product was specifically designed for menopausal women experiencing hormonal-related bone loss. The product is supposed to reverse bone loss, stimulate new bone cell production and lead to improved bone mass, and strengthen overall bone structure and functionality.
The main ingredients in Bonexcin are calcium and magnesium to help build new bone and prevent excessive bone resorption. Other ingredients that work in synergy with the main ingredients are vitamin K, zinc oxide, green tea extract, boron, copper, phosphorous, and magnesium. The product is 100% guaranteed and comes with a 60-day trial which is pretty convenient. The only downside is that you need to take three tablets two times daily which may seem like too much for a dietary supplement.
This product can be easily purchased via its official product website. The official website for this product is quite professional. It provides detailed information about the product.
The people who purchased this supplement have left out positive reviews, which is an indication of the quality of this product. The price of this product is on a cheaper side despite being a quality calcium supplement.
This product can be purchased for $29.95 per 180 tablets. The customers who purchase this supplement at a higher volume receive discounts.
Read more about this product here.
Caltrate – Calcium and Vitamin D Supplement
Learn More
As the name suggest, Caltrate is a range of products whose main active ingredient is calcium. The products also contain vitamin D to aid in better calcium absorption and additional ingredients such as magnesium, copper, boron, and others.
Due to the availability of vitamin D, it makes the product suitable for people having a problem with the absorption of calcium.
It also aims to help those who want to prevent or are suffering from osteoporosis. On the Caltrate website, you can choose product type to your liking. You have chewables, mini tablets, and gummy bites for everyone's liking.
There is detailed information regarding various subjects, such as an importance of vitamin D, osteoporosis, and other frequently asked questions. In addition to offering the variety of products to its users, this product has also been able to satisfy its customers.
The customers who have used this product have experienced positive effects on their body. There are several testimonies found on the website.
The products are also budget-friendly at a price range of $8.46 to $21.99 for a 200 tablet bottle. The downside to this product is that it is not sold on the official website but on third-party websites like Amazon. Read more about this product here.
Skelacore – Bone Health Formula
Learn More
Just like the previous two products, Skelacore also aims to improve bone density with the help of natural and essential ingredients. The ingredients in Skelacore are Calcium, Magnesium, and Zinc. The product manufacturers claim that the quality of these ingredients, as well as their precise concentration, is what sets this product out from other similar supplements which might explain the higher price range ($39,99 for one bottle).
However, the company provides a 60-day money back guarantee, which is a sign of a confidence of the manufacturer of this product.
The product is meant for anyone wanting to improve their bone health such as menopausal women, vegans, highly active individuals, and others. The regular consumption of this supplement can help in preventing the damage caused by bone fragility.
A large no. of vitamins and minerals contained in this supplement target bone mass. There are multiple helpful ingredients that are chosen by the manufacturer for stimulating new bone cell growth.
The claims made by the manufacturer seem to be quite true, as there are plenty of positive reviews found on the site.
Unfortunately, the manufacturers haven't offered much information regarding their product and research behind the ingredients on their website. However, the positive reviews found on the site can be regarded as a proof of its effectiveness. Read more about this product here.
Alive Calcium – Strong Bone Formula
Learn More
This calcium supplement is manufactured by the manufacturer that is reputed and it has a very solid track record. There are many things that set this product out from other bone health supplement. First of all, Alive Calcium is manufactured by a reputable company named Nature's Way. Secondly, their main ingredient is derived from plant sources, namely Lithothamnion (a type of red algae), kale, spinach, and collard greens. These sources were chosen to make the calcium in this product easier to absorb.
If we carefully go through its ingredients, we will find that 100% of the calcium in this supplement is from vegan sources. The problem that most of the vegans find is that it is very difficult to get enough calcium from their daily diet, as they stay away from dairy products.
This product is perfect for vegans. They can fulfill their recommended daily intake of calcium with the consumption of this supplement.
The product also contains vitamins D3, C, K2, magnesium, and boron which one study found worked in perfect synergy for maximum absorption and better bone density.
Not surprisingly, this amazing product is supported by countless positive reviews. The only bad side of this product is that the recommended dose of this product is 4 tablets per day.
Read more about this product here.
Absorbable Calcium and Vitamin D – For Strong Bones
Learn More
The final product on the list is Absorbable Calcium and Vitamin D. It is another product from a reputable supplement company called Puritan's Pride.
The product can be bought online, retail stores, and supermarkets. The product contains calcium and vitamin D3 and comes at an affordable price just around $20 despite the fact that this product is a very qualitative product.
The manufacturer of this product has carefully selected the ingredients for the best outcome. Some of the important ingredients that are chosen by the manufacturer are soybean oil, calcium, vitamin D, gelatin, corn oil, and soy lecithin.
There are many positive reviews on this product even though there aren't any studies conducted on this specific supplement. The product is also different because it comes in a softgel form which makes them easy to swallow.
Each softgel pill contains as much as 1200mg of calcium which is more than enough for a daily dose.
This is why you shouldn't take this product if you believe you already have enough dietary intake of calcium to prevent too much calcium from circulating in your bloodstream which is associated with adverse health outcomes.
However, the downside of this product is that there is no money-back guarantee.
Read more about this product here.
Truth about Bone Supplements
Bone supplements are types of dietary supplements that usually come in tablet form and are taken daily with a glass of water. These supplements contain ingredients that are the building blocks of healthy bone tissue. The most popular ingredients in bone supplements are the mineral calcium and magnesium, but bone supplements also contain other essential nutrients for bone health.
The efficiency of these supplements is still a subject of scientific debate mostly because the problem may not lie in the lack of these ingredients in our diet, but our body's ability to absorb these key nutrients. However, scientists are developing new formulas that help increase nutrient absorption and improve the body's ability to build new bone tissue.
Why You Need Bone Supplements?
With aging come changes in the way our bones regenerate. This process where old bone cells are absorbed and new bone structures formed is called bone remodeling. Bone remodeling takes an unfavorable turn with age with greater bone resorption and lesser bone formation.
Hormonal deficiencies, lack of physical activity, and vitamin deficiency can all contribute to an age-related bone loss in both men and women. Maintaining high levels of physical activity and eating a nutritiously rich diet is important to keep your bones strong as you age, but taking bone supplements can also help prevent excessive bone loss. This is because bone supplements increase the amount of key bone-building nutrients that may be lacking in your usual diet.
Key nutrients for Bone Strength
When speaking of key nutrients for bone tissue, the first thing that comes to mind are the minerals calcium and magnesium. While these two minerals constitute a great part of bone tissue, their absorption depends largely on other key nutrients such as vitamins D, B6, C, and K. Other ingredients that you may find in bone supplements are zinc, copper, and selenium and herbal extracts.
Scientists believe these ingredients are usually not lacking in our diet and are not essential in bone supplements. Nevertheless, a lot of manufacturers include these ingredients to ensure their product provides users with maximum efficiency just in case.
Things to consider while choosing Bone Supplements
When choosing bone support supplements, make sure that the manufacturer is a trustworthy company with high ratings. A good tell-tale sign that a company is trustworthy is when the location and contact information is readily available on the product website. You also need to read the label clearly before purchasing a product as this will help you decide if the ingredients are safe and efficient. Some companies have the bad habit of not listing all ingredients in their product which may be a reason for concern.
Another plus is when the product manufacturer explains the role of each key ingredient in improving bone health and the studies behind it. If you don't suffer from osteoporosis or are approaching midlife, you can also take these supplements to prevent future bone loss. Studies show that nutritional deficiencies in early life increase the likelihood of osteoporosis later on. So taking some of these supplements may turn out to be quite helpful in the long run. However, do talk to your doctor about the appropriate dosage and necessary precautions to avoid hypercalcemia.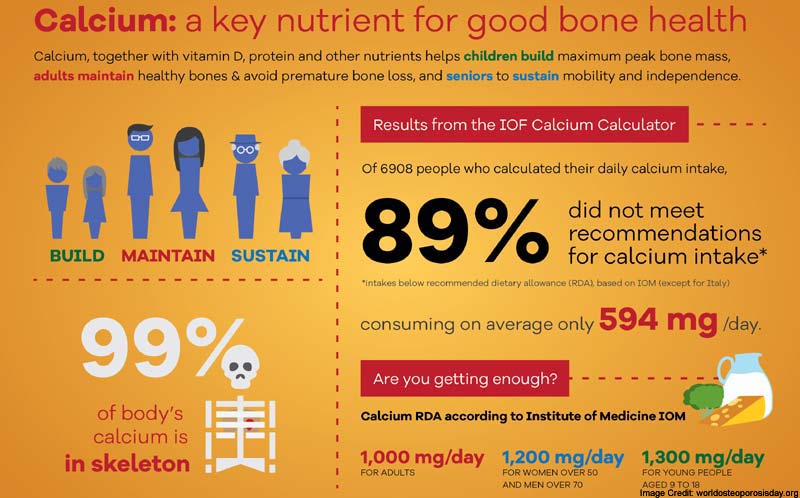 Can you Consume Bone Supplements alongside other Medications?
Yes, calcium supplements can be consumed alongside other medications, but there are certain medications that you must be aware of. There are some medications, such as proton pump inhibitors, which reduce stomach acids.
These medications are often prescribed to those people with too high stomach acid levels. Consuming calcium supplements alongside this medication may obstruct the absorption of calcium. If you are on these medications, you should opt for calcium citrate rather than calcium carbonate.
Some of the popular clinically used proton pump inhibitors are Rabeprazole, Omeprazole, Lansoprazole, Dexlansoprazole, Esomeprazole, and Pantoprazole.
Conclusion
Loss of bone mineral density which is a symptom of conditions such as osteoporosis is quite common in mid-life and older adults. However, this does not mean that we should accept this condition as normal. Taking a proactive approach to our bone health can help keep bones healthy and fracture-free in old age.
One way you could support your bone health is through natural dietary supplements that were developed in accordance with the latest research on bone health. The supplements listed here are similar in ingredients and mode of distribution. They help support the structure of your bones by giving your body what it needs to build strong bone tissue. Women are particularly vulnerable to developing fragile bones with age, but men can be affected by severe bone loss too.
**This is a subjective assessment based on the strength of the available informations and our estimation of efficacy.
*Result may vary. If you are pregnant, nursing, have a serious medical condition, or have a history of heart conditions we suggest consulting with a physician before using any supplement. The information contained in this website is provided for general informational purposes only. It is not intended to diagnose, treat, cure, or prevent any disease and should not be relied upon as a medical advice. Always consult your doctor before using any supplements.
Disclosure of Material connection: Some of the links in the post above are "associate sales links."This means if you can click on the link and purchase an item, we will receive a commission. Regardless, we only recommend products or services which we use personally and/or believe will add value to our readers. We are disclosing this in accordance with the Federal Trade Commission's 16 CFR, Part 255: "Guides Concerning the Use of Endorsements and Testimonials."
View All