In This Article
1MD D3 Overview
1MD D3 provides 5000 IU of highly bioavailable vitamin D3 and supports the function of your body's cells. It improves cognitive and muscle function, supports the respiratory, immune, and cardiovascular systems. It is essential for healthy bones and teeth by assisting in calcium absorption.
How Does It Rate?
Overall Rating: 4.9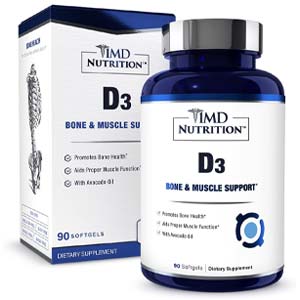 1MD D3 Bone & Muscle Support
Brand Highlights
1MD D3 is a formulation created and produced by board-certified and skilled doctors, and the company name is 1MD.
The facility that formulates the product exceeds government standards and is 100 percent compliant with best manufacturing practices.
The company is certified and continuously tests for product safety.
Some of the brains behind 1MD D3 include Dr. Brian Greenberg, an immunologist and allergist, and Dr. Adam Kreitenberg, board-certified in rheumatology and internal medicine.
Key Ingredients
Vitamin D3 as Cholecalciferol
Organic Avocado Oil
Pros
Improves cognitive health.
Improves muscle function.
Promotes cardiovascular health.
Enhances respiratory and immune systems.
Supports strong bones.
Enhances calcium absorption.
Cons
Vitamin D3 can interact with medications. Consult with your physician prior to use.
---
How Does 1MD D3 Work?
1MD D3 works by heightening the body's ability to absorb essential minerals like calcium, magnesium, and phosphorus, which builds and support strong bones and teeth and assist with muscle function. This supplement activates peptides in the immune system that help render pathogens harmless.
1MD D3 Ingredients – Are they Safe & Effective?
Vitamin D3 as Cholecalciferol
– According to The Journal of Nutrition, Vitamin D deficiency is prevalent in the United States from lack of sun exposure. [1]
Since Vitamin D3 is not sufficiently obtained from the sun, a supplement of cholecalciferol is required for both children and adults and is considered safe and effective.
The body needs 3000–5000 IU of vitamin D daily. In the absence of Vitamin D, bone disease and muscle weakness occur.
Organic Avocado Oil
– According to Frontiers in Nutrition, this ingredient is known to increase absorption of vitamins and is a precursor for vitamin D and can be converted to vitamin D3 when exposed to UV light. [2]
1MD D3 FAQ's
Q: How Should You Take 1MD D3?
A: Adults take one (1) softgel daily with a meal, or as recommended by a healthcare professional.
Q: How Much Does 1MD D3 Cost?
A: 1MD D3 comes as a single packaged product and purchasing multiples can save you money. A one bottle package is a 3-month supply and is priced at $19.99. There is a package of three bottles to be used for six months and is priced at $17.99 per bottle. Last, there is a package of six bottles to be used for twelve months and is $15.99 per bottle.
Q: What is 1MD D3 Return Policy?
A: 1MD D3 has a 90-day money-back return policy from date of purchase. The refund includes the purchase amount and does not include the shipping cost. However, the product can be purchased without shipping costs with a code that is provided at the official website at checkout.
Q: Does 1MD D3 Offer a Free Trial?
A: The company does not offer free trials. If you want to know if the product works as it claims, you will have to purchase the product.
Q: What are the side effects of 1MD D3? Has it been proven to increase bone density?
A: 1MD D3 is the breakthrough bone strength supplement that is created to improve bone density, mineral absorption, and calcium absorption in bones. 1MD D3 is an all-natural supplement with no known side effects. That said, however, you should always talk with your healthcare professional prior to taking this or any dietary supplement.
1MD D3 Reviews – Final Verdict
In summary, this product is made using high-quality and clinically researched ingredients. The ingredients in this supplement came from research from experts who have been working in the field of medicine.
Dr. Heather Shenkman is the leading physician who has partnered with 1MD. Dr. Shenkman and her team have many years of research and clinical practice. This team stands behind its products.
People react differently to supplements and we cannot say this supplement is for all consumers. Some people may experience side effects, and some may not.
Unfortunately, there is no clear way to authenticate all the 1MD D3 reviews given for this supplement online. Please consult with a healthcare professional before taking 1MD D3.