In This Review
What Is AlgaeCal Plus?
AlgaeCal Plus is a natural calcium supplement where the calcium used in the formulation is derived from a special form of algae.
It is not made from limestone or marble, unlike traditional calcium supplements. One of the best features of AlgaeCal Plus is that the calcium is pre-digested, which means it is part of the natural life of the algae where it comes from.
It breaks down essential minerals as they are absorbed. Thus, the algae have already done the hard part, and the product is quickly and easily absorbed by the body. Traditional calcium supplements made from limestone are difficult to digest and absorb, so most of them go to waste during digestion.
How Does It Rate?
Overall Rating: 3.5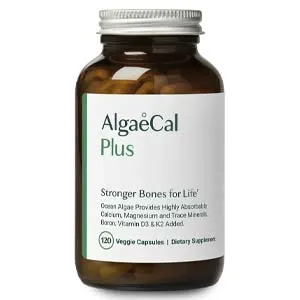 AlgaeCal Plus
Brand Highlights
AlgaeCal Guided by Science, Powered by Nature.
Manufactured in the USA.
Scientifically backed, natural supplement designed to enhance bone health.
Recommended by bone health specialists.
Mission is to empower over 50 million people with bone-health issues to lead active lives free from the worry of bone loss or fractures through our products and services.
Key Ingredients
Vitamin D3 (cholecalciferol)
Vitamin K2 (as MK-7)[1]
Calcium (from algascalcareas)
Magnesium (from algascalcareas)
Boron (glycinate)
Vitamin C (calcium ascorbate)
Trace minerals (from algrascalcareas).
Pros
Supports Bone Health
Balances Blood Pressure
Reduces Colorectal Cancer
Combats Kidney Stones and Kidney Disease
Promotes Weight Loss
Eases PMS Symptoms
Promotes Dental Health
Cons
Algaecal's products are not for everyone, especially those who are allergic to shellfish.
It might not be as effective as other calcium supplements.
AlgaeCal is the lack of research.
AlgaeCal may cause symptoms such as dizziness and lightheadedness.
---
Does AlgaeCal Plus Really Work?
It is difficult to say whether the product really works or not because there is mixed feedback from people who have tried the bone health supplement. However, the majority of feedback is positive, saying they are satisfied with AlgaeCal Plus.
Most people are aware of the importance of calcium intake for bone health. This is why there are many products for bone health claiming to contain this or that amount of calcium. However, most calcium supplements being sold today are made from limestone or marble.
If you check your calcium supplement and the supplement facts include calcium carbonate, calcium citrate, or some other name, it is simply ground rocks. Basically, it is like consuming rocks. Most calcium supplements are big and difficult to swallow. It may even cause constipation or digestive discomfort. However, it can also lead to serious side effects.
Two major studies published in British Medical Journals, which involved thousands of participants,  indicate that traditional limestone calcium supplements can increase the risk of a heart attack.[1]
The studies have found that large quantities of non-food calcium intake can cause some of the minerals to be deposited as arterial plaque. The calcified arterial plaque can even clog arteries, increasing the risk of heart attack and stroke.
AlgaeCal Plus Ingredients – Are they Safe & Effective?
The ingredients of AlgaeCal Plus are
Vitamin D3 (cholecalciferol)
– Although an essential vitamin, it is often recommended for the development of healthy bones. Other advantages of this vitamin include better cognitive health, healthier skin and bones, and increased immunity.
In our detailed 1MD OsteoMD Reviews article, we provide an in-depth analysis of this ingredient, discussing its role, benefits, and possible side effects, ensuring readers have all the necessary information to make informed decisions.
Vitamin K2 (as MK-7)
– Vitamin K2 aids in the repair of bone damage and the prevention of fractures caused by osteoporosis, as well as the maintenance of healthy BMD. Its deficiency has been linked to an increased risk of osteoporosis. Studies suggest that Vitamin K2 can improve bone quality by enhancing the mineralization process and promoting strong, healthy bones.[2]
Calcium (from algascalcareas)
– AlgaeCal is the only calcium supplement clinically proven to increase bone density, containing nutrient-dense, plant-based calcium from algae. As a crucial mineral for bone health, it plays a pivotal role in bone density. According to studies, if there is insufficient calcium in the diet, the body may draw calcium from the bones to maintain normal blood calcium levels. Over time, this can lead to a decrease in bone density and an increase in fracture risk.[3]
Magnesium (from algascalcareas)
– Magnesium is an essential mineral that plays a vital role in the maintenance of bone health. It is crucial for the structure and strength of our bones. Consequently, in the comprehensive calmax review article, this ingredient is extensively discussed, highlighting its significant inclusion and contribution to the overall formulation.
Boron (glycinate)
– This is known to help improve bone health by increasing density, and it also improves cognition while extending the half-life of vitamin D and estrogen. Some research suggests that boron supplementation may contribute to increased bone density, as it appears to have a positive effect on bone health by promoting the deposition of calcium and magnesium in bone tissue.[4]
Vitamin C (calcium ascorbate)
– Calcium ascorbate is a type of vitamin C that is used to protect the body's cells from damage as an antioxidant. Research indicates that a deficiency in vitamin C can lead to various symptoms, including muscle weakness, fatigue, and rashes. Vitamin C is a potent antioxidant that helps protect bone cells from oxidative stress and damage.[5]
Trace minerals (from algrascalcareas).
– Trace minerals also work together to increase bone mineral density and prevent bone degeneration.
However, the product claims to contain more than 70 trace minerals and phytonutrients which are needed by the body on a daily basis.
What is the size & the form of the product – tablet, capsule, caplet, soft-gel? Please provide a list of ingredients showing per-item amount (mg, mcg) and % of the daily value.
Size: 120 Count (Pack of 1)
Dosage Form: Capsules
Allergen Information: Gluten-Free
SEE ALSO – Jarrow Bone Up and Osteo Plus
What is the Iodine Level in AlgaeCal Plus?
According to the manufacturer, each capsule of their supplement contains only 4.4 mcg of iodine, and the product is made from algae, not from a sea vegetable such as kelp or seaweed.
According to a laboratory test, AgaeCal Plus only contains 7.33 parts per million iodine. This translates to a total of 17.5 micrograms of iodine in the daily recommended dosage of 4 capsules (4.4 micrograms per capsule).
In comparison, 100 grams of seafood contains 66 micrograms of iodine and 100 grams of vegetables contain 32 micrograms of iodine. This means that the level of iodine in the product is at a very safe level.
Is AlgaeCal Plus Just Another Calcium Supplement?
As per AlgaeCal Plus Reviews, AlgaeCal Plus is just another calcium supplement that contains calcium carbonate. The composition is very different since calcium carbonate is a calcium ion that is connected (attached) to a carbonate molecule.
It is 40% elemental calcium and 60% carbonate. On the other hand, AlgaeCal has calcium ions that are attached directly to carbonate molecules, sulfate molecules, chloride molecules, etc. It also contains 13 other essential minerals that are known to support bone health plus a number of organic phytonutrients.
It is 30% elemental calcium and 70% other nutrients. Clinical studies indicate that AlgaeCal Plus is also more effective and considerably outperforms calcium carbonate since it has 200 to 400% greater mineralization and proliferation of bone-building cells compared to calcium carbonate.
READ NEXT – CalMax and OsteoMD
AlgaeCal Plus FAQ's
Q: How to take AlgaeCal Plus?
A: For maintaining healthy bones, it is recommended to take 3 capsules a day. It is advisable to take 2 capsules in the morning with food and 1 in the evening also with food.
If the user is trying to grow bone due to osteoporosis, osteopenia, or any reason, the recommended intake is 4 capsules divided into 2 doses also taken in the morning and evening with food.
Q: Does AlgaePlus Increase Bone Mass?
A: According to two separate published clinical studies, AlgaeCal Plus can increase bone mass. The studies have shown that in a period of 6 months to 1 year, bone density can be increased with the use of the revolutionary calcium supplement.
However, a special clinical formulation is necessary to increase bone mass so instead of just taking 3 capsules daily, you will have to take 4 capsules. Also, the user has to take another product from the same company called Strontium Boost.
Q: Does AlgaeCal Plus Offer a Guarantee?
A: It comes with a 180 day double your money guarantee. If the user gets a DEXA scan to assess the bone mineral density and takes the product together with Strontium Boost for 180 days, then has another DEXA scan showing no improvement in bone mineral density, double of the 6 months purchase of AlgaeCal Plus will be refunded.
Q: Is AlgaeCal Plus a Scam?
A: There is no indication that AlgaeCal Plus is a scam since it is based on science, and the product is actually clinically tested and proven to be effective.
There are many articles online saying it is just a scam because it is nothing more than ordinary calcium carbonate. However, the product is proven to contain a matrix of minerals and other organic matter proven to be important for bone health and effective in helping increase bone mass.
There are a growing number of researches showing that the new calcium supplement derived from algae is superior to traditional calcium supplements made from limestone.
Q: What are the Side Effects of AlgaeCal Plus
A:
Elevated blood pressure
Upset stomach and vomiting
Itchiness and inflammation
Insomnia and nausea
Q: Is AlgaeCal Plus safe?
A: Yes. However, avoid taking calcium supplements less than three hours before or after other treatments such as antibiotics, cardiac medications, thyroid medicines, iron supplements, and others.
AlgaeCal Plus Customer Review
I like that it's easy to swallow and the product has a lot of research behind it on bone health. – Susan S.
My friend highly recommended it to improve your bone density as it worked for her using the two pieces, plus and the strontium booster. Just started using it and hoping for the same improvement! -MCecilia
I've been taking AlgaeCal for two weeks now. My biggest concern was whether it would have any side effects, even though I read that it doesn't. So far, I'm doing well, and I'm looking forward to my next bone density test to see how it has worked. I really hope to see some great results! – Nemeth T
AlgaeCal Plus Reviews – Final Verdict
AlgaeCal Plus is a good supplement for bone health. It can also be used together with another supplement if the user wants to increase bone mass.
It is clinically proven to be effective and even comes with a 180-day double-your-money-back guarantee which is pretty impressive. This is one of the better calcium supplements being sold today.
Bone development occurs every day of your life, but the pace of losing and growing bone differs depending on age. Building bone mass early in life through exercise, a healthy diet rich in calcium, and supplementation may help delay symptoms associated with osteoporosis. Bone health supplements should be determined based on its: potential to promote increased bone density, potential to reduce bone loss, and potential to Maintain Healthy Bone Support*. The ingredients should be backed by clinical studies and proven to promote overall bone health.
Below you'll find some of the most effective bone health supplements on the market today, in our opinion.
Our Top Bone Support Choices
Verdict on Claimed Benefits: Below is our summary of the available evidence for the claimed benefits of below mentioned bone support supplements and softgels based on the available research:
1MD D3 | Bone and Muscle Support

Supports Bone Health*
Gold Star Evidence
Improves Muscle Health*
Gold Star Evidence
Promotes Healthy Aging*
Gold Star Evidence
Maintain Healthy Mood*
Strong Evidence
Ultimate Bone Support | Advanced Calcium Complex
Improves Bone Density*
Gold Star Evidence
Reduces Fracture Risk*
Strong Evidence
Supports Joint Health*
Gold Star Evidence
Promotes Muscle Function*
Strong Evidence
1MD OsteoMD | Comprehensive Bone Support
Alleviates Joint Pain*
Gold Star Evidence
Maintain Strong Bones*
Strong Evidence
Improves Muscle Function*
Strong Evidence
Reduces Joint Discomfort*
Strong Evidence