Both men and women have searched for the best anti-aging products. They say that when it comes to looking young, you also need to think about the skin on your neck. The waddle is a dead giveaway of age. You may cover the eye wrinkles with makeup, but the loose skin on the neck cannot work on this type of camouflage.
Hence, a neck cream is an important weapon in your beauty arsenal. There are hundreds of brands available, and choosing which one works best can be quite daunting. You go through reviews and feedback and you find yourself even more confused than ever. It may be time to put your money to good use. The best way to do this is to find the top-selling brands in the market.
Here are the Top 3 Neck Creams
As one gets older, skin usually sags especially when it is not cared for properly. One of the most problematic areas is the skin on the neck area.
Many people even develop "turkey neck" which is the severe loosening of the skin in the neck. There are anti-aging products designed specifically for this problem. These products are called neck creams or serums. Let's take a closer look at a popular neck cream and check if it is really effective or not
To learn more about StriVectin-TL, please click here.
Lifts and firms skin on the neck. Is made by a popular company and has been around on the market for 10 years now. It's specially formulated for firming the neck and décolletage.
The cream was actually featured on The View with Dr. Doris Day.
But what makes this popular is the fact that 96% of patients experienced a firmer neck with Nectifirm.
This cream contains plant extracts, antioxidants and unique biotechnological blends that work cohesively to create a smoother, firmer, younger-looking neck. Basically, this firms and lifts skin, and reduces the appearance of fine lines and wrinkles.
To learn more about Nectifirm, please click here.
This makes use of potent collagens to help fight aging. It hydrates, tightens, firms, and revitalizes neck and jawline contour. It's made from protein tighteners and the patented NIA-114.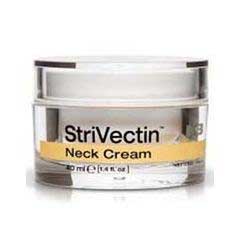 In fact, manufacturers say that this brand is the only one that comes with a proprietary form of vitamin B3 (Niacin), something that was discovered during skin cancer research and therefore is backed by clinical trials.
Strivectin renews skin strength. More importantly, it works on helping skin fight sagging, hold natural collagen, and improve moisture levels. This is a product that's backed by clinical tests and can be used for the face and neck. Priced at $59 for the 1.1 oz. jar and $89 for the 1.7 oz. jar.
To learn more about Strivectin, please click here.
Neck Creams – Do They Work?
A neck cream firms and smoothens the sagging skin on the neck with the use of either chemicals or natural ingredients. Some prefer one over the other, and it all really depends on how your skin reacts to the components used.
These creams work to repair skin down to the cellular level. It strengthens the cells and tissues that hold the skin together. As the cells strengthen, then your skin's capacity to heal and repair itself improves as well. More importantly, these creams hydrate skin and halts problems before signs of damage become even more apparent.
A neck cream oftentimes is made with a proprietary blend of peptides that tighten, tone, and smooth the fragile neck. Sometimes, these even come with sunscreen to provide as protection against harmful UV rays and other environmental factors. An effective neck cream comes with the following benefits:
It has the ability to correct the signs of premature aging and sun damage
It is able to diminish the appearance of age spots, slight wrinkles, skin sagging, and hyperpigmentation. Basically, it takes care of the things that mar your complexion.
It aims to provide your skin with substances and compounds that strengthen the support structure underneath your skin.
The different ingredients work hard to stimulate the growth of new cells while preserving the healthy ones that you already have.
What Neck Creams Do for Saggy Neck?
A neck cream is made from specific ingredients that penetrate skin and repair cells underneath so that it fights the signs of aging from deep within. Different brands make use of different ingredients, each one boasting of its own set of strengths. More importantly, the blend provides moisture and hydration, two things your skin needs to stay young.
Just imagine the many changes your body goes through as you get older, and these creams are simply there to provide you with what you lack. The earlier you take the necessary steps, the better your skin will be.
As the binding tissues become stronger, then any type of damage becomes less visible over time. This is why skin experts recommend that you use the cream on a daily basis and that you make it a part of your daily regimen.
How to Apply Neck Cream Properly?
While this may seem like such an unnecessary advice bear in mind that many ladies and gentlemen don't apply their skin care products properly and neck cream is one of them. It takes more than rubbing a cream onto the skin, it's a process that can make or break your experience with the product. In order to get the maximum out of the neck cream you need to apply it properly. Otherwise, your skin won't be able to absorb it properly and you won't get results you expected.
Avoid making long strokes because they stretch the skin and only contribute to the unappealing turkey neck. The right way to apply neck cream is:
Take a generous amount of the neck cream (or the amount recommended by the manufacturer) and warm it up by rubbing hands together
Dab the cream onto your skin lightly from the neck down to the décolleté (no long strokes)
Firmly, yet gently press the cream onto your skin in a press and release motion. As you move from the neck downwards lift your hands
Choosing The Safe and Effective Neck Cream
Not all neck creams are created equal. So how do you choose a brand that's proven safe and effective? Take a look at the active ingredients. Here are some of the more popular ingredients found in a neck cream:
Butylene Glycol – It works as a humectant. It absorbs moisture from the air and keeps it within your skin.
Hyaluronic Acid – A substance that's already found in the body. It provides your body with natural fluids to retain moisture and health.
Squalane – A natural substance that promotes wellness. It detoxifies and hydrates skin with its emollient property.
Xylitol – Fights bacteria in the body and prevents dryness.
Phenoxyethanol – A cosmetic preservative that's gentle on the skin. It's an oil-based component used as a preservative and a moisturizer.
Ethylhexylglycerin – Used as a chemical alternative to paraben and is considered a conditioning agent.
**This is a subjective assessment based on the strength of the available informations and our estimation of efficacy.
*Result may vary. The information contained in this website is provided for general informational purpose. No medical claims are implied in this content, and the information herein is not intended to be used for self diagnosis or self treatment of any condition.
Disclosure of Material connection: Some of the links in the post above are "associate sales links." This means if you can click on the link and purchase an item, we will receive a commission. Regardless, we only recommend products or services which we use personally and/or believe will add value to our readers. We are disclosing this in accordance with the Federal Trade Commission's 16 CFR, Part 255: "Guides Concerning the Use of Endorsements and Testimonials."