In This Review
Cold Plasma Sub-D Overview
Cold Plasma Sub-D is a treatment aimed at reducing the signs of aging that appear on your neck, jawline, chin, and décolletage. It is an anti-aging treatment that gets rid of any aging signs around the neck.
It offers an effective solution by ensuring you regain your youth, appear younger, and above all increase the firmness of your screen on a daily basis. In addition, it is safe to use and compatible with all skin types.
How Does It Rate?
Overall Rating: 3.6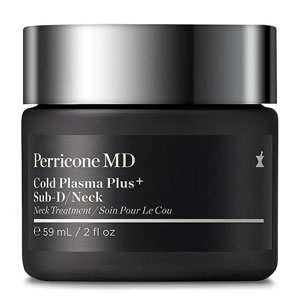 Cold Plasma Sub-D
Brand Highlights
Cold Plasma Sub-D is actually part of a line of award-winning skin care products launched in 2009 by Dermatologist Dr. Nicholas Perricone.
Cold Plasma Sub-D works by introducing a new agent into the body i.e. dimethylaminoethanol or the DMAE.
Key Ingredients
DMAE or the Dimethylaminoethanol
Glycolic Acid
L-Tyrosine
Isopropyl Palmitate
Phenoxyethanol
Astaxanthin
Copper Gluconate
Limonene
Sodium Hyaluronate
Linalool
Pros
Might eliminate the presence and prevents the formation or appearance of wrinkles, fine lines on the skin's surface.
It may tighten the skin eliminating sagging skin, cataracts and offering you a smooth, youthful looking skin.
It gets rid of dark skin spots and other forms of skin discoloration that occur as a person ages.
It may increase and improves one's skin elasticity levels, especially on the neck.
It also has a skin brightening effect
Cons
DMAE or the Dimethylaminoethanol functionality is one that can affect you in negative ways. Its use is still under study and therefore, seeking advice before embarking on its use is advised.
It doesn'toffers trial period for its product.
---
How Cold Plasma Sub-D Works?
The ingredient is essential in its functionality. The membrane stabilizer and antioxidants work similarly to collagen in the skin; promote the firming of the cell membranes in the skin resulting in firmer skin cells.
This, in turn, ensures that the skin appears smooth, reduces wrinkles, and eliminates signs of fine lines and other aging signs seen on the skin around the neck. You can also use anti-aging creams for diminishing aging signs.
Cold Plasma Sub-D Ingredients – Are they Safe & Effective?
DMAE or the Dimethylaminoethanol
– This is the main ingredient in the formula and is said to offer a solution for most of the anti aging problems and challenges. It is responsible for tightening of the skin reducing sagging, firms the skin eliminating wrinkles, fine lines, contours etc.
Glycolic Acid
– A popular exfoliant that may help to renew the skin's surface by removing dead skin cells. It may also help with the signs of ageing and photodamaged skin. A study found that a 50% Glycolic Acid (GA) peel is a more effective and safe treatment modality for melasma than IPL. Another study confirms that it is an effective acne treatment for Asian skin, resulting in significantly brighter and lighter-looking skin with few side effects.
L-Tyrosine
– It aids in the production of proteins, enzymes, thyroid hormones, and the skin pigment melanin.
Isopropyl Palmitate
– Isopropyl palmitate is used in products as a thickening agent to make them feel soft and to boost their moisturising effect.
Phenoxyethanol
– It is used as a preservative or stabiliser to keep the cream from spoiling or losing its potency. It enables the cream to deliver its results within the time frame specified.
Astaxanthin
– Astaxanthin is also known as red algae. It is an ingredient found in some skincare products, particularly high-end ones, because of its numerous claimed benefits. In some studies, the extract was shown to increase moisture and elasticity.
Copper Gluconate
– Copper gluconate cleanses and purifies the skin, drawing excess oils from pores to reduce breakouts and regulate natural sebum levels. It also has a natural astringent effect, tightening pores for a flawless, matte finish. [1]
Limonene
– The therapeutic effects of limonene have been extensively studied, demonstrating anti-inflammatory, antioxidant, antinociceptive, anticancer, antidiabetic, antihyperalgesic, antiviral, and gastroprotective effects, among other health benefits. [2]
Sodium Hyaluronate
– Sodium hyaluronate attracts and binds moisture to the skin, which can aid in dryness reduction.
Linalool
– Linalool enhances the scent and flavour of cosmetic and skincare formulations. It may also have additional benefits as an anti-stress and soothing agent. [3]
Cold Plasma Sub-D FAQ's
Q: How to use Cold Plasma Sub-D?
A: Cold Plasma Sub-D should be applied twice in one day i.e. early in the morning as part of your skincare routine and in the evening if aiming at achieving optimal outcomes. To apply, place a quarter-sized Cold Plasma Sub-D on your hands and spread it on your chin, the jawline, neck, and the décolletage.
To ensure that it penetrated the skin, massage the applied amount in circular moves. Ensure you apply evenly even at the back. This ensures the results achieved are uniform.
Q: How Much Does Cold Plasma Sub-D Cost?
A: Its cost is $65.00, but it can vary as per your purchasing platform.
Q: What is Cold Plasma Sub-D's Return Policy?
A: You can return this product if you are not satisfied, return the product within 60 days of receipt, and you'll get a full refund (less S/H) of the purchase price.
Cold Plasma Sub-D Reviews – Final Verdict
Cold Plasma Sub-D is the best neck firming cream that works differently and utilizes a different technology to achieve similar goals as other anti-aging products. However, it is essential that you have the facts right before starting to use the product by comparing it with others.
Many people neglect their neck and chest in their daily skin care regimen. The neck ages just as quickly as the face and overtime loses elasticity resulting in what is commonly referred to as "turkey neck". Prior to purchasing a neck cream make sure it has been rigorously tested in clinical trials. A neck cream should effectively firm and lift sagging skin, improve overall tone and texture and reduce the appearance of fine lines and wrinkles.
Below are some of the best neck care serums on the market today, in our opinion.
Our Top Neck Firming Choices
Verdict on Claimed Benefits: Below is our summary of the available evidence for the claimed benefits of below mentioned neck care serums and creams based on the available research:
Beverly Hills MD Rapid-Lift Advanced Neck Serum

Lifts Sagging Skin*
Gold Star Evidence
Smoothes Neck Wrinkles*
Gold Star Evidence
Enhances Skin Firmness*
Gold Star Evidence
Refines Skin Texture*
Strong Evidence
Drmtlgy Advanced Neck Cream | Neck Rejuvenation Solution
Targets Neck & Décolletage*
Gold Star Evidence
Reduces Neck Pigmentation*
Strong Evidence
Relieves Skin Irritation*
Gold Star Evidence
Enhances Skin Radiance*
Strong Evidence