In This Review
StriVectin-TL Overview
As one gets older, skin usually sags especially when it is not cared for properly. One of the most problematic areas is the skin on the neck area. Many people even develop "turkey neck" which is the severe loosening of the skin in the neck. There are anti-aging products designed specifically for this problem.
These products are called neck creams or serums. Let's take a closer look at a popular neck cream and check if it is really effective or not.
StriVectin-TL Tightening Neck Cream is designed to make the skin on the neck more firm and tight to prevent sagging. It claims to be clinically proven to visibly restore firmness, contour and shape of the neck and jaw line. It also contains ingredients that moisturize the skin and promote collagen production to make it more elastic which also helps reduce sagging.
The product is cream-based and is for topical application. It is paraben-free and can be ordered online. According to the product's website, it is also available in select retail stores and supermarkets.
How Does It Rate?
Overall Rating: 3.5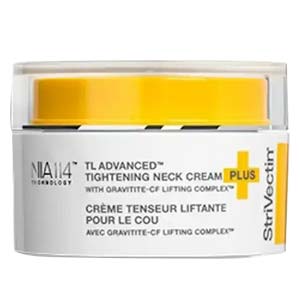 StriVectin-TL Neck Cream
Brand Highlights
This product StirVectin-TL is distributed by Klein-Becker.
This company is even associated with Bremenn Research Labs, a research company that is said to have a growing history of troubles along with increasing efficacy of its products.
As per the company's ads, there were really surprising results that its products not only treat the related issue/s but also give a long-lasting result.
The line of StriVectin contains proportionately more hits than misses. It's a simple answer to the aging signs with ingredients that improve your skin's ability to look and function in a younger manner.
Key Ingredients
ButyrospermumParkii (Shea) Butter
Butylene Glycol
Glycerin
Dimethicone
Pros
This product proposes logical skin science, focusing on improving the surface layers of your skin to protect it from the sun and other environmental damage.
This product tightens, lifts, and firms the neck visibly.
This product helps to strengthen the skin's barrier.
Despite the fact that it may cause skin irritation.
Cons
Strivectin Neck Cream contains phenoxyethanol and PEGs, both of which can be harmful to your overall health and well-being[2].
It also contains fragrance, which can irritate sensitive skin.
This product may cause skin irritation.
This product is reasonably priced.
---
Does StriVectin-TL Tightening Neck Cream Work?
StriVectin-TL Tightening Neck Cream claims to be clinically proven to be effective according to its website. However, there are no details provided on the clinical study proving its effectiveness. There are many positive reviews from people who have tried this neck cream which is a good sign that it works.
Nevertheless, there is some negative feedback from users who report that it may not be very effective in treating "turkey neck" or tightening the skin on the neck. While it may be the best tightening neck cream for addressing simple cases of neck sagging, it might not prove effective for more severe issues.
StriVectin-TL Ingredients – Are they Safe & Effective?
ButyrospermumParkii (Shea) Butter
– This is for soothing, nourishing, and moisturising skin after treatment so that it can return to its natural, healthy state. It also helps to reduce skin inflammation. [1]
Butylene Glycol
– is a colourless organic alcohol that is used as a solvent and a conditioning agent. [2]
Glycerin
– This ingredient aids in the retention of moisture while also reducing inflammation. [3]
Dimethicone
This ingredient acts as a foam-reducing agent. However, it can aggravate skin irritation. [4]
Other Ingredients include Aqua, myristylnicotinate, caprylic triglyceride, isononylisononanoate, C12-15 alkyl benzonate, cetearyl alcohol, PEG-100 stearate, PPG-3 benzyl ether myristate, minethicone, pentylene glycol, acrylic acid copolymer, steareth-2, behenyl alcohol, polyacrylamide, sodium polystyrene sulfonate, caprylyl glycol, phenoxyethanol, panthenol, C10-30 alkyl, acrylate crosspolymer, benzyl alcohol, sorghum bicolor stalk juice, C13-14 isoparaf-n, sodium hydroxide, sorbic acid, tetrasodiumedta, xanthan gum, benzoic acid, chlorphenesin, laureth-7, cyatheacumingii leaf extract, algae extract, ceramide 2, D-limonene, malusdomestica fruit cell culture extract, cyperusrotundus root extract, hydrolysed hyaluronic acid, lonicera japonica flower extract, xanthium sibiricum fruit extract, sodium benzoate, lecithin, potassium sorbate, lepidiumsativum sprout extract, tetrapeptide-21, dipropylene glycol, methyldihydrojasmonate, citrus aurantiumdulcis oil, hexamethylindanopyran, cituslimon fruit extract and ethyl linalool.
StriVectin-TL FAQ's
Q: How to use StriVectin-TL?
A: StriVectin-TL Tightening Neck Cream is easy to use. It just needs to be applied twice a day after cleaning the neck area or taking a bath.
Q: Does StriVectin TL Advanced Tightening Neck Cream Have Any Side-Effects?
A: There are no known side effects of StriVectin TL Advanced Tightening Neck Cream. It is appropriate for all skin types. However, some users reported itching and redness.
Q: Where to buy StriVectin-TL Neck cream?
A: You can buy StriVectin-TL from Amazon as well as Walmart at the cost of $59.75.
StriVectin-TL Reviews – Final Verdict
StriVectin-TL is among the most popular neck creams today. The only problem is that it isn't clinically proven to be effective. The product's website claims that it is but there is no information on the clinical test proving its effectiveness. One of the advantages of the product is that many people who have tried it claim that this product really works. Overall, this product seems a good product.
Many people neglect their neck and chest in their daily skin care regimen. The neck ages just as quickly as the face and overtime loses elasticity resulting in what is commonly referred to as "turkey neck". Prior to purchasing a neck cream make sure it has been rigorously tested in clinical trials. A neck cream should effectively firm and lift sagging skin, improve overall tone and texture and reduce the appearance of fine lines and wrinkles.
Below are some of the best neck care serums on the market today, in our opinion.
Our Top Neck Firming Choices
Verdict on Claimed Benefits: Below is our summary of the available evidence for the claimed benefits of below mentioned neck care serums and creams based on the available research:
Beverly Hills MD Rapid-Lift Advanced Neck Serum

Lifts Sagging Skin*
Gold Star Evidence
Smoothes Neck Wrinkles*
Gold Star Evidence
Enhances Skin Firmness*
Gold Star Evidence
Refines Skin Texture*
Strong Evidence
Drmtlgy Advanced Neck Cream | Neck Rejuvenation Solution
Targets Neck & Décolletage*
Gold Star Evidence
Reduces Neck Pigmentation*
Strong Evidence
Relieves Skin Irritation*
Gold Star Evidence
Enhances Skin Radiance*
Strong Evidence