What Causes Dry Skin?
Dry skin can be a considerable problem and also have a detrimental effect on the overall outer appearance of the human body. Knowing the primary causes of dry skin becomes one of the essential steps to preventing dry skin, as well as to implementing a more effective treatment plan to get rid of dry skin.
One of the most common reasons why many people are continuously suffering from dry skin, even though they are often turning toward moisturizers, is because they apply these creams and lotions when the skin is dry, instead of while the skin is still damp.
Other possible causes of dry skin include exposure to dry air, taking long and hot showers or baths, using a specific type of soap that strips the skin from its oils, wearing itchy clothing, using certain types of medication and when suffering from some particular medical conditions.
It is important to consider the factor that may be causing your skin dryness, since avoiding this particular factor or treating a particular condition can lead to more effective results when implementing a high-quality skin moisturizer into your daily routine.
The Best Skin Moisturizers for 2019
To help you find the perfect moisturizer for your specific skin type and concerns, here is a rundown of the 10 best skin moisturizers for 2019.
Dermaxsol – Daily Moisturizing Sunscreen
Learn More
Dermaxsol is a simple moisturizer with SPF 30. The moisturizer is manufactured and sold by Solvaderm, a pharmaceutical-grade skin care company that is based in the US.
Solvaderm primarily specializes in anti-aging skin care products, but they also have an extensive range of additional products that provide a range of other benefits to the user. Their Dermaxsol moisturizer contains only safe and non-irritating ingredients making it suitable for sensitive skin.
The ingredients are not likely to cause the user to experience any serious adverse reactions – it should be noted that some natural products have been known to cause irritation, redness and acne breakouts in the past, making this an important feature of Dermaxsol to mention.
The particular ingredients that can be found in Solvaderm's Dermaxsol include Vitamin E, a potent antioxidant that delivers numerous benefits to the user's skin, as well as Sunflower Seed Oil extracts, Safflower Seed Oil extracts, and Aloe Barbadensis Leaf extracts.
The product comes with a 60-day satisfactory guarantee, which ensures the customer does not have to undergo any risks when buying the product. Solvaderm is also offering a 10% discount coupon for first-time customers. Dermaxsol is also very affordable, priced at $24.99 for a 50ml container.
Read more about Dermaxsol here.
Dermalogica Super Rich Repair – Moisturizer Cream
Learn More
Super Rich Repair is a high-quality moisturizer that has been developed by Dermatologica, a top-rated dermatological skincare company that produces some of the best beauty and skincare products currently available on the market.
The Super Rich Repair product by this company has been produced to act as a multi-purpose daily cream – the cream can be used at any time of the day and contains specially-selected ingredients that are able to produce a variety of benefits to the user regardless of the time they apply it.
Overall, the Super Rich Repair cream by Dermalogica claims to be both a day and night cream, as well as a skin lightener and an eye makeup remover. This high-quality facial moisturizer primarily utilizes a combination of three very specific ingredients to deliver a rich level of moisture and nourishment to the customer's skin.
These three particular ingredients include Shea Butter, Coconut Oil, and Jojoba Seed Oil – all three of these ingredients have been proven effective as skin moisturizers in numerous clinical trials and scientific studies[2].
It should be noted that some additional ingredients are also found in the formula, including Vitamin C, a popular ingredient utilized in a large variety of skincare products on the market today.
Read more about Super Rich Repair here.
SkinCeuticals Hydrating B5 Gel – Skin Care Supplement
Learn More
Hydrating B5 Gel, a popular moisturizing gel developed by SkinCeuticals, is another excellent option for people who are suffering from dry skin. This product is backed by numerous positive reviews and have been used by thousands of people in the past.
The product primarily acts as a moisturizer, but may also assist in other areas, such as collagen product due to the some of the particular ingredients included in the product's formula. This moisturizer comes in the form of a gel that is applied to the skin using a dropper.
It is a more expensive option than some of the other options we have mentioned in our list of top face moisturizers, but the particular ingredients utilized in the product are both effective and regarded to be safe.
It should, however, be noted that there is a slight chance that some users may develop a rash when using the product – this particular side-effect is usually mild and tends to clear up fast. There are two primary ingredients found in Hydrating B5 Gel. These ingredients include Vitamin B5 and Hyaluronic Acid.
Hyaluronic Acid is one of the most popular ingredients found in modern moisturizers and anti-aging products. It is known to provide a significant improvement in the moisture levels of the skin, and have also shown promising results when it comes to boosting collagen production.
Read more about SkinCeuticals Hydrating B5 Gel here.
Kinerase Ultimate Day Moisturizer – Moisturizer Cream
Learn More
Kinerase Ultimate Day Moisturizer is another top-rated product that can be utilized to assist with treating dry skin.
This product acts as a daytime moisturizer and is specifically promoted to individuals who are suffering from sun-related damage to their skin.
The product does not only promise to reverse the damage that the user's skin has already suffered but also claims that its unique formula will protect the skin against further damage by the sun.
The product utilizes a wide variety of ingredients and comes in a convenient size. According to the manufacturer of Kinerase Ultimate Day Moisturizer, users are expected to experience visible results within as little as 24 hours after their first application of this product.
The ingredients that make Kinerase Ultimate Day Moisturizer such a powerful product include a combination of Amino Peptides, a Carbohydrate Moisturizing Complex, Sunlight-Activated Enzymes and a unique PEPHA-CTIVE proprietary blend.
Additionally, the moisturizer also contains Kinetin, a scientifically-proven ingredient that helps to provide an intense level of moisturization to the user's skin. The combination of ingredients will not only deliver improved moisture to the user but will also help to eliminate fine lines and wrinkles that the user may already be suffering from.
Read more about Kinerase Ultimate Day Moisturizer here.
Vanicream – Moisturizing Skin Cream
Learn More
Vanicream is another good option for individuals who require an effective skin moisturizer for their entire body. This product is especially perfect for people who are on a low budget but requires a larger quantity of a moisturizer in order to attend to dry areas on regions apart from their face. While the majority of skin moisturizers tend to come in relatively small containers, Vanicream comes in a one-pound container.
The average price of such a container at online retailers that stock Vanicream is $11.58. The product can be purchased at a variety of locations on the internet.
The product claims to assist with soothing a variety of skin-related issues, including irritated skin, dry skin, cracking skin and sunburnt skin. Furthermore, the product also claims to be effective for individuals suffering from ichthyosis, eczema, winter itch and psoriasis.
It should be noted that Vanicream does not contain any lanolin, parabens, fragrances or formaldehyde. This makes Vanicream an excellent option for individuals with sensitive skin who tend to experience reactions when applying some of the moisturizers available at their local beauty supply store.
The ingredients found in this product include White Petrolatum, Propylene Glycol, Purified Water, Ceteareth-20, Sorbic Acid, Glyceryl Monostearate, Polyethylene Glycol Monostearate, BHT and more.
Read more about Vanicream here.
Weleda Skin Food – Moisturizer Cream
Learn More
Weleda is a cosmetic company specializing in natural skin care and beauty products. The company has a long list of products behind their brand name, and their products are trusted by thousands of loyal customers.
The Weleda Skin Food moisturizing cream has been formulated with a selection of all-natural ingredients that are considered perfect for treating flaky, cracking and dry skin.
The product can be utilized on a variety of body parts, including lips, cuticles, feet, hands, and elbows. The product does not only promise to assist with moisturizing dry skin but also promises to assist with protecting the skin against dryness due to the long working action of the active ingredients utilized in the cream. There are a variety of ingredients found in Weleda Skin Food.
The product includes Vitamin E that has been extracted from Sunflower Seed Oil, as well as a combination of essential fatty acids that help to nourish and soothe the skin. Pansy extract has also been included in the product to assist with reducing irritation to areas of the skin that is excessively dry.
Additionally, ingredients such as Rosemary and Biodynamic has also been included to offer the user anti-inflammatory benefits, while promoting younger-looking, glowing skin.
Read more about Weleda Skin Food here.
Airbonne – Daily Moisturizing Cream
Learn More
If you are looking for a unique skin care product, then this moisturizer is definitely for you. It contains ingredients that you'll rarely find in other skin care products but that actually work wonders on the skin.
While the ingredients may seem somewhat strange upon first look, it is important to take note of the fact that many of these ingredients have been utilized in clinical trials, and the results were very positive.
The product is also manufactured by a trusted company in the skincare industry, Airbonne, and has numerous positive reviews that back up the claims made by the manufacturer of the moisturizing cream. Airbonne Daily Moisturizing Cream can be utilized on a daily basis without being at a risk of developing serious side-effects; thus making it perfect for anyone who requires daily support in order to avoid dry skin and to keep their skin nourished.
Airbonne Daily Moisturizing Cream contains Blue Copper, Zinc, Lysate Extract, Alpha Hydroxy Acids and Papain extracts.
The moisturizing cream also contains a proprietary blend known as a Bio Hydria Complex, which has been added to provide benefits such as skin rejuvenation, improvements in the skin's natural pH balance and to soothe the skin. The ingredients found in the Bio Hydria Complex include St John's Wort, Clover Blossom, Watercress, Cucumber, Ginseng and Birch Leaf.
Additionally, a Thermal Fusion Technology has been utilized in this product's formula to assist with improving the skin's ability to absorb the active ingredients included in the cream.
Read more about Airbonne Daily Moisturizing Cream here.
Renewed Hope In A Jar – Refreshing & Refining Moisturizer
Learn More
Philosophy Skin Labs has produced Renewed Hope In A Jar as a revolutionary breakthrough in the skincare industry. This product is a 2-in-1 cream that acts as both a moisturizing lotion, as well as a skin brightener – providing two of the most requested features in modern skincare sciences.
The cream is lightweight and non-greasy, which means that, even though the product has been developed to moisturize the skin, it will not leave the skin feeling or looking oily.
According to the manufacturer of Renewed Hope In A Jar, product will help to deliver an intense level of hydration to the user's skin and will offer the user with long-lasting benefits. Additionally, the product also claims to help reduce visible signs of aging that a user may have developed, such as wrinkles and fine lines, as well as reduce the appearance of age spots.
One of the primary ingredients found in Renewed Hope In A Jar is Glycolic Acid, an effective skin exfoliator that will assist with the regeneration and repair of the skin[3]. This particular ingredient is especially effective in repairing damage dealt by ultraviolet rays. The product also includes a complex of Alpha Hydroxy Acids, which also assists with the renewal of skin cells and act as exfoliators.
In addition to these ingredients, Renewed Hope In A Jar also includes Asian Fruit extracts, which is a potent antioxidant that will assist with slowing down the rate at which the skin ages, and help to protect the user's skin against premature aging.
Read more about Renewed Hope in A Jar here.
Cetaphil Derma – Oil Control Moisturizer
Learn More
Derma Oil Control Moisturizer is another excellent addition to our list of top face moisturizers. This moisturizer has been developed by Cetaphil, a company that is reputable in the skincare industry for creating scientifically-proven formulas to target common skin-related issues, especially when it comes to conditions that causes dryness.
This particular product acts as both an effective moisturizer to help avoid dry skin, as well as a protector that helps to avoid sun damage by including an SPF 30 factor. The product can be applied in the morning and will provide the user with a variety of benefits throughout the entire day.
Cetaphil Derma Oil Control Moisturizer includes numerous ingredients that make the product effective as both a moisturizer and a sunscreen product. The particular ingredients found in this moisturizing cream include a 3% concentration of Avobenzone, a 7% concentration of Octocrylene and a 5% concentration of Octisalate.
It should be noted that the inclusion of Octocrylene means this particular moisturizer will assist the skin with a DNA and cellular level. Cetaphil Derma Oil Control Moisturizer is also a lightweight and non-greasy formula, which means it can be worn without having to worry about the user's skin becoming oily or weighed down by the cream.
Read more about Cetaphil Derma Oil Control Moisturizer here.
Neutrogena Pore – Refining Moisturizer
Learn More
The last product on our list of top face moisturizers for 2019 is The product does not Neutrogena's Pore Refining Moisturizer.
This product is another lightweight option for individuals who would like to utilize a moisturizer that will not lead to oily skin that looks like it has been weighed down.
This moisturizer is promoted to be used on normal to combination skin types and promises to minimize the appearance of pores while also delivering a rich level of moisture to the user's skin. The product also claims that users will experience younger-looking skin from the very first use of the product.
One particular benefit that seems to stand out in this product is the fact that it can be used in the morning and at night. The ingredients found in Neutrogena's Pore Refining Moisturizer include C12-15 Alkyl Benzoate, Salicylic Acid, and Helianthus Annuus Seed Oil, more commonly known as Sunflower Seed Oil.
This moisturizer is one of the more affordable options on our list of top moisturizing creams. It is also an effective anti-aging product that will help to protect the user's skin against further fine lines and wrinkles, and may also assist with reducing the appearance of existing symptoms related to premature aging.
Read more about Neutrogena Pore Refining Moisturizer here.
How a Skin Moisturizer Works?
Moisturizers are personal care products usually in the form of creams and lotions that keep the skin from becoming dry. They work in two ways: By locking moisture in or by adding moisture.
Humectants are substances such as glycerin that is able to attract water and add moisture to the skin. Occlusive such as mineral oil trap water in your skin by coating the skin with a thin oily film. Skin moisturizers also contain anti-aging, acne-fighting, and nourishing ingredients.
Find the Right Skin Moisturizer
Finding the perfect moisturizer for your specific skin needs is no easy task. Skin care companies work hard to please their customers but truth be told, most seem to focus on marketing rather than developing a good enough formula.
To make it a bit easier for you, the American Academy of Dermatology (AAD)[1] recommends purchasing a moisturizer with non-irritating ingredients such as jojoba oil and shea butter. Other superior ingredients to look for are urea, lactic acid, hyaluronic acid, glycerin, and petrolatum jelly. The AAD also recommend steering clear from moisturizers that contain perfume and dye.
Why Moisturizing Matters?
Our skin produces sebum in order to protect itself from drying out. Because we cleanse our skin several times in a day, we remove the skin's protective oil which makes it prone to dryness, flaking, and cracking. In addition to this, extreme weather, indoor heating, air pollution, and UV rays can wreak havoc on our skin. This is where moisturizers come in handy and bring some of the lost moisture back to our skin.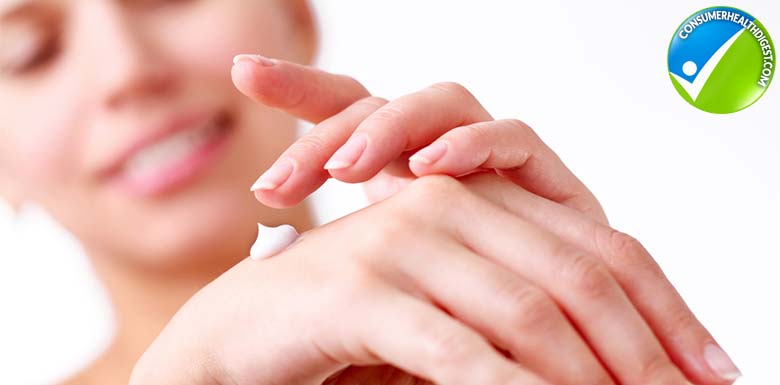 Conclusion
Although the market for skin care products is pretty much saturated with lotions and creams, this also means you get more choices to choose from. Some of the products we listed here are one of the best products of 2019 and which one is good enough for you depends on your specific needs and concerns. Make sure to read more about each one and you'll be able to narrow your choices.
**This is a subjective assessment based on the strength of the available informations and our estimation of efficacy.
*Result may vary. The information contained in this website is provided for general informational purpose. No medical claims are implied in this content, and the information herein is not intended to be used for self diagnosis or self treatment of any condition.
Disclosure of Material connection: Some of the links in the post above are "associate sales links." This means if you can click on the link and purchase an item, we will receive a commission. Regardless, we only recommend products or services which we use personally and/or believe will add value to our readers. We are disclosing this in accordance with the Federal Trade Commission's 16 CFR, Part 255: "Guides Concerning the Use of Endorsements and Testimonials."
View All