Instaflex Joint Support Overview
Instaflex is a brand of joint pain relieving supplement that, as the name suggests, works quickly to help improve* flexibility and reduce* stiffness. The Instaflex website contains information about the brand and is also the only place to purchase the product. This brand has been endorsed by a celebrity spokesman (pro football player Doug Flutie) and the site also contains a number of reviews from satisfied customers. A chart comparing Instaflex to other pain relievers on the market is provided and there is a full, secure ordering section. Instaflex is offered at a cost of $69.99 per bottle and it has a 30-day money back guarantee. However, consumers do have the chance to try Instaflex for 14 days risk-free, although by doing so they are automatically enrolled in the company's auto shipping program.
Instaflex Joint Support Product Details
Instaflex is designed to work on several areas of joint pain, which can be caused by a number of different conditions. While most people experience increased pain as they age, joint pain can be from medical conditions such as arthritis or Bursitis, or from a past sporting injury. Whatever the cause of the damage to the joint, it can become stiff, inflamed and the user experiences a general reduction* in quality of life. When taken on a daily basis, Instaflex helps to reduce* the accompanying inflammation which in turn decreases* friction between the joints. In addition to this, it is said to repair previous damage to the cartilage, rebuilding it and making it more resilient to future wear and tear.
Specific Ingredients Used in Instaflex
The Instaflex Joint Support formula is a fairly standard for a joint pain product, relying heavily on Glucosamine as its main active ingredient. While there are eight active ingredients, which are all listed on the Instaflex website, none are explained in much detail, although the amounts included in the blend are shown.
Glucosamine, which is normally used in conjunction with Chondroitin, is very beneficial for repairing cartilage which has become damaged from friction between the joints.
In the Instaflex formula, it is blended with the spice Turmeric, a well-known antioxidant and inflammation reducer.
White Willow Bark relieves pain and is often referred to as a natural form of Aspirin.
Cayenne and Ginger both boost* the flow of blood to the joint and Hyaluronic Acid improves* lubrication around the whole area. It also encourages the body to produce higher levels of lubrication which provides shock absorption, protecting and cushioning the joint. Because the Instaflex formula is from natural sources, it is unlikely to cause any harmful side effects although, because it contains fish-derived Glucosamine, it cannot be taken by anyone with shellfish allergies.
Other Ingredients: MSM, Boswellia Serrata
Instaflex Advantages
Instaflex contains 100% natural ingredients
There is a 14 day free trial of the product
Customer testimonials are provided
Instaflex is has no harmful side effects
The product has undergone clinical trials
All ingredients are listed
Instaflex Disadvantages
Ingredients are not explained in detail
Instaflex is expensive
It does not contain Chondroitin
Instaflex – The Bottom Line
There are several positive aspects of Instaflex that make it a recommended brand of pain reliever. It uses a blend of highly beneficial ingredients that have all shown good results in clinical testing and, because the amounts of the ingredients are shown, the consumer can get an idea of how well it will work. While the inclusion of Glucosamine is good, it is unusual for it not to be combined with Chondroitin as they tend to work better when paired together. Additionally, for a product to cost this much, consumers would expect to see more information in terms of how the ingredients work and how soon they can expect to see results, neither of which is provided on the Instaflex website.
Below we have ranked the best joint supplements to make it easy for you to find effective and safe products. The ranking is based on crucial factors like potential to alleviate joint pain, potential to promote joint cartilage and tissue regeneration, potential to prevent recurring damage, potential to improve overall joint health, and quality of ingredients. In the end, we were able to come up with the bottom-line value of each product.
Our Top Joint Pain Relief Choices

Fight Joint Pain and Inflammation
Fight Joint Pain and Inflammation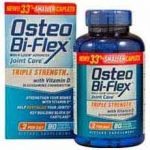 Fight Joint Pain and Inflammation
Fight Joint Pain and Inflammation