In This Article
Out of all the discomfort at old age brings into life, Joint Pain is something that causes alarm in everybody's life as they begin to age.
Most elderly people who suffer from chronic joint pain do not believe in seeking any medical help because joints naturally tend to stiffen as we age and it is an unavoidable problem even doctors and medications can't help.
Here in this review, we are introducing you to one of the most trusted joint pain supplements out there in order to improve your joint health – Projoint Plus
What is Vitapost Projoint Plus?
ProJoint Plus is an advanced product to help relieve joint pains and improve joint health. This joint formula is potent, relieving you from joint pain originating from aging, injuries, and other factors. ProJoint Plus will enable quicker recovery of broken joints and cartilage.
ProJoint Plus formula will relieve pain and enable you to go through daily activities without complications.
These joint pain supplements are of high quality and treat the cause of pain in your joints, thus serving you with efficient and long-lasting results for healthy joints.
This Vitapost ProJoint Plus supplement comes in the form of a highly absorbable capsule to provide you with the results within a short period.
How Does It Rate?
Overall Rating: 4.9
Projoint-plus
Brand Highlights
An expert fusion of herbal extracts called VitaPost ProJoint Plus is created to improve joint health.
With ProJoint Plus, joint health supplements are simple to take. It is a dietary supplement produced with premium components that is widely regarded as effective by contented users.
The formula of VitaPost ProJoint Plus, which promotes healthy cartilage and joints, must contain the two nutrients glucosamine and chondroitin.
A great way to get extra joint support nutrients is by taking VitaPost ProJoint Plus.
Key Ingredients
Bromelain
Turmeric
Chondroitin Sulfate
Is Pro-Joint Plus safe for me to take?
The ingredients used are all supported by clinical research and proven safe and effective for your body. The price for one bottle of 60 capsules is $29.95.
Who is the Manufacturer of ProJoint Plus?
VitaPost Inc., based in Richmond, Virginia, developed this joint product. The product consists of quality ingredients that effectively work to serve you with rapid healthy results.
Using this formula will relieve you from pains and treat the underlying condition.
How Does Projoint Plus Work?
This joint product works differently to relieve you from joint support and improve your joint health. It leads to improved joint health, improving your cartilage health by lubricating and repairing the joints.
ProJoint Plus will also support faster healing of the damaged joints, thus relieving you from pain and joint complications.
This joint formula will also improve joint mobility and make you flexible to move around. Intake of this joint health supplement will improve your joint health and treat the cause of pain.
The components used are potent and of high quality, and they are clinically tested and proven safe and effective.
Coupon Code
CONSUMER5
Receive
5% Off
Your Online Order
ProJoint Plus
Ingredients – Are they Safe & Effective?
Chondroitin Sulfate
– In a recent study in 2016, 164 patients with knee pain participated in the study. Half of these participants received a placebo, while the others received a combo of glucosamine and chondroitin. The study was stopped abruptly because those taking the pill reported worse signs.[1] Chondroitin sulfate may provide a modest benefit in some individuals, but keep in mind you may be better off taking no supplements at all.
Turmeric
– Participants taking turmeric for osteoarthritis for eight months showed significant decreases in all markers of inflammation.[2]
Bromelain
– Bromelain may have anti-inflammatory and analgesic properties, but more studies are needed to have a recommended dosage.[3]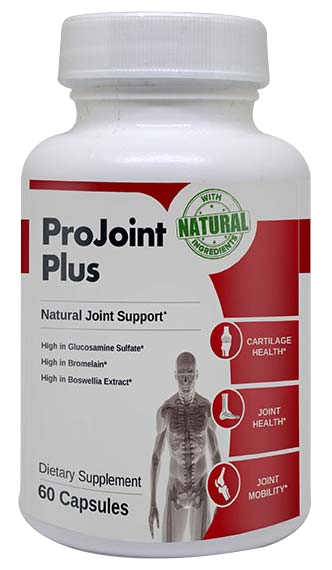 Advantages
1) It helps to treat the underlying cause of joint pain complications.
2) It supports healthy cartilage & increases joint mobility.
3) It promotes faster healing of the damaged joints.
Question and Answer
Q.

How Effective is This Product?

A: These joint pain supplements contain quality ingredients that are clinically proven to be effective in relieving pain and improving overall joint health.
Q.

Does ProJoint Plus Work?

A: ProJoint Plus seems to perform based on user ratings and comments on the official website. Since the ingredients mentioned in this joint product substance are very potent, this argument has some validity.

They also have a complete satisfaction guarantee. It is said to be fast, clean, reliable, and productive when it comes to achieving the desired results.
Q.

Should You Buy This Product?

A: If you are suffering from joint pains, this formula is made for you, and you should have it to make healthy joints.
Q.

How To Take it?

A: It is recommended to take 3 capsules in a day with food or as directed by your medical advisor.

In general, you can take all 3 capsules with a single meal or you can take 1 capsule with each breakfast, lunch, and dinner as per your convenience.
Q.

How long before you feel a change with it?

A: Nine times out of ten, consumers notice beneficial changes in their joint state just in 15-20 days of the Projoint intake. However, for the best results possible, it's recommended to use the supplement for two-three months minimum.
Q.

How large are the capsules?

A: ProJoint Plus contains 60 capsules in every bottle. This is equivalent to 20 days supply. The capsules are a standard 0 size, which is less than an inch long (22mm).
Q.

How Much Does it Cost?

A: The ProJoint Plus price is as follows:
1 Bottle, 60 Capsules for 20 Days
$29.95
3 Bottles Plus 1 Free, 240 Capsules for 80 Days
$119.80
$78.96
Save $40.84
2 Bottles, 120 Capsules for 40 Days
$59.90
$52.96
Save $6.94
Q.

What is Pro-Joint Plus's Return Policy?

A: They offer 30-days to manage return.
Q.

Is the supplement guaranteed to return if it does not work?

A: The creator offers a 100% money-back policy without any questions asked. You can get your refund within a few hours.
Q.

What are the Ingredients in Pro-Joint Plus?

A: VitaPost ProJoint Plus is packed with all-natural ingredients: Glucosamine Sulfate, Chondroitin Sulfate, Quercetin, Methionine, Methylsulfonylmethane, Bromelain, Boswellia Extract, Turmeric.
Q.

Is Pro-Joint Plus Gluten Free and Non GMO?

A: VitaPost Projoint Plus is made in the USA, and the product is Non-GMO, has No Binders, is Gluten Free, and Sugar-Free.
Q.

My arthritis is in my back. Has anyone had experience with Pro Joint Plus for the back?

A: This joint supplement ProJoint is the right solution for pain because you can get it quickly at an affordable price with the most benefits. If you have inflammation of joints in chronic arthritis, you can get help by using this supplement. It can give you the best results. You have to keep your patience. It will take some days, so you must wait for the results.
Q.

Does it come in a cream or other dosage than tablet form and oral?

A: No. Some people think that this joint product is available in the market to apply to joints. But that's not the case.
Q.

Does it take inflammation out of fingers? I've had consistent inflammation in 2 fingers.

A: If you are experiencing any inflammation you can visit your medical expert for advice. However, ProJoint glucosamine and chondroitin supplements may also help reduce chronic inflammation.
Q.

Can I take the Pro Joint Plus supplement with Plavix?

A: No interactions were found between glucosamine and Plavix. This does not necessarily mean no interactions exist. Always consult your healthcare provider.
Q.

How Much Time Does Vitapost Projoint Takes to Get Deliver?

A: The expected delivery duration of this Projoint Plus is as follows:
USPS – Standard (3-5 business days)
USPS – Second Day (2-3 business days)
UPS/DHL/USPS – Tracking International (12-15 business days)
Alternatives To Projoint Plus
There are many supplements in the market which claim to cure joint pain.
If you are looking for some alternatives for VitaPost Projoint Plus, here we have listed some:
Vitapost Projoint Side Effects
This formula is clinically proven to be safe, and there is no history of side effects associated with its use.
Note: Allergic reactions are more common in those allergic to shellfish.[4]
Final Verdict
Joint pains can be very severe and make it difficult for you to make movements and get through daily activities. ProJoint Plus studies are positive, and the majority of customers recommend it. They recovered their joint pains and had a more comfortable life due to the product. It is a powerful joint pain relief product, which will help relieve you from joint pains and improve the overall health of your joints.
According to users, It increases joint flexibility and treats the cause of pain. This formula will also promote faster healing of the damaged joints and cartilage.
Where To Buy ProJoint Plus?
For more details, please visit their Official WebSite
Coupon Code
CONSUMER5
Receive
5% Off
Your Online Order
ProJoint Plus