What is Heal N Soothe?
Heal-n-Soothe is made from a combination of ingredients known to help reduce inflammation in the body and provide antioxidant protection.
As most people know, inflammation of the joints is the primary reason pain occurs with conditions like rheumatoid arthritis and osteoarthritis[1].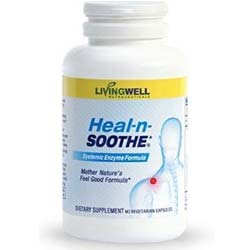 With this product, inflammation is reduced by increasing proteolytic enzymes in the body and removing free radicals.
Proteolytic enzymes function[2] by inhibiting the process of inflammation, thereby reducing it not only in the joints but throughout the whole body.
With reduced inflammation, nerve irritation will also decrease leading to reduced pain sensation.
Being an antioxidant, this joint pain formula facilitates the removal of free radicals in the body that cause damage to the joints, cartilage, tendons[3], and synovial membranes[4].
Who is the Manufacturer of Heal N Soothe?
This product is manufactured by the National Enzyme Company, one of the market's leading supplement manufacturers.
They specialize in producing patented products which contain natural enzymes.
However, the distribution of this product is by Living Well Nutraceuticals and it is sold on their official website and also other leading online retailers.
They provide free trials of the product and offer a money back guarantee on all purchases.
How Does Heal N Soothe Work?
The scientific information on the ingredients shows they could have a positive effect on supporting a reduction in joint pain and inflammation.
This product has a high concentration of natural enzymes.
It works by reducing the inflammation through neutralization of the bio-chemicals.
They reduce it to levels where regeneration and repair of the injured tissues can take place.
Heal N Soothe Ingredients – Are they Safe & Effective?
The main ingredients include:
Bromelain – An enzyme found mainly in pineapples, it supports the body's immune system. One study also confirms Bromelain reduces mild acute knee pain and improves well-being .
Mojave Yucca Root – It is rich with nutrients and antioxidants, and helps removes inflammatory toxins from the body. Studies have shown that yucca may have beneficial effects in the prevention and treatment of arthritis.
Papain – An enzyme that helps break down amino acids into proteins[5]
Rutin – This ingredient may reduce cholesterol[6]
Ginger root – A well-known ingredient that reduces nausea and aids digestion
Turmeric extract – An ingredient that is high in antioxidants. According to the Arthritis Foundation, turmeric is effective at preventing joint inflammation.
What are the Advantages of Heal N Soothe?
Acts as an antioxidant
Helps in reducing cholesterol levels
Helps in relieving joint pain
This joint pain relief product is made from natural ingredients
What are the Disadvantages of Heal N Soothe?
It may not work for severe pain issues
It is only available online
May cause allergies in some consumers
You May Also Like – Instaflex and EasyFlex
Heal N Soothe Questions and Answers
Q: What are the Side Effects of Heal N Soothe?
A: Proteolytic enzymes are safe and no significant side effects are reported yet.
With any supplement, however, there is always the risk of developing an allergy due to ingredients.
If an allergy occurs, you should discontinue the use of the product.
Q: How Should You take Heal N Soothe?
A: Take Heal N Soothe at least once per day, but do not exceed three times a day.
For best results, take it 30 minutes before a meal or 60 minutes after the meal.
Q: How Long Before I See Any Improvement?
A: The manufacturer is not specific about how long it takes to see results although it is said to be fast-acting.
However, results will depend largely on the severity of the joint pain.
Q: What are the Precautions When Using This Product?
A: Individuals on any medication should consult their physician before taking this supplement.
It should be taken with caution by pregnant and nursing females and those with allergies to any of the formula ingredients.
Q: Can I Take Heal N Soothe With Other Medications?
A: If you are taking other medication with Heal-n-Soothe, it is recommended to consult your physician first.
Q: Does Heal-n-Soothe contain Animal Derivatives?
A: No, Heal-n-Soothe doesn't contain any animal derivatives.
Q: What are the similar products available?
A: Arthri-D3 and Arthrozene a couple of similar products available in the market with the same benefits.
Heal N Soothe Reviews – Final Verdict
There are a number of positive customer reviews for this product with many consumers stating that it worked well for relieving their painful joints.
Because there is a free trial period, consumers are able to try the product and see how well it works for them, with no financial risk.
However, they should be aware that by ordering the trial they will be enrolled into the auto-billing program and continue receiving the product at a cost of $59.00 per bottle unless they cancel.
Before making a decision about this product, it is wise to look at other joint supplements reviews like Omega XL, Relief Factor, and Osteo Bi-Flex to explore more options on the market.
Pain-free movement is vital to our well-being and joint damage can prevent you from doing the things you once loved.
Many conditions lead to joint pain from aging to an untreated sports injury.
A quality joint product may help repair existing tissue damage and also promote stronger joints that are less susceptible to future degeneration.
'Heal N Soothe' can be purchased through their Official WebSite.
Healthy joints allow us to move with ease. Joint damage can cause pain and damage, preventing you from doing the things you once loved. From aging to an untreated sports injuries – many conditions lead to joint pain. A quality joint product may help reduce inflammation, repair existing tissue damage, and also promote stronger joints, lessening susceptibility to future degeneration.
Below you'll find some of the most effective joint pain supplements on the market today, in our opinion.
Our Top Joint Pain Relief Choices
Projoint Plus

Fight Joint Pain and Inflammation*
Prevent Recurring Damage*
Fight Joint Pain and Inflammation*
Prevent Recurring Damage*