Heal-n-Soothe Overview
If you have been long suffering from constant joint pain and inflammation, then you might want to try this all-natural product that is said to address those symptoms without any harmful side effects. Heal-n-Soothe is made from a combination of ingredients known to help reduce* inflammation in the body.
This health supplement contains not only anti-inflammatory properties but also has antioxidants. The combination of ingredients potentiates the effect that it has on the body. As we all know, inflammation of the joints is the primary reason pain occurs with conditions like rheumatoid arthritis and osteoarthritis. With this product, inflammation is reduced* by increasing* proteolytic enzymes in the body and removing* free radicals. Proteolytic enzymes function by inhibiting the process of inflammation thereby reducing* inflammation not only in the joints but throughout the whole body. With reduced* inflammation, nerve irritation will also decrease* which will lead to reduced* pain sensation. Being an antioxidant, Heal-n-Soothe facilitates removal of free radicals in the body that causes damage to body structures including joints, cartilages, tendons, and synovial membranes.
Who Manufactured Heal-n-Soothe?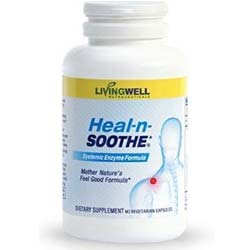 National Enzyme Company manufactures this joint product. This company specializes in the production of patented products that contains natural enzymes. However, the product is distributed by Living Well Nutraceuticals.
What Does Ingreadents
Each capsule of Heal-n-Soothe contains the following ingredients:
Vitamin E
L-glutathione
Serrazimes
Bromelain
Papain
Citrus Bioflavonoid Complex
Rutin
Boswellia serrata
Ginger Root
Turmeric extract
Devil's Claw
Suggested Usage
The manufacturer recommends at least one (1) capsule each day. However, the dosage can be increased to three times a day. The capsule/s should be taken an hour before or after food consumption. There should also be one hour gap between other medications.
Advantages Of Heal-n-Soothe
If you have been diagnosed with a medical condition or is currently taking any medication, consult your doctor first prior to taking this product
Take the supplement with an empty stomach to facilitate absorption
The Cons Of Heal-n-Soothe
Do not take this supplement if you have known allergy to any of its component
Do not take this product if you are pregnant especially during the first trimester as its safety to the growing fetus is not yet established
Do not take this supplement if you are currently providing breastfeeding to your child
Avoid the product at least 2 weeks before and after a surgery as it may increase* the risk of hemorrhage
Do not take this product if you are taking Warfarin, Aspirin, and other blood thinners as it will increase* the bleeding risk
Can I Take Other Medications With Heal-n-Soothe?
Although the manufacturer regards the product as safe and all-natural, the product may not be taken with other medications like blood thinners, certain antibiotics, and NSAIDs. It is always safer to consult your doctor before taking this supplement.
What Conditions Does it Treat*?
Heal-n-Soothe is not approved as a mainstay treatment for any medical condition. However, it addresses the symptoms of inflammation and pain. It can be beneficial for people with arthritis, back pain, knee pain, sciatica, shin splints, and other musculoskeletal conditions.
Precautionary Warnings and Possible Side Effects
Heal-n-Soothe contains ingredients that inhibit blood clotting thus it should be avoided by people taking blood thinners such as Warfarin, Aspirin, or is having Heparin therapy. It should also be avoided by people that are scheduled for surgery or has just undergone surgery to avoid the complication of bleeding.
This product may also reduce* the intended effects of some antibiotics or potentiate their side effects thus people who are having antibiotic therapy should use Heal-n-Soothe only after approval from their doctor.
Although it is said that the product does not have any side effects, the user may still experience the following:
Nausea
Vomiting
Tachycardia (Increased Heart Rate)
Palpitation
Gastric upset
Are There Any Heal-n-Soothe Complaints?
Consumers said that they had been scammed when they order this product. It was written on the official website that they offer a money-back guarantee for those who are not satisfied with the product. However, it was not mentioned that the company does not accept open bottles and that the merchandise should be returned within thirty (30) days from shipment date. This return policy is quite tricky as you will no longer be able to return the bottle once you open it. Also, the conditions are not clearly stated in the website.
What Research Has Been Done on Heal-n-Soothe?
Although there have been numerous studies about the ingredients of this product, there is no published research or clinical study proving the efficacy of Heal-n-Soothe in reducing* symptoms of inflammation and musculoskeletal pain.
Final Verdict
The feedback from consumers about its efficacy is somehow positive as many of them said that they noticed an improvement in their condition. And since this product offers a free 30-day trial period wherein you just have to pay for the shipping and handling fee, you can try its effectiveness for yourself. This is a good promotional activity as it will allow consumers to test the efficacy of the product however if you avail of that offer and does not cancel after that, they will automatically bill your credit card and send you one bottle every month thus you have to be very careful.
Below we have ranked the best joint supplements to make it easy for you to find effective and safe products. The ranking is based on crucial factors like potential to alleviate joint pain, potential to promote joint cartilage and tissue regeneration, potential to prevent recurring damage, potential to improve overall joint health, and quality of ingredients. In the end, we were able to come up with the bottom-line value of each product.
Our Top Joint Pain Relief Choices

Fight Joint Pain and Inflammation
Fight Joint Pain and Inflammation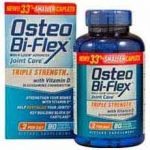 Fight Joint Pain and Inflammation
Fight Joint Pain and Inflammation
Fight Joint Pain and Inflammation