What is Heal N Soothe?
Heal-n-Soothe is made from a combination of ingredients known to help reduce inflammation in the body, and it contains not only contain Anti-inflammatory properties but also has antioxidants.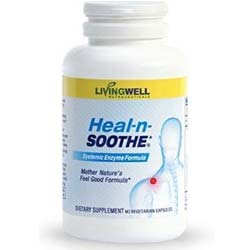 The combination of ingredients potentiates the effect that it has on the body. As already known to most people, inflammation of the joints is the primary reason pain occurs with conditions like rheumatoid arthritis and osteoarthritis[1] .
With this product, inflammation is reduced by increasing proteolytic enzymes in the body and removing free radicals. Proteolytic enzymes function[2] by inhibiting the process of inflammation thereby reducing inflammation not only in the joints but throughout the whole body.
With reduced inflammation, nerve irritation will also decrease leading to reduced pain sensation. Being an antioxidant, this joint pain formula facilitates the removal of free radicals in the body that causes damage to body structures including joints, cartilages, tendons[3], and synovial membranes[4].
Who is the Manufacturer of Heal N Soothe?
This product has been manufactured by National Enzyme Company, one of the markets leading supplement manufacturers. They specialize in producing patent products which contain natural enzymes.
However, the distribution of this product is done by Living Well Nutraceuticals. They sell this product on their official website and also in other leading online retailers.
They provide free trials to enable one to make a conscious buying decision, and they also have a money back guarantee in case the product fails to work as promised.
Heal N Soothe Review – Does it Really Work?
The scientific information on the ingredients shows they could work to achieve the supplement's claims.
Heal N Soothe Ingredients – Are they Safe & Effective?
This product has a high concentration of natural enzymes. It works by reducing the inflammation through neutralization of the bio-chemicals. They reduce it to the levels where generation and repair of the injured tissues take place. This is expected to improve the heart health, cancer recovery, and prevention of memory loss.
The major ingredients include:
Bromelain – It is extracted from pineapples, that supports the body's immune system
Mojave Yucca Root – It is rich with nutrients and antioxidants, and remove inflammatory toxins from the body
Papain – That helps break down the amino acids into proteins[5]
Rutin – Which helps reduce cholesterol[6]
Ginger root – That helps in the loss of appetite as well as preventing nausea
Turmeric extract – That increases the antioxidant capacity
What are the Advantages of Heal N Soothe?
Acts as an antioxidant
Helps in reducing the cholesterol levels
Helps in relieving the pains
This joint pain relief product is made from natural ingredients
What are the Disadvantages of Heal N Soothe?
It may not work radically
It is just available online
Could cause some radical effects to those who are allergic to its ingredients
FAQ's
How Do I Use The Product?
Take Heal N Soothe at least once per day, but do not exceed three times a day. For best results, take it 30 minutes before a meal or 60 minutes after the meal. You could start with 2 to 4 capsules per day if you do not experience the reduction of pain in the normal dosage.
How Long Before I See Any Improvement?
The manufacturer is not specific about the number of days you will take to see the improvement, although they do mention it does not take long. However, that may change with the person
What are the Precautions When Using This Product?
Individuals under any medication should consult their physician before taking this supplement. However, it is recommended to wait up to 60 minutes after taking it before you can have another medication.
Do not use it during pregnancy or when you are breastfeeding. Ensure you are not allergic to any of its ingredients, and follow all the manufacturer's instructions.
Does Heal-n-Soothe contain Animal Derivatives?
NO, Heal-n-Soothe doesn't contain any animal derivatives.
Heal N Soothe Reviews – Final Verdict
The feedback from consumers about its efficacy is quite positive as many of them said they noticed an improvement in their condition. Since this product offers a free 30-day trial period wherein you just have to pay for the shipping and handling fee, you can try its effectiveness for yourself.
This is a good promotional activity as it will allow consumers to test the efficacy of the product however if you avail of that offer and does not cancel after that, they will automatically bill your credit card and send you one bottle every month thus you have to be very careful.
The product sells at $59 for a single bottle, or one can subscribe to the monthly supply at $49.95 per bottle. The manufacturer promises free delivery to different locations, and also for bulk orders.
The subscriptions delivered for free. Ensure you get more information about this product before purchasing it. Or else you can take a look at other joint supplements reviews to explore more options on the market.
Bones are connected by joints, which allow us to move with ease. Joint damage can cause pain preventing you from doing the things you once loved. Many conditions lead to joint pain from aging to an untreated sports injury. A quality joint product may help repair existing tissue damage and also promote stronger joints, less susceptible to future degeneration.
Below you'll find some of the most effective joint pain supplements on the market today, in our opinion.
Our Top Joint Pain Relief Choices
FlexoPlex

Fight Joint Pain and Inflammation*
Prevent Recurring Damage*
Fight Joint Pain and Inflammation*
Prevent Recurring Damage*