In This Review
What is Instaflex Advanced?
Instaflex Advanced Joint Support is a joint support formula that works quickly to offer you flexible joints and reduce joint stiffness. The joint care ingredient has been touted by many experts as the ultimate care product against arthritis and immobile joints.
Among the major milestones of Instflex Advanced, joint care is the celebrity endorsement by Doug Flutie (professional football player).
Who Makes Instaflex Advanced Joint Support?
According to the producers, the product is designed with the best joint care ingredients in the market. They claim that Instaflex Advanced Joint supports a safe and effective joint supplement that inhibits the root causes of inflammation.
On top of that, they claim that this product has the ability to lubricate the joints and offer the required joint cushioning for optimal joint functioning. Instaflex Advanced Joint Support is the brainchild of a company by the name Instaflex. It has other supplements in its catalog.
The producers claim that they have subjected this product to several clinical trials. However, they have not published the procedures and findings of clinical studies. Nevertheless, all the ingredients used in this product have been scientifically tested. In fact, they have been used for years in ancient medicine and have proven to be effective.
Another claim made by Instaflex producers relates to its effectiveness and turnaround. They claim that this product is a potent anti-inflammatory that offers support to overburdened organs within the first two weeks of usage.
Instaflex Advanced Joint Support is sold for arthritis and gout despite not being approved to heal the two conditions.
How Does Instaflex Advanced Joint Support Work?
Instaflex Advanced Joint Support has been touted as highly effective and potent for the treatment of inflammation. Inflammation has been mentioned as the most common cause of joint pain. The second most common cause of joint pain is friction in the joint tissues.
Instaflex has managed to combine ingredients that work towards stopping inflammation and promoting joint lubrication. Users of this product are however complaining that this product takes too long.
Advertisement
*All individuals are unique. Your results can and will vary.
They claim that you will have to finish at least the first bottle to have any notable benefits. The producers, however, claim that you need only one week.
What Are the Ingredients in Instaflex Advanced?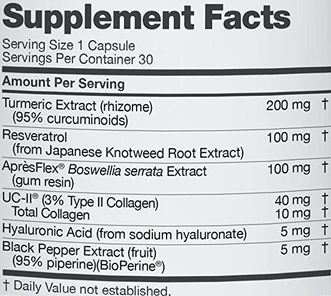 Turmeric Extract – Turmeric is a spice made from the root of the Curcuma longa plant, a perennial ginger family member. Curcumin is the main active component.
The advantages of curcumin are turmeric's treasure. Curcumin contains anti-inflammatory and antioxidant effects. Researchers are looking at whether it might assist with inflammatory conditions including arthritis and ulcerative colitis.
Turmeric has long been used to treat arthritis in Chinese traditional medicine and Ayurveda[1].
Resveratrol – Resveratrol is a physiologically active molecule produced by plants that have been exposed to viral or ionizing radiation.
This natural polyphenol has been identified in over 70 plant species, as well as small levels in red wines and a variety of human meals. Grapes have high amounts, probably as a result of Vitis vinifera's reaction to fungal infection. Resveratrol is a phytoalexin produced by plants in response to mechanical damage, UV exposure, and fungal infections[2].
AprèsFlex(Boswellia serrata Extract) – Boswellia serrata is an Indian, African, and Arabian Peninsula tree. It is widely utilized in Ayurveda, a traditional Indian medicinal system. Chemicals found in Boswellia serrata may help to reduce edoema and boost the immune system. For medicinal uses, extracts of the Boswellia serrata sap, bark, and other plant components have been taken by mouth[3].
UC-II Collagen – Fibrils are formed by type II collagen. The fibrillar collagen network permits cartilage to entrap the proteoglycan aggregate while also providing the tissue with tensile strength. Oral delivery of natural type II collagen increases oral tolerance to pathogenic immune responses, which might be beneficial in the treatment of arthritis[4].
Hyaluronic Acid – HA is a humectant (a material that holds moisture) that can hold 1,000 times its weight in water. This material can be found naturally in many parts of the human body, including the skin, eyes, and joint synovial fluid[5].
Black Pepper Extract – In traditional medicine, black pepper has been used to treat epilepsy and pain. Piperine has been tested for antibacterial action against bacteria, fungus, and protozoans, among other microorganisms[6].
---
What are the Advantages of Instaflex Advanced?
The parent company is known to produce high-quality products.
It is a proven joint supplement containing all-natural ingredients.
The product offers a money-back guarantee.
A free trial is available.
What are the Disadvantages of Instaflex Advanced?
Customers have reported buying counterfeit products in some local stores.
The main issue is that there isn't nearly enough hyaluronic acid to provide any benefit. We only received 5mg. Instaflex Advanced isn't competitive in this category since other joint supplements include more than 100mg of hyaluronic acid.
---
Instaflex Advanced – Video Review
FAQs
Q: How Much is Instaflex Advanced?
A: This product is sold from the official website for $69.99 per bottle. However, the prices may change from time to time.
Advertisement
*All individuals are unique. Your results can and will vary.
Q: What is Instaflex Advanced's Return Policy?
A: After your trial period, any additional bottle purchased is eligible for a full refund if the unused portion is sent back within 30 days of the date the product was shipped.
Q: Does Instaflex Advanced Offer a Free Trial?
A: It offers a 14-day free trial offer.
Q: How do I get some of the free samples of Instaflex Advanced?
A: You can only claim this sample offer online, so now is the chance to see if you qualify.
Q: Can you buy Instaflex Advanced in Stores?
A: Yes, you can find Instaflex Advanced in some of the most popular retailers around. After all, it's trusted and sold by GNC, Walgreens, Drugstore, Lucky Vitamin, and Duane Reade. These exclusive shops don't carry just any supplement, so you know that Instaflex Advanced is a premium formula. But one thing these retailers can't offer is a 14-day sample to try it first!
Q: Are there any Instaflex Advanced Side Effects?
A: Edema, nausea, headache, dizziness, vomiting, constipation, itching, flatulence, pain in extremities, and indigestion are all possible adverse effects* of Instaflex Advanced. If you suffer any of these negative side effects, get medical help.
Q: How are the Instaflex Advanced Reviews given by the consumers?
A: Reading the consumer reviews before sitting at a particular product is important. Following are the Instaflex Advanced Reviews given by the consumers that you can read before making your decision.
Purchased for my mother, who suffers from joint pain. So far, she's been really delighted with this product. As this was originally a recommended product, I will continue the tradition. It can help you if it works for her (she has severe pain at times). To be honest, I believe it is worth the money if it makes your life a little simpler to navigate. ~ Review by John.A
Sacred Mackerel This is fantastic! I've been hobbling about because of pain in both knees. However, this stuff is fantastic! I can walk, take stairs, and get into my automobile nearly pain-free after taking one tablet every day. This is far superior to anything I've tried previously. ~ Review by Alan.L
My wife tried it and stated it had genuine therapeutic advantages, especially in terms of mobility. ~ Review by Stew.J
Q: What are the Precautions to Take When Using This Supplement?
This product can absorb moisture and thus should be kept in an air-tight container.
Instaflex Advanced joint support is not to be used in children unless approved by a qualified professional
Do not confuse this supplement with Instaflex Joint support
Store in a cool dry place away from moisture.
Q: Where Can You Buy Instaflex Advanced?
A: You can buy this product from its Official WebSite. If you prefer some e-commerce stores then you can even buy Instaflex Advanced at Walmart & Amazon.
Instaflex Advanced – Alternatives
| | | |
| --- | --- | --- |
| Products | Cost Range | Key Ingredients |
| ProJoint Plus | $29.95 | Chrondroitin Sulfate, Turmeric, Bromelain, Methionine, Boswellia extract, Glucosamine Sulfate, Quercetin |
| Joint N-11 | $49.00 | ROSEMARY, BIOPERINE, SOY LECITHIN, BASIL LEAF POWDER, TURMERIC, NIACINAMIDE |
| Joint Fuel 360 | $54.95 | Resveratrol, Hyaluronic Acid, Type II Collagen, Boswellia Serrata Extract, Turmeric, Black Pepper Extract |
| Arctic Blast | $79.99 | Peppermint Oil, Camphor Oil, Emu Oil, St. John's Wort Oil |
Instaflex Advanced – Seller info
Address: Instaflex, 2323 South 3600 West, West Valley City, UT 84119
E-Mail: [email protected]
Phone: 1-800-436-0920
Instaflex Advanced Reviews – Final Verdict
This is one product that uses all the crème de la crème of the joint care industry. It packs all the recommended ingredients for healthy joints.
Despite being an expensive product, it can be a recommended joint supplement for people who can afford it. Otherwise, we have some cheaper products with equally beneficial effects.
Healthy joints allow us to move with ease. Joint damage can cause pain preventing you from doing the things you once loved. From aging to untreated sports injuries – many conditions lead to joint pain. A quality joint product may help reduce inflammation, repair existing tissue damage, and promote stronger joints, lessening susceptibility to future degeneration.
Below you'll find some of the most effective joint pain supplements on the market today, in our opinion.
Our Top Joint Pain Relief Choices
Verdict on Claimed Benefits: Below is our summary of the available evidence for the claimed benefits of below mentioned joint pain supplements based on the available research: