In This Review
What is Omega XL?
Omega XL is a dietary supplement designed to help alleviate joint pain and inflammation.
The information is presented to the consumer in a succinct and straightforward manner and the website also offers a video describing how the product is made.
Does it actually work? Read our review of Omega XL to find out.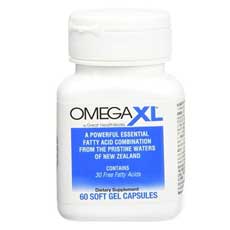 It is unique because it contains a patented green-lipped mussel extract that differentiates it from many other products of its type since it has none of the common side effects of standard fish oil.
Omega XL is packaged in a bottle of 60 soft gel capsules with an introductory offer of two bottles for $49.95, half the normal price for two bottles.
There is a 90-day risk-free unconditional money back guarantee and they offer a discount to consumers through the company's referral program.
Who is the Manufacturer of Omega XL?
Omega XL is manufactured by the company Great Health Works and is a joint support supplement comprised of a pure oil extract from New Zealand green-lipped mussels (Perna Canaliculus) which are rich in Omega-3 fatty acids.
Many studies have shown the benefits of omega-3 free fatty acids in reducing inflammation and producing a variety of other effects such as lowering blood pressure and offering powerful heart-health benefits.[1]
Omega XL's patented oil marine complex, PCSO-524, in particular, is pure, contains no levels of harmful toxins or PCBs, and has demonstrated, clinically proven evidence of reducing joint pain associated with inflammation without harmful side effects.[2]
Omega XL Ingredients – Are they Safe & Effective?
The ingredients contained in Omega XL include:
Perna Canaliculus PCSO-524 (patented oil extract) – Rich in Omega 3 fatty acids, it reduces inflammation, improves cardiovascular health and supports immunity. Research says it has an anti-inflammatory activity that can contribute to reduced pain and improved joint mobility for patients who suffer osteoarthritis.

Monounsaturated Olive Oil – Supports a reduction in inflammation.[5] According to Healthline, olive oil can reduce inflammation, which may be one of the main reasons for its health benefits.

Vitamin E – Fights off free radicals with potent antioxidants.
Other ingredients Include Gelatin, Glycerin, Purified Water. Free of shellfish protein, artificial ingredients, milk, yeast, corn, and gluten.
How Does Omega XL Work?
Omega XL provides healthy omega 3 fatty acids that include EPA and DHA.[3]
It improves joint and bone health and contributes to a reduction in pain and inflammation.[4] By doing so, joints are more flexible and there is a greater range of motion.
---
What are the Advantages of Omega XL?
The oil is sourced from one of the cleanest and purest parts of the world
There is a 90-day money back guarantee.
Detailed video describing the source of the product and how it is made.
Easy to swallow capsules.
No known side effects.
What are the Disadvantages of Omega XL?
No customer testimonials except a paid spokesperson.
Can be difficult to cancel the auto shipment.
It is only available online.
No specific clinical trials published on the company website to prove their product works.
---
SEE ALSO – Arthrozene and Relief Factor
Omega XL Questions and Answers
Q: How to Use?
A: Dosage: Take two (2) soft gel capsules 1-3 times per day, preferably with meals. However, the official site suggests 4 gel capsules daily, preferably with a meal, for the first 8 weeks. All 4 may be taken at once, or two in the morning and two at night — whatever works best for you.
Q: Can Omega XL be taken with other medicines?
A: If you are taking any other medications, you should consult your doctor or a medical professional before using Omega XL.
Q: What is the temperature suitable for Omega XL to be stored?
A: You should store the supplement at room temperature or lower. The product should be kept away from direct sunlight and stored in a place with as low humidity as possible.
Q: Can I take Omega XL if I have a sensitive stomach?
A: Yes, it is safe to use if your stomach is sensitive, but make sure to take it with a meal.
Q: What is the expiration date?
A: The product loses its optimum quality after the expiration date as the Omega-3s found in the supplement begin to break down. Omega XL maintains its quality for two years after the manufacturing date as long as it is kept at low humidity and temperature levels.
Q: Do I need to check with my Doctor?
A: It is a natural source of Omega-3 essential nutrients. It is derived from the green-lipped mussel. However, it is important to review with your healthcare provider before beginning any supplement.
Q: Can I just eat more fish?
A: Yes, eating fish would be a healthy choice for most of the people, however, data from regulatory agencies suggest that freshwater fish in the United States may contain harmful chemicals due to industrial pollution leading to residues of heavy metals (like mercury) and organochlorine carcinogens (like PCBs).
The alternative way to receive Omega-3 fatty acids is through supplements. OmegaXL is derived from the green-lipped mussel from the pristine waters of New Zealand.
Q: What are the benefits of Omega XL?
A: OmegaXL is effective at relieving joint pain due to inflammation, supporting joint mobility and function, and helping you maintain an active lifestyle.
Q: What are the ingredients in Omega XL?
A: OmegaXL's ingredients are Perna Canaliculus proprietary oil extract, Vitamin E and Natural monounsaturated olive oil.
Q: Where to buy Omega XL?
A: This supplement is easily available online. Omega XL can be purchased through their Official WebSite. You can order OmegaXL on Amazon, Walmart, and eBay. Get all the latest information on events, sales, Omega XL coupon codes, and discount offers on their Official website.
READ NEXT – Osteo Bi-Flex and Joint Fuel
Q: Is Omega XL Safe?
A: Omega XL claims to be extremely safe as it contains all-natural ingredients. As with any dietary supplement, you should discuss it with your doctor before taking it if you have any concerns.
Q: Does Omega XL Work?
A: Omega XL is an all-natural dietary supplement for easing joint pain and inflammation. Backed by 30 years of clinical research, Great HealthWorks created Omega XL to help you live with more vitality and less discomfort. Omega XL has been shown in clinical research to support joint health and mobility.
Q: Is Omega XL a Scam?
A: Omega XL isn't a Scam, they are legitimate. The misinformed Omega XL reviews have led some to worry that there's an Omega XL scam, but a closer look at the research reveals this couldn't be further from the truth.
What are the side effects of taking Omega XL?
According to the manufacturer's website, there are no known side effects or drug interactions, and it is even safe to use for individuals with shellfish allergies.
Q: Can someone that gets dialysis done three times out of the week take this product?
A: The available studies do not provide enough evidence to recommend omega-3 supplements for all patients on dialysis.
How much is the Omega XL?
1 bottle of 60 Soft Gel Tablets: $62.40.
2 bottles of 60 Soft Gel Tablets: $49.95.
The introductory offer is dependent on signing up for auto shipment. Each month the company will send you one bottle of 60 tablets.
You agree that you can bill the same credit card you use when you sign up for each future shipment.
Note: Shipping and Handling cost $9.95.
Omega XL Complaints
The majority of consumer feedback regarding OmegaXL is controversial at best.
The Better Business Bureau, for instance, has compiled 95 complaints over the past 3 years with only just over a dozen being resolved.
Omega XL Review – Final Verdict
Omega XL is a pain relief product which appears to be a good choice for consumers. With natural ingredients from pure, safe sources and a well-researched formula, it may help support the reduction of pain caused by aging or overworked joints.
It acts as an anti-inflammatory, thus allowing natural movement and an increase in flexibility. Former users have given mixed reviews about the Omega XL, and because the website contains limited information, consumers may need to do their own research on the product.
They should also compare it with other joint pain relief products like Heal N Soothe, Instaflex and Joint Advance on the market in terms of ingredients and cost. As always, consult a physician prior to supplementing as part of your regimen.
We invite you to share any feedback, opinions, or insight you may have by sharing a comment below!
Healthy joints allow us to move with ease. Joint damage can cause pain preventing you from doing the things you once loved. From aging to untreated sports injuries – many conditions lead to joint pain. A quality joint product may help reduce inflammation, repair existing tissue damage, and promote stronger joints, lessening susceptibility to future degeneration.
Below you'll find some of the most effective joint pain supplements on the market today, in our opinion.
Our Top Joint Pain Relief Choices
Projoint Plus -
5% OFF Today

Fight Joint Pain and Inflammation*
Prevent Recurring Damage*
Fight Joint Pain and Inflammation*
Prevent Recurring Damage*