In This Article
What is Arthrozene?
Arthrozene is a 3-step solution that contains three active ingredients that may help with joint pain, stiffness, and inflammation while improving mobility and flexibility.
This next-generation formula also promises to slow down cartilage degradation and increase lubrication and the ingredients have been clinically tested to assure users that it is safe and efficient.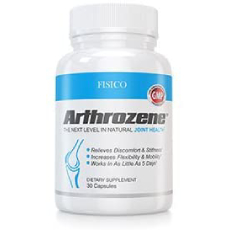 Who is the Manufacturer of Arthrozene?
The company behind the product is Fisico Inc. They appear to be an established company with a good reputation in the industry.
The company has an official website that includes product information and all contact details.
How Does Arthrozene Work?
Arthrozene is a three-step solution with key ingredients that are purported to reduce inflammation, pain, and stiffness.
Advertisement
*All individuals are unique. Your results can and will vary.
Containing ApresFlex®, Boswellia Serrata, Mobilee®, Hyaluronic acid (or HA), and B-2Cool® type II collagen, the proprietary formulation also claims to prevent cartilage breakdown and increase lubrication for better flexibility and range of motion.
With these powerful joint health ingredients, Arthrozene is a formula that may offer pain relief, comfort, and mobility.
Arthrozene Ingredients – Are they Safe & Effective?
This potent formulation contains three active ingredients that are responsible for proper joint health.
The ingredients in the product are:
Mobilee natural chicken comb extract (80mg) – The compounds found in chicken comb extracts, such as hyaluronic acid, collagen type II, and glucosaminoglycans, are contained in Arthrozene.
Type II Collagen (40mg) – Present in B-2Cool, is a natural ingredient supplying native (undenatured) type II collagen that may improve joint health[1]. Study results demonstrate that a clinically relevant daily dose of type II collagen can improve the mechanical function of the injured joint and prevent excessive deterioration of articular cartilage[2].
Hyaluronic Acid (40mg) – In the connective tissues, skin, and eyes, hyaluronic acid is present in high concentrations and is another form of protein synovial fluid. Injecting this protein into a joint has been proven helpful in treating pain[3]. However, this injection is reserved for severe pain and may only be administered by a doctor. Thanks to recent discoveries by Bioiberica, The Leader In Joint Health it has been established that you can take another compound known as Mobilee[4] for a similar effect[5]. It's been shown that doses of 200mg a day are beneficial for reducing joint pain, which is a lot higher than Arthrozene's daily dose of 80mg.
Glycosaminoglycans – Glycosaminoglycans are probably the best ingredient of Arthrozene. Glucosamine is a widely used ingredient in joint supplements. It is an amino acid sugar that is highly concentrated in all the tissues that support your joints – cartilage, tendons, lubricating fluids, and ligaments. People take glucosamine because it is necessary for the formation of glycosaminoglycans; a group of compounds vital for proper joint function.
ApresFlex Boswellia serrata extract (100mg) – Is an herb that can be found in native parts of Africa and the Middle East and has been used for many years as an anti-inflammatory[6]. This joint pain supplement contains an optimum amount of the extract in AprèsFlex[7]. It is better absorbed by the body to prevent joint pain and stiffness. As per Indian Journal of Pharmaceutical Sciences, Boswellia Serrata, it is a potential anti-inflammatory agent.
What are the Advantages of Arthrozene?
This pain relief product might be able to provide a range of different benefits for any user who is struggling with poor joint health.
This includes relief from pain, soreness, inflammation, and stiffness.
The product includes prominent ingredients which could increase synovial fluid for better mobility.
The product also contains key ingredients that could stop the breakdown of cartilage and help with increased mobility and flexibility.
What are the Disadvantages of Arthrozene?
While the dietary supplement claims to attack joint pain and stiffness at their root, it may take a long time to produce results.
The product is all-natural but still some people may experience issues such as nausea and stomach upset.
When compared to similar formulations, this is one of the higher priced products and there is no evidence that it can work well for severe conditions of joint pain.
Arthrozene Customer Reviews
The reviews for this product were divided in half, with some people loving the supplement and others finding it ineffective.
While the reviews found on the official site are all positive, some other consumer health sites contain independent reviews for arthrozene that are more mixed, with some reviewers claiming the product didn't work at all even after several months of use.
Advertisement
*All individuals are unique. Your results can and will vary.
Read What Other Users are Saying:
I'm traveling for the summer and left my new bottles of Arthrozene that I just received at home by mistake. Do you have any specials I could take advantage of for 1-2 bottles until I can have them mailed to me? I love the product, have recommended it to several acquaintances, and have had no adverse effects myself. However, after not taking it for a day or two, I notice my painful knees are coming back. ~ Rosanne Van Cleve
Side Effects of Arthrozene: Is Arthrozene Safe?
Arthrozene is considered secure by the majority of consumers. However, some users have documented side effects from collagen type II.
Most people who take Arthrozene may have experienced a little more side effects, although those who are allergic to collagen type II may have some problems. Some people can suffer from:
Problems with the stomach
Pain in the head
Sleeping problems
Feeling dizzy
Symptoms of Liver Swelling
These are rare cases, but they have been documented by
WebMD
as people have had complications while taking collagen type II.
Aside from that, Arthrozene is unlikely to cause any problems, and joint supplements, in general, are reasonably safe to use. Especially if it's a high-quality one with all-natural ingredients. It's important to note that the concentrations of the compounds contained in Arthrozene are uncertain. We have no idea how much hyaluronic acid is in each serving, which is a problem.
Any person who takes collagen supplements for a long time can develop liver problems. This isn't surprising, considering that the human body isn't built to absorb and produce collagen regularly. Arthrozene isn't the cleanest material we've met. It's mostly chicken comb and chicken sternum that cross the divide for our vegan and vegetarian friends. The ApresFlex Boswellia Serrata is the only saving grace here, but it would require more help to make a difference.
Overall, Arthrozene tends to be a healthy substitute. Follow the manufacturer's directions closely, and if you notice any side effects, avoid using it right away.
Is Arthrozene approved by Food and Drug Administration (FDA)?
The Food and Drug Administration (FDA) has not tested Arthrozene. Arthrozene isn't supposed to be used to detect, treat, heal, or avoid any infection. Arthrozene is not meant to be used as a supplement for medical care. For your health conditions, you may seek the guidance of a healthcare provider.
Natural supplements will not be licensed by the FDA because they are not considered medicines. There isn't a single natural joint supplement on the market that has earned full FDA clearance. Everything that falls into that range necessitates a prescription, but none of the Arthrozene ingredients do.
Is Arthrozene Scam or Genuine?
Arthrozene is not a Scam. It's a Genuine. It is a legal joint complement with a market-average offer provide. When a free trial is offered, certain kinds of joint supplements are more likely to be a fraud.
Advertisement
*All individuals are unique. Your results can and will vary.
When a supplement company gives a free trial of their items, they usually take the billing information for delivery – and only re-bill you a couple of days later when you get the full price of the product.
This is a model we've used in the supplements industry before, and it's one you should be aware of. This isn't true of all supplement businesses that have this service, although the majority of those that do prefer to use this approach.
After a few days of use, the user on the free trial is compelled to buy the product in its entirety. Fortunately, Arthrozene does not seem to do this, so it should not be a concern. It does not seem to be a sham; indeed, it appears to be a genuine mutual complement.
Arthrozene Frequently Asked Questions
Q: How Should You take Arthrozene?
A: The company recommends taking one pill per day with a glass of water. The pill should be taken on an empty stomach.
Q: What is the working process of Arthrozene?
A: Arthrozene claims to treat the joint pain and stiffness at its root. It claims to slow down cartilage degradation and increases lubrication. It claims to help increase flexibility and pain-free movability so that you can get back to the daily routine.
Q: How Much Does Arthrozene Cost?
A: One bottle costs $49.95 while three bottles are $44.95 each. Six bottles are $39.95 each and the three and six-bottle packages come with free shipping.
Q: Does Arthrozene include caffeine?
A: No, it is a caffeine-free product.
Q: What is Arthrozene Return Policy?
A: The company offers a 90-day, full money-back guarantee which is not inclusive of shipping and handling. If you feel unsatisfied with the product, simply contact the support team to request your refund.
Q: Shall I intake this product if I am suffering from a medical condition?
A: If you are suffering from any medical issues then we suggest that you contact your physician for proper approval. Also, do not consume it if you are pregnant, nursing, or under the age of 18.
Q: Does Arthrozene Offer a Free Trial?
A: The company does not offer a free trial.
Q: How to Contact Arthrozene for a Refund?
A: Please reach out to their customer support team at [email protected] and they will be happy to help process your refund request right away. You can also find out more about their business at their verified location:
Fisico Inc.
6 Lyberty Way, Suite 103
Westford, MA 01886
Phone: 800-392-4727
Q: Are reviews from real people who use the product?
A: Yes, the reviews of Arthrozene you see on the Consumer Health Digest are from the real people who actually used the product. It has mixed reviews but most users are satisfied with it (especially in terms of relieving pain). Still, there's a high risk of side effects in this product, due to its concentrated formula.
Q: Does it interfere with blood thinner (Coumadin)?
A: Arthrozene is an all-natural formula that is considered safe and extremely effective for nearly everyone. That said, if you take prescription medications or have a medical condition, we recommend that you show a bottle of Arthrozene to your physician for proper approval. You can always return it later with an Arthrozene 90-day money-back guarantee. However, do not take Arthrozene if you are pregnant, nursing, or under the age of 18.
Q: Does Arthrozene relieve muscle spasms in legs?
A: Arthrozene's trademarked ingredients are each backed by multiple clinical trials and shown to soothe discomfort, muscle spasms, ease stiffness while improving flexibility and mobility.
Q: Does this product offer any relief for hip joint pain?
A: Arthrozene is designed to manage joint pains, inflammation, and stiffness in the body. According to a customer review posted on BBB by John T, it states, "I just started taking Arthrozene Monday, April 5, 24 hours later, I awoke & found my right hip, the only one I have is feeling no pain. I have bone on the bone this hip. The other hip failed 4 hip replacements, so I do not have a hip, the pain that I normally have has been reduced significantly. Both shoulders have bone on bone, are feeling significantly better. My right ankle that was crushed in 1995, is feeling better. The true test was passed, yesterday, I went out to cut my compass grass down, I have 12 in my backyard, 4 to 5 feet high, I cut down 4, but I ran out of gas. I am 80 years old and haven't much physical activity, but I am pleased that I could accomplish that. I rate a 5-star rating"
While others found it is a complete waste of money.
Q: Where Can I Buy Arthrozene?
A: 'Arthrozene' can be purchased through their Official WebSite and you can buy arthrozene from Walmart and Amazon.
Q: What are the products similar to Arthrozene?
A: Stim Tein, Theracurmin HP, and Flex Joint Plus are joint pain supplements available in the market with similar benefits.
Arthrozene Review – Final Verdict
Arthrozene is a formulation that makes several claims regarding its effectiveness in combating joint pain and stiffness.
The product claims to eliminate inflammation and increase synovial fluid for better mobility. Further, this supplement purports to stop the breakdown of cartilage which may cause joint problems. While this formulation may help with joint pain, it may also cause some side effects despite being an all-natural product.
The company claims to have used potent ingredients to alleviate pain, inflammation, and soreness and states that the product is very fast-acting. However, it is more expensive than comparable joint pain products such as Heal-n-Soothe, Omega XL and Relief Factor so it is worth considering all the options available before choosing to buy this brand.
Taking care of the joints is vital to well-being particularly as we age. Using a product that may ensure the joints are kept healthy means that we can enjoy pain-free movement and full mobility over the long term and prevent the onset of more serious joint health conditions.
Healthy joints allow us to move with ease. Joint damage can cause pain preventing you from doing the things you once loved. From aging to untreated sports injuries – many conditions lead to joint pain. A quality joint product may help reduce inflammation, repair existing tissue damage, and promote stronger joints, lessening susceptibility to future degeneration.
Below you'll find some of the most effective joint pain supplements on the market today, in our opinion.
Our Top Joint Pain Relief Choices
Projoint Plus -
5% OFF Today

Fight Joint Pain and Inflammation*
Prevent Recurring Damage*
Fight Joint Pain and Inflammation*
Prevent Recurring Damage*