Vital 3 Overview
Vital 3, manufactured in the USA by Bronson, is a joint pain supplement that targets the joints fast and effectively. Those suffering from stiffness and decreased* range of motion can find relief from symptoms while protecting their joints from future degeneration.
It comes in the form of liquid drops, making it a good alternative to pills or capsules. The product information website is extremely professional and detailed, containing a comprehensive FAQ section, numerous customer testimonials, and full clinical trial data.
The product was extensively tested in human clinical trials where it showed to be highly effective either on its own or used in conjunction with other joint pain relief medications.
Vital 3 can be purchased directly from the Bronson website and there are several ordering options. For the best price, consumers can enroll in the automatic product shipping plan where they receive a 2 month supply of Vital3 at a cost of $68.58. All products have a full one-year money back guarantee.
Ingredients Contained in Vital 3
Collagen Type II-n1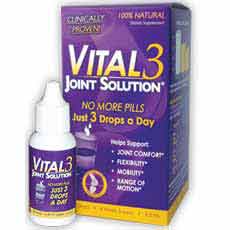 Vital3: Product Description
Vital 3 contains just one active key ingredient, a patented, biologically active Collagen Type II-n1. This form of collagen is derived from chicken cartilage and benefits the joints in a number of ways. The formula is designed to train the body not to overreact to stressed joints, which in turn decreases* wear and tear. The Collagen Type II-n1 provides lubrication and cushioning that heals and protects, reducing* inflammation and improving* the range of motion.
Because the formula doesn't contain any shellfish derived substances such as Glucosamine or Chondroitin, it can be taken by most people without causing allergic reactions. In addition to this, Vital3 should not cause any harmful side effects and will not interact with other medications, making it particularly suitable for older consumers.
Vital 3 is convenient to take, with the recommended dosage being 3 drops in juice or water per day. Some users feel results within a week or so, but optimal results are more usually experienced within 6 weeks.
Good about Vital 3
Vital3 contains Biologically active Collagen Type II-n1
It is safe for those with shellfish allergies
There is one year money back guarantee
Vital3 has no harmful side effects
It is convenient to take
Customer testimonials are shown
Full clinical data is provided
Bad about Vital 3
The ingredient amount is not shown
Users may also have to use additional joint pain products
Vital 3 – The Bottom Line
Vital 3 may or may not be successful when taken on its own, depending on the severity of the joint damage. Some users who benefit from a Glucosamine/ Chondroitin formula may find it to be a good addition to their current joint pain relief regime, while others may see benefits just from using Vital3.
Whichever the case, Vital3 would be highly recommended, largely due to the fact that, unlike many supplements on the market, data from clinical testing is published on the product information site, proving that it does produce the promised results. Not only this, but it is relatively affordable and backed up by a full one year guarantee.
Bones are connected by joints, which allow us to move with ease. Joint damage can cause pain preventing you from doing the things you once loved. Many conditions lead to joint pain from aging to an untreated sports injury. A quality joint product may help repair existing tissue damage and also promote stronger joints, less susceptible to future degeneration.
Below you'll find some of the most effective joint pain supplements on the market today, in our opinion.
Our Top Joint Pain Relief Choices

Fight Joint Pain and Inflammation*
Prevent Recurring Damage*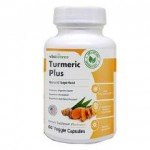 Fight Joint Pain and Inflammation*
Prevent Recurring Damage*
Fight Joint Pain and Inflammation*
Prevent Recurring Damage*
Fight Joint Pain and Inflammation*
Prevent Recurring Damage*
Fight Joint Pain and Inflammation*
Prevent Recurring Damage*