Natural wear and tear of the human body are normal as time passes.
Joints are one of the first places where you feel the aging effects and they are also prone to injuries and inflammation.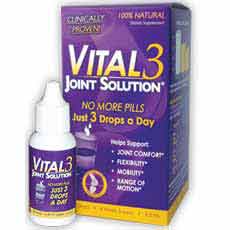 There are many supplements and topical pain relievers that claim can help you with joint pain and one of them is Vital 3.
It aims to see whether we can expect any real results from the product or it is just another product that is nothing else but a scam.
What is Vital 3?
Vital 3 is an all-natural joint solution drop that aims to provide joint pain relief and help support the joints whose mobility and flexibility was reduced because of injury or aging.
Unlike other products that come in the form of pills, this product is delivered in the form of drops that should be orally ingested.
The formula stays true to natural ingredients, which make the product adequate for adults of all genders and ages.
The product is available online without a prescription.
The crucial thing about Vital 3 is that it is not a product that provides immediate relief.
The manufacturer emphasizes that the product is focused on long-term results.
Advertisement
*All individuals are unique. Your results can and will vary.
According to the manufacturer, the goal is to provide the body with required nutrients that can boost joint health and improve their mobility and comfort.
This way the product can help with inflammation and low lubrication of the joints, as well as wear and tear that comes with the years.
Who is the Manufacturer of Vital 3?
The manufacturer of Vital 3 is a company called Bronson[1].
This company is based in the United States, which implies that the product is manufactured there.
This is not the only product they make as they have a wide range of products, including multivitamins, herbs, minerals, skin care, and health and beauty supplements.
Their headquarters are located in Lindon, Utah, and they are available via phone or e-mail.
Some of their other products include PM Sleep Formula that improves sleep cycle, CLA 3000 for healthy weight management[2], and Digestive Edge for improved digestion.
How Does Vital 3 Work?
Vital 3 utilizes oral tolerance, a mechanism that allows the small intestine to absorb the ingredients of the formula.
From there, it can improve the body's overall immunity and boost joint health.
Lubrication of our joints and their mobility and comfort is provided by the synovial tissue[3] that surrounds them.
The active ingredient of Vital 3 can help to boost natural processes and secure a chain reaction that may improve joint mobility and boost joint comfort.
Advertisement
*All individuals are unique. Your results can and will vary.
The manufacturer claims that the product keeps things natural and that there are no side effects.
Vital 3 Ingredients – Are they Safe & Effective?
We took a peek at the label of Vital 3 and here is what we discovered:
Biologically active peptide fragments of Collagen type II-n1 – The formula includes 60mcg of this compound per serving. Studies suggest that this product can boost the structure of joint and bone tissue and help to treat joint pain[4]. It may also be helpful in joint pain related to osteoarthritis and rheumatoid arthritis.
Other Ingredients – Distilled Water and Acetic Acid[5].
What are the Advantages of Vital 3?
Utilizes a natural active ingredient
May improve joint mobility and comfort
Can provide joint pain relief
Simple to take
What are the Disadvantages of Vital 3?
You need to be patient to see its effectiveness
It could use more ingredients in the formula
Comes only in the form of oral drops
Going over the recommended dosage might lead to reduced effectiveness
You May Also Like To Read – Arthrozene Reviews
Vital 3 Questions and Answers
Q: How does Vital 3 work?
A: Vital 3 is consumed through the small intestine through oral tolerance.
It provides support for the immune system as it maintains and improves joint health.
Vital 3 maintains the mobility and joint comfort within the joint with no side effects.
Q: How Should You Take Vital 3?
A: You should intake exactly three drops each morning 10 minutes before the first meal.
Q: How Much is Vital 3?
A: A single bottle costs $38.99 plus shipping costs of $4.95 and that will be enough for a six-week supply.
You can also purchase two bottles for $75.98 and three bottles for $101.90 PLUS SHIPPING.
If you apply for the automatic shipment program you get a three-month supply for the price of $68.58.
Q: Can I take Vital 3 with my other medications?
A: Vital 3 utilizes a natural protein called collagen.
That makes it suitable to use with other medications and there should be no contraindications.
However, make sure to check with a medical professional prior to taking the drop.
Q: Is it harmful if I accidentally take too many drops in a day?
A: No, there won't be any harm.
However, keep in mind that it is not beneficial to go over the recommended dosage.
Advertisement
*All individuals are unique. Your results can and will vary.
In fact, if you increase the standard dosage, you will decrease the effectiveness of the product over time.
The manufacturer carefully calculated the dose that provides an optimal effect.
Q: How is Vital 3 improved?
A: Vital 3 is improved by the U.S. Food and Drug Administration (FDA) as a dietary supplement. It is supported by clinical trials.
Q: Where does Vital 3 derived from?
A: Vital 3 is derived from chicken cartilage in a process related by multiple patents.
It is produced from Collagen Type II-n1. Research has shown it to be effective in treating osteoarthritis.
Q: How do you ensure the high quality, safety and purity of Vital 3?
A: Vital 3 is divided and sold by Bronson Nutritionals.
It is a committed and trusted physician recommended nutritional supplement brand.
Bronson has been providing with the highest quality customer service and products.
We thank our customers for supporting us to be on the top on industry leader for more than 50 years.
Each and every product are packaged and manufactured in our state-of-the-art facilities.
We ensure the product's purity, integrity, and potency.
Q: How long it will take to see results after intake of Vital 3?
A: It will take about six weeks to begin to see results based on clinical trials.
Q: When will the difference can be noticed?
A: It depends on your body's nature. Some people notice a difference within the first week.
While other people first see benefits after three or four weeks.
Q: Is there money-back guarantee if Vital 3 not work for me?
A: Yes, it is backed by a 365-day money back guarantee.
Q: Will Vital 3 have an effect on the collagen in my nails, hair, and skin?
A: No, it did not have any effect.
Q: Is the dose the same for people of different ages, genders, or weights?
A: Yes, you should intake three drops every day regardless of your wright, gender, or age.
Q: What if I fail to remember to take a dose?
A: You should continue with the regular taking of three drops of Vital 3 per day.
Do not try to compensate by increasing the dose the following day.
Q: What are the side effects of Vital 3?
A: None – there are no side effects, safety issues, or allergies associated with the use of Vital 3 as per the official manufacturer website.
Read Next – Instaflex Joint Support and Osteo Bi-Flex
Vital 3 Review – Final Verdict
What we like about Vital 3 is that it doesn't promise any miracles.
It might not provide immediate relief, but it focuses on improving your joint health in the long run.
Vital 3 is completely natural and designed to support your body's own natural, healthy joint repair processes.
Thanks to the active ingredient utilized, it may improve your joint mobility and comfort and increase your motion range.
However, it would be nice if the formula contained more than just a single active ingredient as it would be more powerful, especially when it comes to pain relief, which is an area where this product has pretty limited effectiveness.
The product comes in the form of oral drops, which may be good news for those that hate capsules.
However, if you have severe joint problems, Vital 3 may not be nearly as effective as some other products on the market like Relief Factor, EasyFlex and Omega XL.
You need to be patient to see the product potential and effectiveness is something that might drive you away from the product.
'Vital 3' can be purchased through their Official WebSite.
Healthy joints allow us to move with ease. Joint damage can cause pain preventing you from doing the things you once loved. From aging to untreated sports injuries – many conditions lead to joint pain. A quality joint product may help reduce inflammation, repair existing tissue damage, and promote stronger joints, lessening susceptibility to future degeneration.
Below you'll find some of the most effective joint pain supplements on the market today, in our opinion.
Our Top Joint Pain Relief Choices
Verdict on Claimed Benefits: Below is our summary of the available evidence for the claimed benefits of below mentioned joint pain supplements based on the available research: