In This Review
What is Natures Craft MSM?
Natures Craft MSM is a dietary supplement of MSM, a compound which the body requires and utilizes for improving the rate of cartilage production and enhance immune response to joint inflammation and damage.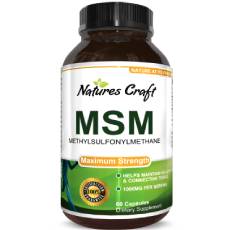 Its manufacturer claims that it can help alleviate joint pains and discomforts that come with movement.
This product is intended for the use of people who are either suffering from chronic joint pains and joint stiffness or, those who want to get ahead of permanent joint damage by promoting prevention.
MSM helps strengthen the joints and surrounding connective tissues, thereby inhibiting damage to the joints that may be caused by injury, aging, and overuse.
Who is the Manufacturer of Natures Craft MSM?
This supplement is manufactured and distributed by Natures Craft, a nutraceuticals company that is committed to using only natural ingredients in its formulations.
All products made by this company are cruelty-free. It takes pride in promoting its so-called, "trifecta" in all of its products— that is, products that are safe.
How Does Natures Craft MSM Work?
This supplement is being promoted as an anti-aging supplement with health advantages that promote the health of joints, skin, hair, and digestion.
This supplement delivers a pure form of MSM to the body which your body then utilizes to significantly speed up healing and damage repair functions[1].
The sulfur that it delivers is critical for the formation and production of collagen, the building blocks of joint, skin and hair tissues. It also provides added lubrication to prevent friction, as well as boosts the immune response to joints.
Natures Craft MSM Ingredients – Are they Safe & Effective?
MSM is one of the main ingredients in this product, and rightly so too, considering that it has the potency to take improve your body's healing process.
Advertisement
*All individuals are unique. Your results can and will vary.
Also, the fact that it is extracted from natural sources make it safe and effective for users:
MSM – This compound delivers sulfur that your body can use to help improve the quality, frequency, and speed of repairs that your body undergoes to heal damaged joints[2], skin and hair strands, while simultaneously promoting digestive health to enhance your overall immune response
---
What are the Pros of Natures Craft MSM?
It contains only pure MSM, no other ingredients are included.
MSM has been associated with anti-aging properties that promote both aesthetic beauty as well as inhibiting aging processes that cause deterioration of the joints, skin and hair.
The addition of high MSM concentration may help boost natural collagen production.
The manufacturer claims that this product can enhance digestion and cellular metabolism.
What are the Cons of Natures Craft MSM?
This product may contain allergens which may cause allergic reactions to users who have a history of experiencing adverse reactions from milk, soy, wheat, egg, peanuts, tree nuts, fish and crustacean shellfish.
This supplement may cause untoward reactions with other supplements and medications that you are taking.
There is no clear indication that regular intake may redound to both short-term as well as longer-term benefits.
To promote better digestion, the manufacturer suggests combining Vitamin C with this supplement which may make compliance to dosing more challenging.
---
FAQ's
Q: How Should You take Natures Craft MSM?
A: Take 1 capsule of this supplement 1-3 times daily preferably with food.
Q: How Much Does Natures Craft MSM Cost?
A: One bottle containing 60 capsules costs $12.65, retailing at a discounted price of $12.02 from the official online store managed by the manufacturer.
Q: What is Natures Craft MSM's Return Policy?
A: Nature Craft MSM aims to provide satisfaction to all customers and this is why they have a 60-day return policy.
Users can return this product within 60 days from the date of purchase and Nature Craft will return the money without any fuss or question.
Q: Does Natures Craft MSM Offer a Free Trial?
A: It does not appear that this product has been made available for a free trial arrangement.
Q: Are there any alternatives to Natures Craft MSM?
A: You may like Livatone Plus, CellGevity, and Carbon 60 Olive Oil if you are in search of other health supplements.
Natures Craft MSM Review – Final Verdict
This product, unlike many other joint supplements in the market, delivers only pure MSM. As such, it is being marketed not as a joint health supplement but, as an anti-aging supplement which primarily functions to improve the quantity and quality of collagen, the substance that is critical for healing and repair of the joints, skin, and hair.
Research suggests, however, that MSM may have a limited impact on improving joint health, whether it is used as a supplement on its own or, combined with glucosamine.
Collagen is indeed beneficial for the health of your bones, hair and skin[3] but, MSM may not be the only compound you need to boost its levels.
Advertisement
*All individuals are unique. Your results can and will vary.
Supplements work only when there is a need to supplement in the first place. Perhaps, it is best for you to become better aware of the supplementation you need because that will help you determine the characteristics of the right fit.
As soon as you can validate this, you'll be ready to evaluate the effectiveness of this product for yourself, and identify some of the best products against which you can compare its pros and cons.
The most effective health supplements that are currently present on the market can be found below. We have taken our time and rated these products in accordance to these five essential factors: quality of active ingredients, energy boosting, hormone balance restoration, cognitive function improvement and immune system strengthening.
Our Top Health Supplements Choices
Verdict on Claimed Benefits: Below is our summary of the available evidence for the claimed benefits of below mentioned health supplements and probiotic supplements based on the available research: