CellGevity Overview?
The CellGevity is a glutathione function enhancement dietary supplement also sold as an anti-inflammatory and anti-aging product. In much simpler terms the product is designed to strengthen the body's anti-oxidant protection.
Glutathione is used in the body to offer protection against any influences that intent to attack or rather cause harm to your body systems such as free radicals, heavy metals, and chemical toxins. The health supplement is to help in the repair, and recycle of the body's anti-oxidants.
The intended result with the use of this glutathione boosting supplement is a healthier, better feeling and looking you; generally promoting your overall well-being. Resultantly the product is able to slow down the aging effects on the body. It can as well increase the body's energy levels and promote quality sleep. The CellGevity dietary supplement is sold for the price of $97.00 on retail.
How Does It Rate?
Overall Rating: 3.8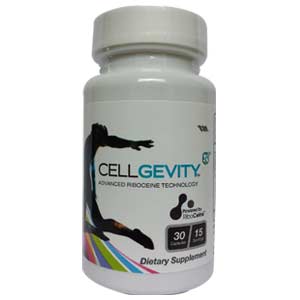 CellGevity

Brand Highlights
The CellGevity dietary supplement is a product manufactured by the company, Max International based in Salt Lake City in UT.
They claim to have made a formulation inclusive of an all-star collection of ingredients that is able to deliver glutathione past the digestive process so as to allow direct absorption by the cells.
They claim that their product is only enabling your body better chance at helping it protecting itself.
Key Ingredients
Alpha Lipoic Acid
Broccoli Seed Extract
Curcumin
resveratrol
Pros
Boost of energy levels
Slow down aging
Relief from oxidative stress
Stronger immune system
Better skin look and radiance
Cons
The product is not sold in retail shops
---
CellGevity FAQs
Q: What is the Dosage of CellGevity?
A: It is recommended to take 2 tablets twice a day with plenty of water.
Q: What are the precautions to take while taking glutathione supplement?
A: For the CellGevity supplement first seek consultation with a health care professional before use if you are a mother either pregnant or lactating, are under the age of 18, have a medical condition or are under any medication.
The supplement should be stored in a cool dry place and kept away from the reach of children.
Q: What are the possible side effects of CellGevity?
A: No negative side effects have been directly linked to the use of the glutathione enhancement supplement.
Q: How much is the cost of CellGevity?
A: The product cost for $97.00. It may vary for different retailers.
Q: Where to buy CellGevity?
A: The product can be purchased through the official website, Amazon and other online retailers.
CellGevity Review – Final Verdict
The CellGevity supplement is a product that can be said to be well represented online based on factors of manufacturing company reputation and consumer reviews on the product.
Even then the product can still be said to be more priced compared to other top rated health supplement in the market, still not a determinant if the product is worth or not.
The most effective health supplements that are currently present on the market can be found below. We have taken our time and rated these products in accordance to these five essential factors: quality of active ingredients, energy boosting, hormone balance restoration, cognitive function improvement and immune system strengthening.
Our Top Health Supplements Choices
Verdict on Claimed Benefits: Below is our summary of the available evidence for the claimed benefits of below mentioned health supplements and probiotic supplements based on the available research: