In This Review
Overview of Flat Tummy Tea
Flat Tummy Tea is a drink kit detox packed with natural ingredients traditionally known for several benefits which include: reduce bloating, cleans your system, support metabolism and boost energy. It is a two-step detox that cleans your body of harmful compounds and other toxins. It also kicks out the sluggish feeling and helps flatten your tummy.
How Does It Rate?
Overall Rating: 3.8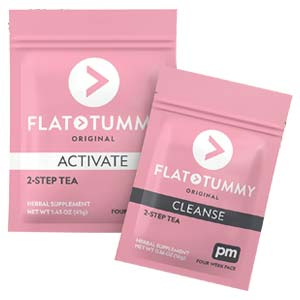 Flat Tummy Tea
Brand Highlights
Flat Tummy Tea is manufactured by Flat Tummy Co.
It is formulated with 100% natural ingredients
Key Ingredients
Lemon Balm
Pepper Mint
Dandelion
Liquorice
Green Tea
Senna
Pros
It may aid in the reduction of bloating.
Boosts metabolism.
It may increase energy.
Cleanses your system while improving digestion.
It can aid in the flattening of the tummy.
Cons
The specific amount of each ingredient used is not given
Some of the ingredients have not been scientifically proved to work deliver as per manufacturer claim
---
How Flat Tummy Tea Works?
Flat Tummy Tea is formulated with 100% natural ingredients that have been conventionally used to reduce bloating and detoxify the body. It contains natural herbs that have been used in ancient remedies for centuries. Other ingredients have been tested and confirmed by recent scientific research.
Flat Tummy Tea involves two important steps:
Activate – In the active step, you get your digestive system prepared for the long day ahead. This preparedness is achieved through 10 different ingredients contained in this product. They include metabolism boosters and antioxidant, which helps your digestive system to get ready for the start of the day in an all natural high.
Cleanse – The cleanse step promises to reduce water weight and detoxify your intestinal tract of any accumulated toxins. It achieves this by use of 7 natural ingredients used in conventional medicine to encourage a slimmer appearance and detoxify the body.
The ingredients in this product are usually mild and will not have you run to the washrooms like some other detox products.
Flat Tummy Tea Ingredients – Are they Safe & Effective?
Flat Tummy Tea contains the following ingredients;
Lemon Balm
– This well-known traditional herb is mostly used in the Activate tea. It acts as a mild sedative and used to boost focus [1].
Pepper Mint
– Commonly, it is used in many traditional medicines in different forms peppermint essential oil or extracts. It has antioxidant and antimicrobial properties.
Dandelion
– This ingredient contains Vitamin A. It is commonly used to solve digestive problems and also acts as a diuretic [2].
Liquorice
– This is a traditional herb that has been used for a very long time. It treats stomach ulcer pains while reducing irritation that has been caused by acids.
Green Tea
– It has antioxidant benefits and is also effective in improving cardiac health. It is also an effective stress reducer [3].
Senna
– This is a plant that is commonly used in many laxatives.It acts as an effective constipation reliever [4].

Flat Tummy Tea FAQ's
Q: How Should You Take Flat Tummy Tea?
A: For maximum results from this product, the manufacture's advises that you take breakfast with at least one cup of Active AM tea every morning. Then you drink the cleanse PM tea every night before going to bed. You should also ensure that you exercise a lot and eat healthily.
Q: Are There Side Effects of Flat Tummy Tea?
A: Flat Tummy Tea has been formulated using earth-grown natural ingredients, which are all safe for human consumption. There are no noticeable side effects associated with the product.
However since it contains natural diuretic dandelion, which reacts with other supplements, you are advised that in case of any such reaction or any other allergic reaction you should stop immediately and consult with your doctor.
Alternatives to Flat Tummy Tea
Flat Tummy Tea Review – Final Verdict
If you are looking for an effective product that will help in flattening your tummy in the most natural way, then Flat Tummy Tea has got it. It may cleanse your system while improving digestion and will also boost your metabolism. Your energy levels will also be kept at bay.
The daily values of each ingredient have however not been given while the customer expects to see this so as to do the right gauging on its effects. It would, therefore, be appropriate to add the specific amount of each ingredient for more credibility.