In This Article
What is 18 Shake?
18 Shake is a meal replacement shake meant to support weight loss. It claims to help reduce caloric intake, while providing your body with essential nutrients, which can substitute as a meal replacement.
The shake is easy to use and convenient, which customers reported also tastes good. 18 Shake is gluten and soy-free, and each serving has a total of 90 calories.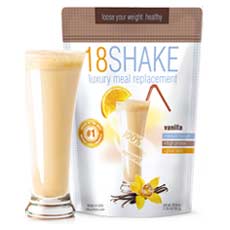 When using 18 Shake exercise can accelerate your progress, but is not essential when yielding great results.
18 Shake currently has a 40% off promotion that includes free shipping, and a free weight loss e-book.
Check it out on their official website:
The price of $47.99 per bag. It is available in two flavors, vanilla and chocolate.
Their "18 meal plan" e-book with free shipping and handling.
A 30 day money back guarantee.
No auto-ship program.
Who is the Manufacturer of 18 Shake?
The 18 Shake is a meal replacement formula is manufactured by the 18Nutrition company. They claim their product was developed with years of research and hard work. Their shake was developed by a group of nutritionist enthusiasts and weight-loss specialists.
18Nutrition company claims its product is safe for consumption, all-natural, and combined with essential nutrients. The company is certified to make their blend in a GMP approved facility in the US to ensure that the quality is consistent.
18 Shake Ingredients – Are they Safe and Effective?
Duo-Protein Formula (Whey Concentrate and Whey Isolate)
Protein takes longer to metabolize and will result in burning more calories over a longer period. Protein is also needed to create lean muscle mass and is essential for weight loss.
There 2 kinds of protein in 18 shake; whey protein, the same kind athletes use to help burn fat and build muscle.
Fibersol-2
Acts as appetite suppressant. Helps prevent food cravings and yielding a lower daily calorie intake. It can also support regularity in digestive health and can promote healthy blood sugar levels.
Stevia
Plant based sweetener which doesn't have the same impact as other forms of sugar that can raise blood sugar levels and cause hunger cravings. Because it can sweeten foods without adding to the sugar content, it's also useful for weight loss and beneficial that it won't lead to tooth decay.
Vitamins and Minerals
What are the Advantages of 18 Shake?
As claimed by the manufacturer, the benefits are as follows;
The ingredients are all-natural, with no added stimulants.
Promotes weight-loss able and keeps you feeling full.
Boost your energy levels.
Does not contain any artificial flavors.
Often described as pleasant tasting and it's only sweetened with natural Stevia.
Boosts metabolism.
High fiber content, good for keeping you full.
High content of high quality minerals, proteins and vitamins.
Easy to use.
What are the Disadvantages of 18 Shake?
Limited only to online sales from the retailer.
They are known to run out of stock on occasion.
FAQ
Q: How do you take in 18 Shake?
A: Recommended to replace 1-2 meals a day, with up to 2 servings daily. This will give you the same nutrients and vitamins as the replaced meal might, while enjoying a lower calorie meal.
There are plenty of recipes with different ingredients you can incorporate. It is very easy to prepare can be mixed to find a blend that suits your needs, or you can mix it with some water in a shaker bottle or blended.
Q: Does it have any side effects?
A: No, customers never mentioned any side effects nor do they add stimulants or cheap ingredients. It is made from all-natural ingredients that have been proven to be safe and effective for human consumption.
Q: Where to buy 18 Shake?
A: You can purchase this product from their official website 18Shake.com.
18 Shake Review – Final Verdict
18 Shake is an easy way to lose weight without you having to spend hours at the grocery store preparing nutrient-dense meals. 18 Shake is reasonably priced, its quick results, and has a pleasant taste.
Customer reviews from people who have consumed the shake, report it helped them along their weight-loss journey. Most importantly, it was easy to lose weight, while enjoying the flexibility of making it different ways and with different ingredients.
Meal replacements are popular and recommended by fitness coaches and nutritionists. The benefits are very similar to those of other similar products at a reduced cost.
Trying to find an effective weight loss supplement can be an overwhelming experience. Weight loss products should be analyzed based on four key factors: the potential to increase metabolism, to meet weight loss goals, promote appetite suppression, and quality of ingredients backed by clinical studies. With 18 Shake you get to enjoy all the necessary criteria needed to ensure that what you put into your body is healthy and effective for weight loss goals.
Below you'll find some of the most effective weight loss supplements on the market today, in our opinion.
Our Top Rated Weight Loss Supplement
PhenQ Complete Meal Shake

Boosts Energy and Controls Cravings*
Helps Shed Excess Weight*
Helps Meet Weight Loss Goals*
Promotes Appetite Suppression*
Boosts Energy and Controls Cravings*
Helps Shed Excess Weight*
Helps Meet Weight Loss Goals*
Promotes Appetite Suppression*
Boosts Energy and Controls Cravings*
Helps Shed Excess Weight*
Helps Meet Weight Loss Goals*
Promotes Appetite Suppression*
Boosts Energy and Controls Cravings*
Helps Shed Excess Weight*
Helps Meet Weight Loss Goals*
Promotes Appetite Suppression*