You've read about the many harmful effects of obesity in a countless number of articles by now, but we often only start to take these warnings seriously when we experience these adverse effects of obesity ourselves.
While it is never too late to make healthier decisions in your life, it is often much more appropriate to take preventative measures instead of having to address developed health problems.
With obesity comes a higher risk of diabetes, heart disease, high blood pressure, gallbladder disease, osteoarthritis and more, as explained by WebMD[1]. All of these diseases can be dreadful and have a significant impact on your daily life.
For many, losing weight may seem nearly impossible, but it has been done by millions of people and it certainly can be done by you.
With dedication and some work from your side, it is possible to drop those extra pounds, achieve a slimmer physique and live a healthier life.
One can also perform a search on available weight loss supplements in the market by checking their reviews. Modere Trim Review is also available in the list of weight loss supplement reviews.
Let's take a look at some delicious meal replacement shakes that you can make at home – all offering you essential vitamins, minerals and other nutrients that will keep your body healthy, without causing you to take in unhealthy ingredients that could cause further weight gain.
1. Coffee Banana Protein Smoothie
Perfect for the coffee lovers and a great way to start the day. The Coffee Banana Protein Smoothie[2] only contains 132 calories and less than one gram of fat.
The shake contains 3.2 grams of fiber, 5.2 grams of protein and 17 grams of sugar, obtained from all-natural sources. This smoothie also makes for an excellent post-workout shake.
2. Chocolate Peanut Butter Banana Breakfast Shake
Another excellent smoothie to be enjoyed in the morning as a replacement shake for breakfast. The Chocolate Peanut Butter Banana Breakfast Shake[3] contains around 346 calories, approximately 19.2 grams of fat, 7.8 grams of fiber and around 11.1 grams of protein.
For those afraid of the 19.9 grams of sugar in the smoothie, unsweetened almond milk may be used.
3. Grasshopper Pie
One for those who are more health conscious and looking for a smoothie recipe that is lower in fat content, the Grasshopper Pie meal replacement shake only contains 245 calories and two grams of fat.
A total of 8.3 grams of fiber can be obtained through this shake, combined with 13.5 grams of protein. The shake is a little high in sugar, but the sugar is obtained from natural sources.
4. Avocado And Lime Green Tea
Though dubbed a tea, the Avocado And Lime Green Tea[4] makes for a perfect meal replacement shake amongst those trying to lose weight and become healthier. The recipe makes two shakes, making it perfect for sharing.
Each batch of this shake contains 365 calories, 20.8 grams of fat, 13.3 grams of fiber and around five grams of protein.
5. Pumpkin Pecan Pie
Perfect for anyone who loves the taste of pumpkin, combined with the nutritional benefits of pecan nuts.
Each Pumpkin Pecan Pie meal replacement shake offers you 403 calories, 7.3 grams of fat, 18 grams of protein, 7.6 grams of fiber and around 67 grams of carbs, making this particular smoothie perfect as a pre and post-workout shake.
6. Matcha Mint Chip
A delicious smoothie that is enriched with mint flavors. A perfect green smoothie to be enjoyed during lunch to keep your energy levels high and your digestive system working well.
Each batch of this Matcha Mint Chip[5] serves two people, offering 288 calories, 31.3 grams of carbohydrates, 5.2 grams of protein and around nine grams of fiber.
7. Blueberry Coconut Lime
The perfect combination of fruits in one single meal replacement smoothie, the Blueberry Coconut Lime[6] offers a delicious taste, yet only 209 calories. The shake also offers around 5.2 grams of fiber, 11 grams of protein and just over 30 grams of carbohydrates.
8. Radish Detox
Detoxification is an important process that should be part of anyone's weight loss journey. The Radish Detox[7] is an excellent choice when it comes to providing the body with essential nutrients, while also detoxing the body from built-up toxins.
This shake provides you with 197 calories, 9.2 grams of fiber, six grams of protein, 2.5 grams of fat and 32.6 grams of carbs.
9. Raspberry Coconut
The perfect meal replacement shake for people trying to lose weight in the hot summer months, combining the delicious taste of raspberries with the exotic flavor of coconut.
The Raspberry Coconut[8] offers 316 calories, 48.8 grams of carbs, 6.3 grams of protein, 20.5 grams of natural sugars and 12.7 grams of fat.
10. Cinnamon Roll
Who doesn't love the delicious taste of cinnamon? Now you can have a great cinnamon meal replacement shake to help you lose weight.
The Cinnamon Roll shake offers 219 calories, 2.7 grams fat, of which none is saturated, just under 50 grams of carbs, 8.2 grams of protein and around 21.3 grams of sugar.
11. Eggnog Smoothie
When Christmas is drawing closer, people may start to think "eggnog". This Eggnog Smoothie[9] offers a delicious taste without the unhealthy ingredients sometimes used in the traditional eggnog recipe.
These smoothies offer 175 calories, 38 grams of carbs, 15.9 grams of natural sugars, 4.4 grams protein and around 3.8 grams of fiber.
12. Blackberry Cinnamon
At first, the combination may seem a little strange, but once you have tasted the Blackberry Cinnamon[10] shake, you will most certainly not regret the experiment.
The shake offers 220 calories, no saturated fats, 43.2 grams of carbs, nine grams of protein and about 10.5 grams of fiber.
13. Cilantro Apple Post Workout Smoothie
Replace that massive post-workout lunch with the Cilantro Apple Post Workout Smoothie[11], a delicious and refreshing taste in a drink.
This smoothie contains 237 calories, 27.7 grams of carbs, eight grams of protein, 12.9 grams of fat and about 19 grams of sugar.
14. Raspberry Cheesecake
Love the taste of cheesecake, but not what it does to your hips? Then the Raspberry Cheesecake[12] shake is perfect for you.
The shake contains 320 calories and 43.8 grams of carbs, 13 grams of protein, 11.5 grams of fat, 28 grams of sugar and six grams of fiber.
15. Superfood Power
An interesting combination that gives you a shot of creativity and deliciousness in a glass. The Superfood Power[13] shake offers you 220 calories, 47.2 grams of carbs, 25.4 grams of all-natural sugar, 4.4 grams of protein and no saturated fat.
16. Almond Butter Spinach
Another green smoothie that may contain some ingredients that you would not normally combine, but the shake is surely delicious.
The Almond Butter Spinach[14] shake contains 254 calories, combined with 34.3 grams of carbs, 7.6 grams of protein, 22.4 grams of sugar and six grams of fiber.
17. Vanilla Date
The Vanilla Date[15] is for all of the vanilla lovers out there, offering a great way to improve muscle recovery following a strenuous workout. This shake contains around 443 calories and 74 grams of carbs, as well as 28 grams of protein, five grams of fat and eight grams of fiber.
18. Kale Ginger Detox
Another meal replacement shake that will not only offer you a healthy dose of protein and other vital nutrients, but also a great way to kickstart your detox process.
The Kale Ginger Detox[16] shake contains 308 calories, 67.8 grams of carbs, 7.2 grams of protein, 4.3 grams of fat and around 8.4 grams of fiber.
19. Healthy Peanut Butter Cup
Looking for a way to indulge yourself in something truly delicious without gaining extra weight? Then the Healthy Peanut Butter Cup[17] is perfect for you.
This shake contains 11.9 grams of fat, of which only two grams are saturated. The shake also contains 7.1 grams of fiber, eight grams of protein and around 35.8 grams of carbs.
20. Strawberry Beet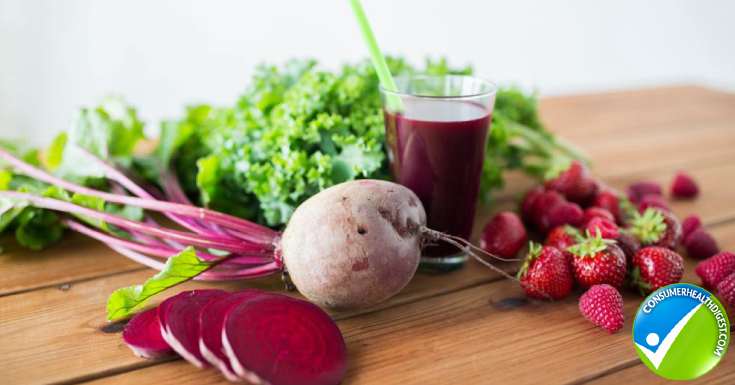 The perfect smoothie for detoxing and improving immunity. Great for the summer months and perfect for contributing to your weight loss success.
The Strawberry Beet[18] shake contains 165 calories, 24 grams of carbs, 17 grams of natural sugars, two grams of protein, four grams of fiber and about 7.3 grams of fat.
Read More: Best Diet Plan: 6 Ways To Choose An Effective Diet Plan
Conclusion
Losing weight is an important step towards a healthier lifestyle for people who are suffering the many consequences that obesity brings about, but getting started on such a journey can be somewhat difficult.
In this post, we looked at some excellent meal replacement shakes that can be made at home. These shakes will help you lose weight, give you important nutrients that benefit the body and prevent the consumption of unhealthy ingredients, such as refined sugars and "bad" fats.
Image Credits
Feature Image: Shutterstock.com
In-Post Image: Shutterstock.com & www.fitwirr.com
View All