You want to lose a few pounds and decide you'll eat a healthy diet from now on, but that cake looks super delicious, especially late at night. Pizza is calling your name. After you eat, you feel hungry again so you just opt for junk food and feel guilty right after. How many times have you found yourself in these situations? Constant feeling of hunger and food cravings are the biggest enemies of every weight loss endeavor. If only there was a way to tone down the appetite but wait…there is! Appetite suppressants are widely popular nowadays among men and women who look to lose weight. Interested? Keep reading!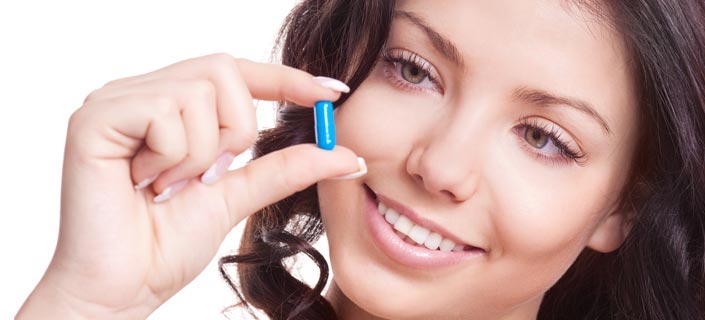 What are Healthy Appetite Suppressants?
Appetite suppressants are foods and dietary supplements that help you feel full in order to avoid overeating. Consumption of these foods and supplements is very practical for people who want to lose weight because the intake of calories is lower. The logic dictates that you lose weight by burning more calories than consuming. With appetite suppressants, you don't even think about having a late-night pizza and you aren't constantly hungry.
Foods that act as appetite suppressants are almonds, ginger, avocado, apples, cayenne pepper, eggs, sweet potatoes, tofu dark chocolate, oatmeal, salmon, green leafy vegetables, salad, flax seeds, just to name a few.
How do Appetite Suppressants Work?
Appetite suppressants are specifically designed to create the feeling of fullness and decrease food cravings. They do so by increasing serotonin levels in your brain. Serotonin levels are strongly associated with hunger. For example, people with lower levels of this hormone are more prone to overeating.
It is not uncommon for appetite suppressants to contain ingredients known for high fiber content. As you already know, fiber is vital for healthy and regular digestion. Naturally, your digestion is important for weight loss. Soluble dietary fiber acts as appetite suppressant. When combined with water in the stomach, it grows about 17% more than its original size. As a result, you feel full and decrease calorie intake.
Are Appetite Suppressants Safe?
A vast majority of people find it easier to take dietary supplements that suppress their appetite due to their convenience. Dietary supplements are made of natural ingredients and are, generally, safe and don't cause some side effects. Of course, it depends on the product you choose. With the increased popularity of these products, new brands and items keep popping up on the market all the time.
Some of these supplements are effective and safe, but others aren't. To get an effective and safe product, make sure it is made by a reliable brand and other users also have positive experiences. It is needless to mention that you should go through the list of ingredients to check whether there's something you are allergic too.
14 Best Appetite Suppressants You Must Know
Bearing in mind it can be frustrating to look for an ideal supplement to suppress your appetite; we have selected 15 safe and effective products that you can consider. Find out more about them below.
#1 PhenQ
PhenQ is a nutritional supplement which claims to help you lose* weight and maintain a healthy and fitting body. It contains ingredients which regulate appetite, promote fat burning and raise the body energy levels. It is highly effective and its regular use will help you to gain your dream figure.
#2 Bio X4
Bio X4 is helpful for both people who want to lose weight and those who slimmed down but want to keep it off. The supplement works to dramatically reduce junk food cravings, get rid of stubborn fat, boost energy levels, and help with bloating, gas, and other awkward issues. Bio X4 has a powerful formula that features probiotics, green tea, digestive enzyme blend, and a special ingredient for craving control – slimaluma. What makes this product so powerful is that it improves your digestive health while allowing you to lose weight.
Advertisement
*All individuals are unique. Your results can and will vary.
#3 Leptigen
Chances are high you have already heard about Leptigen, a dietary supplement which belongs to the group of the most effective products of this type. Leptigen contains a blend of natural ingredients that speed up metabolism and promote a healthy and natural weight loss including the patented ingredient called Meratrim. What makes Leptigen stand out is that the brand also mentions studies that confirm the efficacy of the ingredients. That said, this is an expensive product that doesn't fit everyone's budget.
#4 Lipozene
Lipozene is a supplement that contains fiber from the konjac root. This particular fiber has the ability to absorb up to 200x its own size when in water. When the capsule dissolves in your stomach, the fiber blend activates in water and makes you feel full. The feeling of fullness lasts for hours. According to the official website, more than 25 million bottles are sold so far. Lipozene comes at an affordable price and it is free of stimulants.
#5 Plexus Slim
Plexus Slim is a well-known pink drink that is specifically formulated to help users lose weight and support a healthy metabolism. Although it's a weight loss beverage the drink tastes divine. All you have to do is to have this drink about 30 minutes before a meal, once a day. Since Plexus Slim contains caffeine, it is not recommended to drink coffee or some other caffeinated beverage while taking this supplement. Plexus Slim has positive reviews, people love it how they lose weight without having to "suffer" or starve themselves with ineffective and harmful diets.
#6 InstaKetones
InstaKetones is a dietary supplement that delivers a high amount of ketones to your body. With ingredients such as amino acids and beta-hydroxybutyrate, one of the ketone bodies produced in the liver, the supplement works to improve metabolism, eliminate excess fat, and it acts as an appetite suppressant too. InstaKetones takes your body to ketosis which makes your body use ketones as the primary source of energy. As a result, you curb cravings and lower food intake. Just like Plexus Slim, this product is also a delicious beverage with great weight loss and appetite suppressing potential.
#7 Now Slim
Now Slim is, in fact, a brand of weight loss products founded in 2007. The company offers four different products but the most popular items are Now Slim Day and Now Slim Night. The Day capsule features different stimulants that support weight loss through faster metabolism and thermogenesis while the Night capsule contains amino acids. Of course, you can either use both supplements in a combination or opt for one only.
#8 Pruvit Keto-Os
Keto-Os is a dietary supplement manufactured by Pruvit, a brand with a wide array of supplements under its belt. This is a drink mix based on a proprietary ketone energy technology, according to the official website. Regulate intake of Keto-Os delivers numerous benefits including increased awareness and decreased brain fog, more energy, fat loss, better sleep, more strength, and better mood. Using a powerful blend of vitamins and minerals, this drink aims to get your body in ketosis.
Catch out the range of safe appetite suppressants: X-Diet Review
#8 ProbioSlim
ProbioSlim functions to burn fat and improve digestion with the help of probiotics, fruit extracts, caffeine, and green tea. The supplement helps you lose weight by enhancing thermogenesis and fat oxidation. As a result, you burn more calories. Moreover, caffeine in ProbioSlim boosts energy levels and suppresses appetite, thus helping you avoid cravings. You can order a free sample on the official website and see whether the product would work for you, which is practical.
#10 Slim Fit 180
Slim Fit 180 promises to help you lose weight and transform your body in 180 days. Basically, it is a system that features exercise and fitness videos, meal plans, diet charts, recipes, nutrition tips, and of course a supplement whose primary ingredient is garcinia cambogia. Regular intake of the supplement enhances energy levels to help you burn more fat, suppress appetite, speed up metabolism, and intensify weight loss.
#11 Hydroxycut Platinum
Platinum by Hydroxycut is a weight loss supplement with 5in1 formula which leads to successful weight loss, metabolic boost, probiotic health benefits, multivitamin health benefits, and energy boost. What makes this supplement effective is the fact that it promotes weight loss and improves your overall health at the same time. The driving force behind its efficacy is the powerful formula which includes fruit mix, weight loss complex and probiotics, and energy mix.
#12 African Mango
African Mango is an extract of the Irvingia Gabonensis, a natural superfruit with a tremendous potential to help users lose weight. African Mango helps you slim down by stimulating hormones such as adiponectin and leptin. These hormones inform your body when it's full so that you stop eating and curb your appetite at the same time. The supplement also features green tea extract for advanced weight loss.
Advertisement
*All individuals are unique. Your results can and will vary.
#13 Adiphene
Adiphene is a natural dietary supplement that works to burn fat. Interestingly, the official website claims Adiphene gives you five times more fat busting power. Moreover, it helps you lose weight by enhancing thermogenesis and suppressing appetite. To provide these benefits, Adiphene delivers powerful formula including bitter orange, chromium, guarana, cacao, ginseng, cayenne pepper, cinnamon, and glucomannan among many others.
#14 Slim Optimum
Slim Optimum is a weight loss product that claims to support overall immune system, improve digestive health, boost energy, tighten your body, and suppress appetite. The product contains a proprietary blend of apple cider vinegar, HCA, cambogia, grapefruit, green tea, caffeine to deliver the above-mentioned benefits. With regular intake, you can lose up to 12 pounds a month, according to the manufacturer claims, but this fast weight loss also comes at a high price.
Conclusion
Appetite suppressants work to curb your hunger and cravings to make sure you're not overeating. In fact, finding a healthy and effective way to suppress your appetite is the key to a natural and successful weight loss.
**This is a subjective assessment based on the strength of the available informations and our estimation of efficacy.
*Result may vary. If you are pregnant, nursing, have a serious medical condition, or have a history of heart conditions we suggest consulting with a physician before using any supplement. The information contained in this website is provided for general informational purposes only. It is not intended to diagnose, treat, cure, or prevent any disease and should not be relied upon as a medical advice. Always consult your doctor before using any supplements.
Disclosure of Material connection: Some of the links in the post above are "associate sales links."This means if you can click on the link and purchase an item, we will receive a commission. Regardless, we only recommend products or services which we use personally and/or believe will add value to our readers. We are disclosing this in accordance with the Federal Trade Commission's 16 CFR, Part 255: "Guides Concerning the Use of Endorsements and Testimonials."
View All