In This Review
Overview
Are you not getting enough nutrients through your regular diet? Are you looking for a way to replenish the electrolytes in your system? If you answered "yes" to these questions, you're going to want to check out the solution we'll be reviewing.
It's no secret that electrolytes are great for making sure you stay hydrated while retaining essential nutrients in your body.
Some rely on sports drinks such as Gatorade and Powerade for hydration and electrolyte replacement. The problem is that these drinks are known for having a high amount of sugar. For that reason, there should be an alternative that will give you all the benefits of hydration and electrolyte replenishment without the sweetness.
That's why you might want to give Dr Berg's Electrolyte Formula a try. This supplement contains plenty of natural ingredients to ensure that you get the essential nutrients and minerals for your body quickly.
Want to find out more about what Dr Berg's has to offer? Check out this review for more information. Let's get started with what you need to know.
What is Dr Berg's Electrolyte Formula?
Dr. Berg's Electrolyte Formula is designed to not only hydrate your body, but also give you high levels of energy, recover from workouts, and improve muscle health among many other purposes. This supplement is designed to provide you with more electrolytes compared to sports drinks.
This supplement was created by Dr. Eric Berg, DC. While he is a chiropractor by trade, he also is an expert health educator who focuses on the keto diet and intermittent fasting.
Dr. Berg is a well-known name in the health and fitness field. He has a YouTube channel that focuses on improving your health. He currently has 5.5 million subscribers and a total of nearly 1 billion views on his videos.
Thus, he has established himself as an authority in the health niche. This electrolyte powder is one of a handful of supplements that Dr. Berg shares under his brand name. However, this supplement takes hydration and electrolyte replacement a step further ahead of water and sports drinks.
How Does It Rate?
Overall Rating: 4.8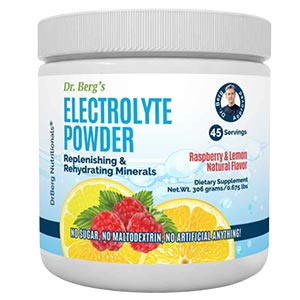 Dr Berg's Electrolyte Formula
Brand Highlights
The Dr. Berg brand is the manufacturer of this product.
This is electrolyte powder that boosts energy.
Key Ingredients
Potassium
Magnesium
Sodium
Stevia
Trace minerals
Pros
Provides better hydration compared to water and sports drinks
Not too sweet or sugary
Gives you plenty of energy throughout the day
Cons
Limited availability. Only available on their website or Amazon
Flavor may be "weird tasting" for some at first
May not blend well
---
Who is the Manufacturer of Dr. Berg's Electrolyte Formula?
The Dr. Berg brand is the manufacturer of the Electrolyte Formula. Dr. Berg Nutritionals is based in Alexandria, Virginia, United States.
As mentioned, Dr. Berg also has various supplements under the brand name. This includes a supplement for the gallbladder, D3 & K2 Vitamins, Ashwagandha, and others.
How Does Dr. Berg's Electrolyte Formula work?
Dr. Berg's Electrolyte Formula is formulated to provide you with plenty of benefits. Yes, it will hydrate your body while replenishing your cells with the much needed electrolytes. But it also does more than that.
It will give you a boost of energy, which will be useful for all your workout sessions. Whether it's for a run or wrapping up a heavy day at the gym, it's nice and refreshing to have something in your corner to help give you the energy you need to get through the rest of the day.
With the inclusion of potassium, it will help you relax. You can also use this to clean out any toxins that may be present in your body. If you are looking to lose weight and boost your energy, there's plenty of toxins that will slow you down and make weight loss difficult.
For that reason, you can be sure that trying out this electrolyte formula will be a step in the right direction. Best of all, you'll feel your best from the inside and out.
There are six different ingredients that each will work in your favor. For example, you have sodium from sea salt, which will be the best source for getting sodium. After all, sea salt is better for you as opposed to just regular salt (and for good reason).
You also get 1000 mg of potassium that will help fuel your body. It is the equivalent of four avocados. If you're looking for one of the best sources for potassium other than bananas, then you're in luck.
Dr. Berg's Electrolyte Powder Ingredients: Are They Safe?
The good news is that every ingredient contained in Dr. Berg's Electrolyte Powder is safe. However, it may be a good idea to determine if you can or cannot have any of these due to sensitivities or allergies. Be sure to talk to your doctor if you are unsure about whether or not you are allowed to use products containing certain ingredients.
With that said, let's take a look now at the following list of ingredients:
Potassium
Potassium is one of the main ingredients of this supplement. As mentioned, one serving contains 1000 mg. And that will take a lot of bananas to reach that amount.
The good news is you don't have to eat a lot of bananas to get plenty of this essential mineral. This will be essential when it comes to the generation of electricity in your body. Did you know that your body needs at least 3400 mg every day?
It's no wonder why this ingredient is so crucial to have in this electrolyte formula. You'll have plenty of your daily value in just one scoop. You really don't want to miss out on this all important mineral.
Magnesium
If you are looking for a mineral that can help with relaxation, then magnesium just might be what you need. This will also help control the absorption of the other minerals that you get from one scoop of this formula. Not only that, it will also reduce muscle cramping – which is a normal issue after an intense day of working out.
Yes, muscle cramps can make workouts difficult as well. And yes, it can even slow you down throughout the day. Don't let that happen to you.
For more information on how magnesium can benefit you, check out our overview article regarding the benefits, uses and side effects.
Sodium
This sodium is derived from sea salt – the best source for sodium compared to regular salt. Which means it will allow you to retain a good amount of hydration. If you are looking for a crucial ingredient that will aid in keeping as much electrolytes in your body, you'll be happy to see this included in each scoop of Dr. Berg's Electrolyte Formula.
Stevia
Used as a natural sweetener – which replaces not only regular sugar but artificial sweeteners as well. So what's the difference between this, sugar, and aspartame (a common artificial sweetener found in sugar-free versions of sodas, sports drinks, etc.)?
For one, Stevia is much sweeter than regular sugar. However, it contains no artificial ingredients, carbohydrates, or calories. Thus, it's great for those trying to avoid sugar while trying to keep off the extra weight that comes from consuming sugary stuff.
Trace minerals
This includes various minerals that can be useful for your diet. It can also replace other minerals that you have lost by way of sweat. Also known as micro minerals, these are typically found in many foods that you can eat in a healthy diet such as fruits and veggies.
What are these trace minerals? Where can you find them? For example, copper can be found in beef, fruits, veggies, nuts and beans.
Meanwhile, iron can be found in all kinds of meat, whole grains, and yes, even liver. Zinc is also an ideal trace mineral designed to help with boosting the immune system and can be found in fruits like raspberries, strawberries, and bananas. .
How to Use Dr. Berg's Electrolyte Formula?
Take one scoop of the formula and mix it with 16 ounces of water. You should have one scoop twice per day. You should not exceed four scoops in a single day as it can lead to adverse effects from certain ingredients.
Benefits of Dr. Berg's Electrolyte Formula
There are plenty of benefits for Dr. Berg's Electrolyte Formula. We'll go over each one so you know what you'll enjoy when you use this regularly. You'll notice a difference compared to drinking regular water or even sports drinks that are jam-packed with sugar. Let's take a look at the following benefits you can expect to get:
Supports energy levels for working out and daily function. Imagine feeling energetic to the point where you can keep going. You might feel like extending your workout sessions beyond the normal time (without overexerting yourself). Want to go on a longer run? You just might have the energy to do it.
Provides hydration for your body. You'll feel a lot better both inside and out. For example, it can lead to your organs functioning better than ever. Whether it's water or Dr. Berg's electrolyte formula, it will certainly give you plenty of excellent health benefits including better sleep quality and an improved mood.
Enhances your overall workouts and recovery. One of the best things about hydration that we love to mention is that it helps not with overall performance, but also recovery and injury prevention.

FAQs

Q: What is the refund policy?

A: The refund policy on their website is as follows: you get a 100 percent money back guarantee if you are not satisfied with the product within the 30 day period.

Q: Where can I purchase Dr. Berg's Electrolyte Formula?

A: You can purchase this on their website or on Amazon. You can get special discounted discounts through their website. You get one bottle for $33.62 plus shipping. You get three bottle for just $100 plus shipping and six bottles for $200.

Q: Are there any side effects?

A: Some side effects for this supplement may include but are not limited to the following: high blood pressure, muscle twitching, fast heartbeat, irritability, swelling of feet or lower legs, and restlessness among others. Seizures have also been reported.

Be sure to ask your doctor about taking Dr. Berg's Electrolyte formula before ordering.

Q: How is this different from water or sports drinks?

A: Water may be key to hydrating your body. However, it may not be enough to help replace the amount of electrolytes lost. If anything, it may even dissolve them. Sports drinks may go a step further than water, but many contain sugar or artificial sweeteners that do more harm than good.

For that reason, Dr. Berg's Electrolyte Formula will do its part to give you not only proper hydration, but renewed electrolytes that you need for your body to keep it functioning properly.

Q: Why are electrolytes important?

A: Electrolytes are designed to provide electrical neutrality in your cells. In short, they are needed in order for your body to function. There are plenty of essential minerals that serve as electrolytes including sodium, potassium, and magnesium among others.

Dr. Berg's Electrolyte Formula Customer Reviews

Many of the product reviews are found on Amazon. As of October 2023, there have been over 21000 reviews worldwide. Among one of the top positive reviews, a customer named Robbie said that

If the weather is pretty warm, I drink this to replace the electrolytes lost through perspiration. This drink will revive me.

Another positive review comes from Amazon Customer Jason Smith. He says

This product has made a noticeable difference right away. The flavor was a little too sweet when I first started using this product. However, I learned to add just a little extra water to cut the flavor.

One last notable review comes from Kit T. She says

We just bought our 2nd canister of this electrolyte powder that was recommended to us by my father in law. We were looking for an everyday electrolyte replacement that wasn't full of calories, carbs, and sugar. I was nervous about the taste but both myself and my husband really enjoyed it.

One of the most critical reviews came from WA G who said

Unfortunately, it had a weird, flat taste. I did not taste lemonade. I did taste an artificial strawberry flavor that I am not a fan of.

Another came from Kelly Murphy Jr saying

I am a big fan of Dr. Berg's Electrolyte Powder. I have used the raspberry-lemon flavor for years. I love cherries & was excited about the new flavors. The Cherry-Pomegranate Flavor is wretched.

Conclusion

If you are looking for a supplement that will provide you with excellent hydration, Dr. Berg's Electrolyte Formula just might be what you're looking for. You get plenty of excellent minerals that you can replenish fast.

You'll feel energetic and more alive than ever before. You may have an acquired taste for it in the beginning. But once you drink this regularly, you'll get used to it while reaping the benefits.

If you think Dr. Berg's Electrolyte Formula is what you need, don't miss out. Order today.