In This Review
Overview of Umzu Redwood
Umzu Redwood is an organic supplement that increases the amount of nitric oxide in the body, improving bodily circulation. This can enhance sexual stamina and virility, improve mood, warm the extremities, and lower your blood pressure. It's a healthy product packed with enriching antioxidants that support the immune system.
Nitric Oxide present in the Umzu Redwood enhances the better circulation that increases the blood flow to the penis resulting in improved ejaculatory control, increased sexual stamina, and harder, longer-lasting erections.
How Does It Rate?
Overall Rating: 3.8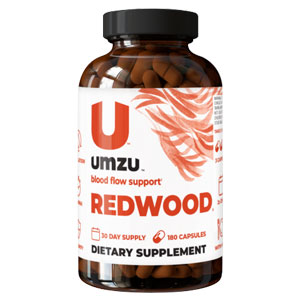 Umzu Redwood
Brand Highlights
A company called UMZU manufactures this supplement, and they have their headquarters in Boulder, Colorado.
This health and wellness company started in 2018.
They produce and sell organic supplements which restore the body's natural balance.
The company's focus is on the ability of the body to self-heal.
Key Ingredients
Horse Chestnut
Pine Bark Extract
Garlic
Isoleucyl-Prolyl-Proline, Valyl-Prolyl-Proline
Pros
Umzu Redwood may improve bodily circulation.
It might improve your sexual stamina and endurance.
It could strengthen your immune system.
Umzu Redwood might improve your mood.
The product may warm your hands and feet.
Cons
You have to take 6 large capsules per day.
It contains rice powder, which is a common allergen.
There are only a handful of primary active ingredients.
The majority of Umzu Redwood reviews are also positive. However, if you are still taking nitrates or blood thinners, that may be risky.
---
How Does Umzu Redwood Work?
Umzu Redwood contains ingredients that encourage the production of additional nitric oxide in the body. This greatly improves circulation, which has many health benefits. An article in Cardiology looked at the role and clinical applications of nitric oxide.
It can lower blood pressure, and it can also strengthen erections by sending more blood flow to the penis. In addition, the added circulation can warm the hands and feet, and it can provide extra energy and virility. An article in the Journal of Clinical Hypertension discussed the important role nitric oxide plays in erections.
This is also a very healthy supplement that is full of antioxidants. They kill damaging free radicals in the body, help speed up healing, and strengthen the immune system.
Umzu Redwood Ingredients – Are they Safe and Effective?
Here are some of the primary active Umzu Redwood ingredients:
Horse Chestnut
– This is a tree, and the roots, leaves, seeds, bark, and flower all have medicinal properties. It contains molecules called aescin which help to improve bodily circulation by increasing levels of nitric oxide.
An article published in Drug Design, Development and Therapy discussed horse chestnut in terms of its anti-inflammatory properties, ability to reduce swelling and its positive impact on the veins.
Pine Bark Extract
– This bark is very high in antioxidants and anti-inflammatory properties, and it can strengthen the immune system. It also boosts the production of nitric oxide, improving circulation in the body.
An article in Hypertension Research confirmed that pine bark improved vasodilation in humans.
Garlic
– Garlic has potent medicinal properties, such as lowering cholesterol levels and blood pressure. In addition, it contains natural antioxidants which help improve immunity. Garlic can raise nitric oxide levels in the body, which improves blood flow. In our article about Earth Energy Fruit & Veggies, we've disscused how garlic can play a significant role in enhancing overall health.
An article in Integrated Blood Pressure Control showed that garlic has the potential to lower high blood pressure because it increases levels of nitric oxide.
Isoleucyl-Prolyl-Proline, Valyl-Prolyl-Proline
– According to the clinical research done on Isoleucyl-Prolyl-Proline, Valyl-Prolyl-Proline, it is seen that it may open up incredible blood flow by inhibiting a particular enzyme that causes blood vessels to shrink. It supports healthy blood pressure and maintains both systolic and diastolic blood pressure.
---
FAQ's
Q: How Should You Take Umzu Redwood?
A: The recommended dosage is 6 capsules per day. Take 3 first thing in the morning, and 3 before you exercise. Do not take more than the suggested dosage for any reason.
Q: Where To Buy Umzu Redwood and How Much Does It Cost?
A: You can buy Umzu Redwood from the manufacturer's official website, Umzu Redwood Amazon, and from several other online and offline retailers like Walmart. On the official site, the price for a one-time purchase is $39.95. If you subscribe to the monthly service, the price is $33.96.
Q: What is Umzu Redwood's Return Policy?
A: The manufacturer has a 60-day money-back guarantee, which you can initiate starting 2 weeks after your delivery. Contact the company and let them know you want a refund and follow their instructions for returning the product within 60 days of the delivery date. You can only return 3 items within a 12-month period.
Q: Does Umzu Redwood Offer a Free Trial?
A: No, there is no free trial associated with Umzu Redwood. However, there is an auto-shipment program you can join where they send you a bottle each month. This gives you a 15% discount on the price of the product.
Q: Does Umzu Redwood Work?
A: Umzu Redwood Supplement includes a number of ingredients that increase nitric oxide levels in the body, and this will improve bodily circulation and provide the benefits the manufacturer claims this product provides. It should work well.
The Umzu Redwood reviews mostly agree regarding the efficacy of the product. The majority of users found it benefited them in numerous ways, such as energy, overall health, sexual virility, and others.
Q: Is Redwood good for women?
A: Redwood is all about boosting natural blood flow, resulting in elevated mood, reduced varicose veins, and warmer hands and feet. Some health supplements should not be used by women, but nitric oxide is not one of them. It is safe and acceptable for both men and women to take nitric oxide under the advisement of a physician.
Q: Is Umzu Redwood Safe?
A: This is a safe, organic product that contains healthy ingredients. There are no artificial or chemical substances included. There is the possibility of some mild side effects. In addition, there are some medical conditions that preclude taking this supplement.
These include liver or kidney disease, bleeding disorders, digestive problems, a latex allergy, diabetes, hepatitis, auto immune diseases, or surgery withing the next 2 weeks (1, 2).
Q: How Long Does it Take for Umzu Redwood to Work?
A: According to Umzu Redwood reviews, it takes about 2 weeks for the full benefits of this product to begin. The manufacturer themselves don't offer any specific time frame.
Umzu Redwood Review – Final Verdict
Redwood by Umzu is an organic dietary supplement that supports the release of nitric oxide in the body, and this improves circulation all over the body. In turn, this provides benefits like increased energy, greater sexual stamina, lower blood pressure, better mood, and warmer hands and feet. This is a very healthy product high in antioxidants.
The vast majority of the Umzu Redwood reviews were very good. Users liked this product, and they mentioned benefits like lowered blood pressure, stronger erections, and warmer extremities. There were a small number of negative reviews. Some users felt the product didn't work well for them, and others mentioned side effects.
Pay careful attention to the medical warnings for this product. You may experience mild Umzu Redwood side effects from some of the ingredients. If you notice unpleasant symptoms, discontinue the use of the product immediately. Before you take this supplement, see a medical doctor for approval. Well, the market has many other health products such as H2 Restore that promise to strengthen the immune system and improve overall health.
The most effective health supplements that are currently present on the market can be found below. We have taken our time and rated these products in accordance to these five essential factors: quality of active ingredients, energy boosting, hormone balance restoration, cognitive function improvement and immune system strengthening.
Our Top Health Supplements Choices
Verdict on Claimed Benefits: Below is our summary of the available evidence for the claimed benefits of below mentioned health supplements and probiotic supplements based on the available research:
Product reviews are provided for informational purposes only and reflect solely the views and opinions expressed by the contributors and not those of Consumer Health Digest. We do not verify or endorse any claims made in these reviews. Please read the full product reviews disclaimer. *All individuals are unique. Your results can and will vary.
Ask a Question
Umzu Redwood Ques and Ans
Q: I am a diabetic and I have high blood pressure. I am taking metformin and lisinopril. Will it be safe to use Redwood also?

A: Before taking any supplements, talk to your doctor to be sure they're safe for you based on your medical records.
Have a Question? Please Tell Us What We Are Missing Here!
PRODUCT NAME
Redwood
PRODUCT BRAND
UMZU
PRICE (in USD)
$39.95
ITEM FORM
Capsule
UNIT COUNT
180
INGREDIENTS
Horse Chestnut, Pine Bark Extract, Garlic, Isoleucyl-Prolyl-Proline, Valyl-Prolyl-Proline
$47.66 At Amazon
$50.95 At Walmart
8 sources
We review published medical research in respected scientific journals to arrive at our conclusions about a product or health topic. This ensures the highest standard of scientific accuracy.
[1] Cardiology -
karger.com
[2] The Role of Nitric Oxide in Erectile Dysfunction -
onlinelibrary.wiley.com
[3] Drug Design, Development and Therapy -
NCBI
[4] Hypertension Research -
nature.com
[5] Potential of garlic (Allium sativum) -
National Center For Biotechnology Information
[6] Isoleucyl-Prolyl-Proline, Valyl-Prolyl-Proline -
PubMed
[7] Horse Chestnut -
WebMD
[8] Maritime Pine -
WebMD
**This is a subjective assessment based on the strength of the available informations and our estimation of efficacy.
*Result may vary. The information contained in this website is provided for general informational purpose. No medical claims are implied in this content, and the information herein is not intended to be used for self diagnosis or self treatment of any condition.
*Disclosure of Material connection: Some of the links in the post above are "associate sales links." This means if you can click on the link and purchase an item, we will receive a commission. Regardless, we only recommend products or services which we use personally and/or believe will add value to our readers. We are disclosing this in accordance with the Federal Trade Commission's 16 CFR, Part 255: "Guides Concerning the Use of Endorsements and Testimonials."