In This Review
What is ActivatedYou Morning Complete?
Morning Complete is a convenient and brand-new supplement that provides you with your greens and pre/probiotics. This health supplement is a great way for you to feel refreshed and nourished at the beginning of the day.
It comes in the form of a beverage that has the flavor of green apple. According to the Activated You Morning Complete nutrition facts, it contains some particularly important and efficient ingredients such as probiotics, superfoods, and prebiotics. It includes a synergistic blend of ingredients that work together to provide health benefits.
How We Rated This Product
Overall Rating: 4.9
Highlights
Maintains a Healthy Body Weight
Boosts Energy
Enhances Overall Health
Supports Regular Digestive Function
Improve Gut Health
Key Ingredients
Green Superfoods Blend
Metabolic Blend
Cellular Function
Liver Support Blend
Prebiotic Fiber Blend
Adaptogen Blend
Antioxidant Blend
Probiotic Blend
Pros
The nutritional health supplement can help you improve your overall productivity
It might enable you to start your day efficiently and with greater success
It could deliver quite a lot of overall health benefits
It's made of reliable ingredients without any Activated You Morning Complete side effects or chemicals.
Cons
It's not suitable for people under the age of 18.
The results vary depending on the user.
The company does not give free samples.
| | |
| --- | --- |
| Features | Daily Wellness Drink with a combination of Prebiotics + Probiotics + Green Superfoods |
| Form | Powder |
ActivatedYou Morning Complete is safe, but you must be vigilant to read the label before you start taking it. According to the Activated You Morning Complete customer reviews, people seem to like the taste of the supplement and they found it highly effective at easing digestion and giving them additional energy.
Who is the Manufacturer of Morning Complete?
Activated You is the manufacturer of Morning Complete and Advanced Restorative Probiotic. ActivatedYou is an integrated approach to overall wellness, founded by actress and health advocate Maggie Q, ActivatedYou® combines Maggie's passion for health with the expertise of Dr. Frank Lipman, a renowned integrative medicine doctor.
This is a reliable name in the field and it is one that brings substantial credibility. Now, there are quite a lot of different promises which are made about the product itself.
As the brand mentions, it is something that is going to enhance your metabolic functioning, your cellular support, and your overall health through natural and powerful ingredients.
You can buy ActivatedYou Morning Complete on the official website.
Morning Complete Ingredients – Are they Safe and Effective?
When looking at ActivatedYou Morning Complete reviews, it is important to scrutinize the ingredients within its formula.
Prebiotic Fiber Blend (4.05g) – These enhance the functioning of your gut through nourishment and repair[1]. Prebiotics feed the healthy bacteria in your gut, which supports overall digestive wellness. It can help ease symptoms like gas and bloating, promote healthy bowel movements, and help conditions like irritable bowel syndrome (1).
According to the Mayo Clinic, you can find prebiotics in foods like whole grains, greens, bananas, garlic, soy, and onions.
Probiotic Blend (10 billion CFU) – These are live bacteria that live inside your gut. They are good, healthy bacteria that support digestive wellness, strengthen your immune system, and may help with obesity. They make the gut barrier stronger and prevent harmful substances from entering. They are in foods like sauerkraut and yogurt (2).
An article in ISRN Nutrition examined the health benefits of probiotics.
Metabolic Blend (390mg) – Ingredients like green tea and ginger root help speed up and support a healthy metabolism. This causes the body to go into a fat-burning state called thermogenesis, which can lead to rapid weight loss (3).
A review published in Obesity discussed adaptive thermogenesis with weight loss in humans.
Cellular Function and Liver Support Blend (30mg) – Ingredients like milk thistle and aloe vera support the healthy functioning of the cells, as well as promote the wellness of the liver. According to AHRQ Evidence Report Summaries, evidence claim that milk thistle can help treat cirrhosis of the liver.
Both ingredients are high in anti-inflammatory agents which reduce swelling and antioxidants which can repair damage (4).
Antioxidant and Green Superfoods Blend – These are all full of enriching antioxidants which kill free radicals and lower oxidative stress. As per the Harvard Health explains the functioning of antioxidants which helps to repair the body and support a strong immune system, as well as protecting you from developing various diseases (5).
Maggie Q's Morning Complete provides nutrients from the greens. The Green Superfoods blend contains powdered kale, broccoli, spinach, alfalfa leaf, barley grass, and more. Including greens in your diet helps fighting belly bloat, relieves stress and can support optimal gut health. (source)
Sugar Balancing Support – ActivatedYou Morning Complete has Sugar Balancing Support in it which has Gymnema sylvestre leaf, fennel seed and pine bark extract. Gymnema sylvestre is a plant which has anti diabetic properties and can also be used to control obesity. (source)
If you would like to dive deeper into the ingredients in each blend you can check on their website. There is a photo of the supplement and on the bottom right corner, you can click to expand the ingredient list. There are ingredients listed within each category.
For example, the fiber blend has chicory root and cinnamon bark. It is free of artificial ingredients such as Splenda which are commonly used in many products.
The blends that are in the supplement are highly effective because things like probiotics and antioxidants are very popular right now. This supplement combines many of the things that people are looking for into a daily health product.
How Does Morning Complete Work?
Activated You Morning Complete contains a mix of prebiotics and probiotics. The activated you probiotic support the development of good bacteria in the gut, while prebiotics feed that bacteria to support overall digestive health. This can ease symptoms like gas and bloating, improving digestion.
The green superfoods and antioxidants support overall health and wellness and strengthen the immune system. Antioxidants destroy free radicals in the system and lower oxidative stress, which supports healing in the body.
The supplement includes several adaptogens, which are ingredients that decrease the levels of stress in your body. They can also provide protection against diseases like cancer.
ALSO READ – Gundry MD and Nucific Bio X4
Morning Complete FAQ
Q: How Do I Use Morning Complete for Best Results?
A: This is a product that should be used as per the instructions of the manufacturer. It is a morning drink and you should use it carefully. Else, it may cause some indigestion and irregularities. The directions for use are as follows: Dissolve 1 scoop of Morning Complete in 8oz of water.
Package: 30 servings
Supply for: Depending on the dosage, it will supply for 15 to 30 days
Q: Who Should Take Morning Complete?
A: It's ideal for anyone who wants to boost their body's performance and their overall sense of wellness each day. The supplement is also highly effective for users who have digestive issues and want to eliminate symptoms like gas and bloating.
Q: Can you lose weight on Morning Complete?
A: Yes. There's a collection of ingredients that support a healthy metabolism, which may initiate fat-burning and help you lose weight. Other substances improve cellular functioning, balance sugar, and support a healthy liver.
Q: What are the Precautions to Take When Using This Supplement?
A: The product is particularly convenient and it doesn't really come with any substantial precautions – this is something to consider. But it does contain aloe which the manufacturer warns can cause issues with digestion and potential side effects such as diarrhea. (Source: MayoClinic) The product does not contain any of the top 8 major allergens.
Q: How Long Before I See any Improvements?
A: You should notice some improvements within a few days, and more in a few weeks. This is a highly effective supplement that should work rapidly.
Q: How Much Does the Morning Complete Cost?
A: The Activated You Morning Complete Powder is priced as follows:
1 Jar: $79.00 (FREE U.S. S&H)
3 Jars: $213.00 (FREE U.S. S&H)
6 Jars: $403.00 (FREE U.S. S&H)
Shipping: Orders over $50 are shipped free*
Feature Product & Coupon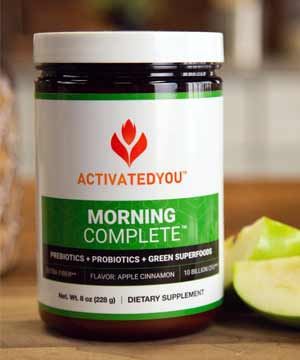 Unique Wellness-Support Blends in 1 Delicious Drink
Health Benefits of Morning Complete
Highly nutritious green superfoods
All-natural apple-cinnamon flavor designed for better absorption
Made from a mix of highly-nutritious vegetables
Reduces bloat and regulates digestion
*Individual results can and will vary.
Q: Do ActivatedYou Morning Complete offer any discounts?
A: For the first-time user, here's a special offer just for you! Activated You is offering you this one-time coupon to help you support your gut health. This big discount is all yours. Just use this activated morning complete coupon to secure your savings of 15% off.
Activate your Morning Complete instant savings coupon today. Grab a big discount with your personal flash deal. This coupon is valid only for purchases on https://ActivatedYou.com/morning-complete-coupon/
Q: How to Use Your Morning Complete Coupon Offer?
A: Click on the "REDEEM OFFER" button by following the link above and have your exclusive 15% discount added automatically. From there you can add your Morning Complete supplement to the cart and proceed to checkout.
Q: Are there any other Activated You discounts I should be aware of?
A: To check for discounts on other Activated You morning complete Powder in their range, select from one of the products listed on the official website. You can also sign up for the newsletter and follow them on social media to be the first to hear about the exclusive discounts.
To see all their active offers, check out https://ActivatedYou.com/coupon/
Q: Is There a Money Back Guarantee?
A: You can get a 100% refund on ActivatedYou within 90 days. Nevertheless, there may be some restrictions to this policy, so it is recommended that you contact customer service.
For customer service inquiries, ActivatedYou offers several contact methods.
Contact: 1-800-720-8403
Hours: Monday – Friday 6AM-5PM PST and Sat – Sun 6AM-4PM PST.
Email: support@activatedyou.com
Address: 2500 Broadway #F125 Santa Monica, CA 90404-3080
Q: Where to Buy Morning Complete?
A: Activated You Morning Complete can be purchased through their Official Website.
Q: Is Morning Complete dairy-free?
A: Activated You Morning Complete is a health and wellness supplement that contains prebiotics, probiotics, and energy nutrients. Morning Complete is a Gluten & Dairy Free product.
READ NEXT – Bio Complete 3 and Balance of Nature
Q: Is Morning Complete FDA approved?
A: According to Activated You, "Purity is our number one priority, so all of our products go through rigorous testing for quality, purity, and potency at an independent, 3rd-party facility". The product is not approved by the FDA.
In general, the reason is dietary supplements are not FDA-approved. Under the law (Dietary Supplement Health and Education Act of 1994), dietary supplement firms do not need FDA approval prior to marketing their products. It is the company's responsibility to make sure its products are safe and that any claims are true.
Q: Can you mix Activated You Morning Complete with hot beverages?
A: A: We do not recommend mixing Morning Complete with any hot beverage as it will end up killing the live and useful bacteria in Probiotic blend.
Q: What Do the Activated You Morning Complete Reviews Say?
A: All the Activated You Morning Complete reviews on the official website are positive, with customers praising the taste and benefits of the powder.
I am taking Morning Complete to try and lose my bloated stomach, the pre and probiotics are working for me, the taste is great, I don't think I have had any side effects, I feel more energized, and don't need a nap in the afternoon anymore. I have not lost any weight yet but I haven't been using the product for very long, I am looking forward to the long-term results! Cheers – by Annie
I started taking Morning Complete 2 months ago in an attempt to help with my digestive issues that have been lifelong. It is the perfect mix of amazing ingredients that really support my gut, healing the elimination. Definitely a staple in my diet and something I will keep on using. – by Christine Catino
I have had serious gut issues, so I was looking for a product that contained BOTH prebiotics and probiotics to balance the good bacteria in my healing gut. I did a LOT of research and read Activated you reviews before trying Activated You Morning Complete. I am happy to say that after a few months, I am experiencing very positive results! I have an energy 'boost' in the morning, without caffeine. Drinking it has become a part of my morning routine. – Julie Najdek
*Individual results can and will vary.
You can buy ActivatedYou Morning Complete on the official website.
Morning Complete before and after results
ActivatedYou itself admits that the individual results are likely to vary and the response time would also vary. The below information is just an indicative depiction of how the body is likely to respond in general to the ingredients of the supplement.
Morning Complete results after two weeks: Some users have indicated that their energy levels have improved after taking the supplement for two weeks. The brand, however, does not promise any guaranteed results, and it does not commit how long it will take to work.
Morning Complete results after one month: After one month, the gut health would have improved significantly with the help of the probiotic. This will improve the metabolic rate and the digestion issues should have subsided. With improved metabolic rate, weight loss should also be noticed in the first month. Sugar cravings should have come down too.
Morning Complete results after two months: When continued for two months, the supplement would have progressively improved the overall health of the body. The overall wellbeing and general health conditions should improve with the super green food blends contained in the formula.
Morning Complete results after 3 months: By now all the side effects should have subsided. Even those who have been experiencing bloating and gas should have crossed the threshold and should notice improved health conditions. Higher energy levels should be experienced throughout the day.
Q: Does ActivatedYou Morning Complete Really Work?
A: Yes, Activated You Morning Complete provides amazing benefits. It's full of probiotics and probiotics which support digestive health, antioxidants that heal the body, and supremely healthy green superfoods. In addition, it can speed up your metabolism and may help with fat burning and weight loss.
Q: How Long Does It Take for Morning Complete to Work?
A: The manufacturer doesn't state this specifically, but many users in the reviews on Morning Complete by Activated You say that the results lasted all day.
How Does Activated You Morning Complete Rate?
| Feature | Rating | Comments |
| --- | --- | --- |
| Ingredients | 10 | Green Superfoods Blend and Prebiotic Fiber Blend are well-researched and clinically proven ingredients, while Cellular Function and Liver Support Blend support gut health and boost energy level. |
| Price | 9.5 | Average cost for the market for a high level supplement. |
| Safety | 9.5 | Activated You is a well-known company that uses naturally-derived ingredients, easy dissolve formula, artificial sweetener-free supplement, and offers a 90-day money-back guarantee. |
Morning Complete Alternatives
There are few dietary supplements on the market that combine probiotics and other wellness ingredients similarly to Morning Complete.
Two products that are similar to Morning Complete are Multi-GI 5 and Vital Reds.
Morning Complete Review – Final Verdict
All in all, Morning Complete is a dietary supplement that may be able to provide you with a handful of benefits. It is a great addition to your morning routine, plus you can start your day with an extra 8oz of water which is always healthy. Activated You Morning Complete results in improved digestion and more energy.
Every person is different and has different needs therefore what works for one person may not work for someone else. Nonetheless, most of the reviews on Activated You Morning Complete along with amazing morning complete before and after images had very positive things says about the supplement. Users said it gave them full of energy and eased bothersome digestive symptoms.
Activated You Morning Complete is a safe product made of extremely healthy, wellness-boosting ingredients like green superfoods, probiotics, and prebiotics. It does not lead to any harmful ingredients and is made by a very reputable manufacturer. This supplement is highly recommended for gut and overall health.