In This Review
What is ActivatedYou Morning Complete?
Morning Complete is a convenient and brand-new supplement that provides you with your greens, prebiotics, and probiotics. This health supplement is a great way for you to feel refreshed and nourished at the beginning of the day.
It comes in the form of a beverage that has the flavor of green apples. According to the Activated You Morning Complete nutrition facts, it contains some particularly important and efficient ingredients such as probiotics, superfoods, and prebiotics. It includes a synergistic blend of ingredients that provide overall health benefits.
However, is Morning Complete supported by scientific research or are its claims merely marketing tactics? Do the ingredients in Morning Complete come in effective doses? Are there any questionable additives included? Furthermore, how do actual users rate and describe the effects of this supplement?
Our team has conducted a comprehensive review of the brand's specifications and history to help you make an informed decision about whether to purchase this product.
In this article, we aim to address these inquiries and more as we scrutinize the ingredients in Morning Complete based on medical research. Our objective is to provide an assessment of whether this supplement is likely to be effective or if it is simply a waste of money.
How Does It Rate?
Overall Rating: 4.8
Morning Complete
Brand Highlights
Scientifically Tested Ingredients.
Fully Risk-Free Money Back Guarantee.
Boosts Energy Maintains a Healthy Body Weight.
Enhances Overall Health and Supports Regular Digestive Function.
Designed to Support Regular Digestive Function.
Improve Gut Health.
Unique Blend of Nutrients.
Key Ingredients
Green Superfoods Blend
Metabolic Blend
Cellular Function
Liver Support Blend
Prebiotic Fiber Blend
Adaptogen Blend
Antioxidant Blend
Probiotic Blend
Pros
The nutritional health supplement can help you improve your overall productivity
It might enable you to start your day efficiently and with greater success
It could deliver quite a lot of overall health benefits
It's made of reliable ingredients without any Activated You Morning Complete side effects or chemicals.
Cons
It's not suitable for people under the age of 18.
The results vary depending on the user.
The company does not give free samples.
---
About the Brand
ActivatedYou was founded by the well-known American actress and health advocate Maggie Q in 2017. With the aim of helping people live healthy and active lives, she partnered with gut expert Frank Lipman to provide a high-quality range of gut supplements.
ActivatedYou Morning Complete is safe, but you must be vigilant and read the label before you start taking it. According to the Activated You Morning Complete customer reviews, people seem to like the taste of the supplement, and they found it highly effective at easing digestion and giving them additional energy.
ActivatedYou has received positive ratings and reviews from both Trustpilot and the Better Business Bureau (BBB). On Trustpilot, the company has achieved an impressive rating of 4.4 out of 5, based on a substantial number of 1,139 customer reviews.
Additionally, on the BBB, ActivatedYou holds a rating of 4.1 out of 5, with an average of 630 customer reviews. These favorable ratings and reviews across multiple platforms indicate that ActivatedYou has consistently provided a satisfactory experience to a significant number of customers.
How Does Morning Complete Work?
Activated You Morning Complete contains a mix of prebiotics and probiotics. The activated probiotics support the development of good bacteria in the gut, while prebiotics feed those bacteria to support overall digestive health. This can ease symptoms like gas and bloating, improving digestion.
The research by Pamela Mason, renowned researcher's extensive study on The Role of Prebiotics and Probiotics in Human Health: A Systematic Review with a Focus on Gut and Immune Health, suggests that prebiotics and probiotics can have positive effects and potential health benefits. Prebiotics, which are non-digestible carbohydrates that promote the growth of beneficial gut bacteria, can positively impact gut microbiota composition, gut barrier function, and immune responses, which may have implications for managing conditions such as IBS, IBD, type 2 diabetes, and reducing the risk of infections and allergies.
The green superfoods and antioxidants support overall health and wellness and strengthen the immune system. Antioxidants destroy free radicals in the system and lower oxidative stress, which supports healing in the body.
The supplement includes several adaptogens, which are ingredients that decrease the levels of stress in your body. Thus, all such blend in the Morning Complete work together by providing the essential nutrients that may not get in the standard diet plus some extra nourishment for your body.
Morning Complete has the best combination of ingredients that work in synergy to impart essential nutrients lacking in our daily diet ,and even provide extra nourishment to our body. This will keep us healthy and energized in our lives. You can check the video for more details:
Activated You Morning Complete Ingredients – Are they Safe and Effective?
We have reviewed and researched each ingredient of this product. Ingredients in morning complete play a vital role in the effectiveness of every product. Here, in this Morning Complete review, we have provided evidence of each fact about every ingredient.
When looking at ActivatedYou Morning Complete reviews, it is important to scrutinize the ingredients within its formula.
Prebiotic Fiber Blend (4.05g)
– Morning Complete's prebiotic fiber consists of cinnamon bark and chicory root fructooligosaccharides. "The American Gastroenterological Association recommends the use of prebiotic fiber supplements for individuals who have certain digestive disorders, such as irritable bowel syndrome (IBS) and inflammatory bowel disease (IBD). However, it's important to note that selecting high-quality supplements is crucial, and consulting with a healthcare provider before use is highly recommended. This is because the quality and composition of prebiotic fiber supplements can vary significantly, and a healthcare provider can help determine the appropriate dosage and ensure that the supplement is safe and effective for the individual's specific needs".
These enhance the functioning of your gut through nourishment and repair. Prebiotics feed the healthy bacteria in your gut, which supports overall digestive wellness. According to research it can help ease symptoms like gas and bloating, promote healthy bowel movements, and help conditions like irritable bowel syndrome.[1]
According to the Mayo Clinic, you can find prebiotics in foods like whole grains, greens, bananas, garlic, soy, and onions.[2]
Probiotic Blend (10 billion CFU)
– Morning Complete by Activated You has a rich probiotic blend including B.coagulans, L.gasseri, L.plantarum, L.rhamnosus, B.Bifidum, B.longum, L.acidophilus, L.casei, and S.thermophilus.
These are live bacteria that live inside your gut. According to Dr. Josh Axe, a health professional and founder of Ancient Nutrition, probiotic supplements contain beneficial bacteria that are referred to as "good guys". These microorganisms function to support the health of the gut microbiome and provide a range of health benefits, like better digestion, improved immune function, and reduced inflammation.
They are good, healthy bacteria that support digestive wellness, strengthen your immune system, and may help with obesity. They make the gut barrier stronger and prevent harmful substances from entering. They are in foods like sauerkraut and yogurt. An article in the ISRN Nutrition examined the health benefits of probiotics.[3]
Metabolic Blend (390mg)
– Morning Complete has additional ingredients, such as extracts from white tea leaf, turmeric root, bitter melon fruit, and black pepper fruit, that contribute to its nutritional value.
Ingredients like green tea and ginger root help speed up and support a healthy metabolism. According to research, this causes the body to go into a fat-burning state called thermogenesis, which can lead to rapid weight loss.[4]
A review published in Obesity discussed adaptive thermogenesis with weight loss in humans.[5]
Cellular Function and Liver Support Blend (30mg)
– Ingredients like milk thistle and aloe vera support the healthy functioning of the cells, as well as promote the wellness of the liver. According to AHRQ Evidence Report Summaries, evidence claim that milk thistle can help treat cirrhosis of the liver.[6] Both ingredients are high in anti-inflammatory agents which reduce swelling and antioxidants which can repair damage.
"Dr. Lam suggests that aloe vera has the potential to soothe the digestive system ,and improve the regularity of bowel movements. He also points out that research studies have indicated that aloe vera may be helpful in alleviating symptoms of gastrointestinal condition like irritable bowel syndrome".
Antioxidant and Green Superfoods Blend
– ActivatedYou's Morning Complete supplement includes extracts from Lycium Berry, Pomegranate fruit, and Polygonum Cuspidatum root. The Polygonum Cuspidatum root extract is standardized to have a 50% resveratrol concentration.
Study suggests, these are all full of enriching antioxidants which kill free radicals and lower oxidative stress.[7] As per the Harvard Health explains the functioning of antioxidants which helps to repair the body and support a strong (robust) immune system, as well as protecting you from developing various diseases.[8]
Maggie Q's Morning Complete provides nutrients from the greens. The Green Superfoods blend contains powdered kale, broccoli, spinach, alfalfa leaf, barley grass, and more.[9] Including greens in your diet helps fight belly bloat, relieves stress, and can support optimal gut health.
Sugar Balancing Support
– ActivatedYou Morning Complete has Sugar Balancing Support in it which has Gymnema Sylvestre Leaf, Fennel Seed, and Pine Bark Extract. Gymnema sylvestre is a plant that has anti-diabetic properties and can also be used to control obesity. (source)
A research study published in the Journal of Clinical Gastroenterology has indicated that pine bark extract may relieve symptoms of constipation in elderly individuals.
If you would like to dive deeper into the ingredients in each blend you can check on their website. There is a photo of the supplement and on the bottom right corner, you can click to expand the ingredient list. There are ingredients listed within each category.
For example, the fiber blend has chicory root and cinnamon bark. It is free of artificial ingredients such as Splenda which are commonly used in many products.
The blends that are in the supplement are highly effective because things like probiotics and antioxidants are very popular right now. This supplement combines many of the things that people are looking for into a daily health product.
Adaptogen Blend
– This blend in Morning Complete by ActivatedYou comprises Astragalus root extract, Rhodiola rosea extract, and DIM (diindolylmethane). Astragalus root extract is known to boost the immune system and Rhodiola rosea relieves stress.
According to Dr. Ellen Vora, a psychiatrist who focuses on holistic health, adaptogens may benefit gut health by diminishing stress and modulating the body's stress response. Dr. Vora highlights that prolonged stress could result in gut inflammation, potentially leading to a range of gastrointestinal problems.
Our Reviewer Tried Morning Complete And the Result Is…
Our tester and reviewer, Jin Williams personally tried the product, here's the results…When I turned 50, I noticed significant changes in my body. I have always enjoyed a high metabolism and never faced any challenges with weight or energy levels. But things began to change around 45.
I realized it was time to consider adding a supplement to my diet. So, I picked Morning Complete. Choosing this option brought me to a natural and overall solution that really helps my gut health and gives me more energy.
This supplement provided a blend of superfoods, prebiotics, and probiotics, thus helping me with weight management and gut health maintenance. Within a month, I noticed improvements.
I tried both flavors, Apple Cinnamon and Citrus Medley. For those with bustling schedules, it's a convenient option. All I did was mix it with water or add it to my daily shake, and I am good to go! And the best part is, it has a great taste that I really enjoyed! ~ Jin Williams (@brystrap)
After testing Morning Complete, Jin Williams found so many great things and above all, she loved the fact that the product actually works. Check out her review on our official YouTube channel Consumer Health Digest.
Morning Complete FAQ
Q: How Do I Use Morning Complete for Best Results?
A: The directions for use are as follows: To achieve the best results, mix one scoop of powder that equals 7.6 grams in 8 ounces of water, preferably in the morning as your first drink of the day. If you usually drink tea or coffee in the morning, you can replace it with this drink.
Package: 30 servings
Supply for: Depending on the dosage, it will supply for 15 to 30 days
Q: Who Should Take Morning Complete?
A: It's ideal for anyone who wants to boost their body's performance and their overall sense of wellness each day. The supplement is also highly effective for users who have digestive issues and want to eliminate symptoms like gas and bloating.
Q: Will Morning Complete Help You Lose Weight?
A: Yes. There's a collection of ingredients that support a healthy metabolism, which may initiate fat-burning and help you lose weight. Other substances improve cellular functioning, balance sugar, and support a healthy liver.
Q: What are the Precautions to Take When Using This Supplement?
A: The product is particularly convenient and it doesn't really come with any substantial precautions – this is something to consider. But it does contain aloe which the manufacturer warns can cause issues with digestion and potential side effects such as diarrhea. (Source: MayoClinic) The product does not contain any of the top 8 major allergens.
Q: How Much Does the Morning Complete Cost?
A: The Activated You Morning Complete Powder is priced as follows:
1 Jar: $79.00 (FREE U.S. S&H)
3 Jars: $213.00 (FREE U.S. S&H)
6 Jars: $403.00 (FREE U.S. S&H)
Shipping: Orders over $50 are shipped free*
Feature Product & Coupon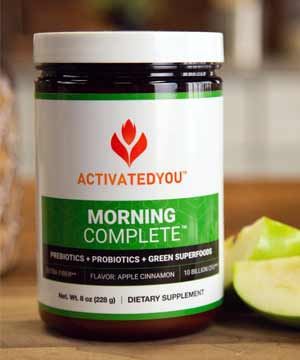 Unique Wellness-Support Blends in 1 Delicious Drink
Health Benefits of Morning Complete
Highly nutritious green superfoods
All-natural apple-cinnamon flavor designed for better absorption
Made from a mix of highly-nutritious vegetables
Reduces bloat and regulates digestion
*Individual results can and will vary.
Q: Do ActivatedYou Morning Complete Offer Any Discounts?
A: For the first-time user, here's a special offer just for you! Activated We are offering you this one-time coupon to help you support your gut health. This big discount is all yours. Just use this activated you morning complete coupon to secure your savings of 15% off.
If you sign up for the email list, you can get a special discount on Morning Complete. The more jars you buy, the bigger the discount you'll get on your purchase.
Activate your Morning Complete instant savings coupon today. Grab a big discount with your personal flash deal. This coupon is valid only for purchases on morning complete coupon.
Q: Can you use Morning Complete at night?
A: Even though "Morning Complete" sounds like it's for the morning, you can also take it at night. If you are taking Morning Complete for its energy-boosting effects, it is best to take it in the morning or early afternoon. If you are taking it for its other health benefits, such as improving digestion or boosting the immune system, you can take it at any time of day.
But some of its ingredients might keep you awake and mess with your sleep cycle. Everyone has a different body and can react differently to the components in the supplement. Some people may experience sleepless nights while others may not.
Q: How many times a day can you take morning complete?
A: The package recommends taking the supplement once a day. If you want to take it more than once, you should consult your healthcare expert.
Q: How to Use Morning Complete Coupon Offer?
A: Click on the "REDEEM OFFER" button by following the link above and have your exclusive 15% discount added automatically. From there, you can add your Morning Complete supplement to the cart and proceed to checkout.
Q: Are there any other Activated You discounts I should be aware of?
A: To check for discounts on other Activated You morning complete Powder in their range, select from one of the products listed on the official website. You can also sign up for the newsletter and follow them on social media to be the first to hear about the exclusive discounts.
To see all their active offers, check out https://ActivatedYou.com/coupon/
Q: Is There a Money Back Guarantee?
A: You can get a 100% refund on ActivatedYou within 90 days. As per the official website, this warranty will not include shipping and handling-related charges. The warranty will not include shipping and handling charges. Nevertheless, there may be some restrictions to this policy, so it is recommended that you contact customer service.
For customer service inquiries, ActivatedYou offers several contact methods.
Contact: 1-800-720-8403
Hours: Monday – Friday 6AM-5PM PST and Sat – Sun 6AM-4PM PST.
Email: [email protected]
Address: 2500 Broadway #F125 Santa Monica, CA 90404-3080
Q: Is Morning Complete Dairy-Free?
A: Activated You Morning Complete is a health and wellness supplement that contains prebiotics, probiotics, and energy nutrients. Morning Complete is a Gluten & Dairy Free product.
READ NEXT – Bio Complete 3 and Balance of Nature
Q: Is Morning Complete FDA Approved?
A: According to Activated You, "Purity is our number one priority, so all of our products go through rigorous testing for quality, purity, and potency at an independent, 3rd-party facility". The product is not approved by the FDA.
In general, the reason is dietary supplements are not FDA-approved. Under the law (Dietary Supplement Health and Education Act of 1994), dietary supplement firms do not need FDA approval prior to marketing their products. It is the company's responsibility to make sure its products are safe and that any claims are true.
Q: Is Morning Complete A Scam or Legit?
A: According to Morning Complete reviews from satisfied customers on reputable websites like BBB, Trustpilot, and the official website, it appears that the product has helped people through the scientifically supported ingredients. From these positive reviews, it can be inferred that the product is legitimate and not a scam.
Morning Complete is a dietary supplement that claims to increase your energy levels and help you stay active throughout the day. However, the brand acknowledges that the results and response time may vary from person to person, and they cannot guarantee the effectiveness or the timeframe in which you will see the benefits.
Q: Does ActivatedYou Morning Complete Really Work?
A: Yes, Activated You Morning Complete provides amazing benefits. It's full of prebiotics and probiotics which support digestive health, antioxidants that heal the body, and supremely healthy green superfoods. In addition, it can speed up your metabolism and may help with fat-burning and weight loss.
Activated You Morning Complete is developed by renowned personalities such as Dr. Frank Lipman and Maggie Q. The product has earned a reputation as the top dietary supplement due to its positive reviews from consumers on trustworthy websites such as Trustpilot, the official website, and Amazon.
Q: How Long Does It Take for Morning Complete to Work?
A: While some users have reported increased energy levels after using the supplement for two weeks, the brand does not make any guaranteed promises regarding results or provide a specific timeline for when the supplement may take effect.
Q: What Are the Side Effects of Morning Complete?
A: Morning Complete by Maggie Q is generally considered a safe product but some individuals might experience minor side effects as everyone is different. Some of the common side effects include:
Gas
Bloating
Diarrhea
Constipation
Stomach Cramps
Some users might experience some effects from aloe vera if you experience any, stop using it immediately and consult your physician.
What Do the Activated You Morning Complete Reviews Say?
A: All the Activated You Morning Complete reviews on the official website are positive, with customers praising the taste and benefits of the powder.
I am taking Morning Complete to try and lose my bloated stomach, the pre and probiotics are working for me, the taste is great, I don't think I have had any side effects, I feel more energized, and don't need a nap in the afternoon anymore. I have not lost any weight yet but I haven't been using the product for very long, I am looking forward to the long-term results! Cheers – by Annie
I started taking Morning Complete 2 months ago in an attempt to help with my digestive issues that have been lifelong. It is the perfect mix of amazing ingredients that really support my gut, healing the elimination. Definitely a staple in my diet and something I will keep on using. – by Christine Catino
I have had serious gut issues, so I was looking for a product that contained BOTH prebiotics and probiotics to balance the good bacteria in my healing gut. I did a LOT of research and read Activated you reviews before trying Activated You Morning Complete. I am happy to say that after a few months, I am experiencing very positive results! I have an energy 'boost' in the morning, without caffeine. Drinking it has become a part of my morning routine. – Julie Najdek
*Individual results can and will vary.
You can buy ActivatedYou Morning Complete on the official website.
According to the provided data, ActivatedYou has received an overall rating of 4.1 out of 5 based on 627 reviews, with the majority of reviews being positive. However, there have been 49 reported complaints in the last three years, and 14 complaints in the past 12 months.
Furthermore, we conducted extensive research on consumer reviews of Morning Complete across various websites such as Amazon and Trustpilot. The majority of the reviews on both sites were highly positive, indicating that consumers have expressed a high level of satisfaction with the product.
Overall, the numerous reviews of the product on various websites indicate that consumers did not report any significant side effects. This suggests that Morning Complete may be a safe and well-tolerated product for most people. Based on the positive feedback and lack of reported adverse effects, it may be worth trying this product.
However, it is important to note that individual experiences may vary, and it is always recommended to consult with a healthcare professional before starting any new supplement regimen.
Morning Complete Before and After Results
ActivatedYou itself admits that the individual results are likely to vary and the response time would also vary. The below information is just an indicative depiction of how the body is likely to respond in general to the ingredients of the supplement.
Morning Complete results after two weeks: Some users have indicated that their energy levels have improved after taking the supplement for two weeks. The brand, however, does not promise any guaranteed results, and it does not commit how long it will take to work.
Morning Complete results after one month: After one month, the gut health would have improved significantly with the help of the probiotic. This will improve the metabolic rate and the digestion issues should have subsided. With improved metabolic rate, weight loss should also be noticed in the first month. Sugar cravings should have come down too.
Morning Complete results after two months: When continued for two months, the supplement would have progressively improved the overall health of the body. The overall wellbeing and general health conditions should improve with the super green food blends contained in the formula.
Morning Complete results after 3 months: By now all the side effects should have subsided. Even those who have been experiencing bloating and gas should have crossed the threshold and should notice improved health conditions. Higher energy levels should be experienced throughout the day.
The reviewer has shared that she has been using Activated You's Morning Complete for nearly two years and has observed a positive impact on her general well-being. Here's what she had to say:
Morning Complete Alternatives
There are few dietary supplements on the market that combine probiotics and other wellness ingredients similarly to Morning Complete.
Two products that are similar to Morning Complete are Multi-GI 5 and Vital Reds.
How Do We Evaluated Morning Complete?
We review a product as best, on the basis of some categories. Some of them are:
Manufacturer
Ingredients
Customer reviews
Manufacturer: To trust any product, it is very important to trust the manufacturer first. Activated You is a trusted manufacturer which promises to have effective health benefits. This manufacturer shows evidence-based information.
Ingredients: We've reviewed each and every ingredient of this product and provided scientific references for each product which make it trustworthy and easier for the customer to judge whether this product will work for them or not.
Customer Reviews: Customer reviews of each product play a very important role in judging the effectiveness of each product. In this Morning Complete review, we've gone through many customer reviews from its official website or many other sources to get the best information possible.
Price (Month Subscription)
Money Back Guarantee
Third-Party Testing or Certifications
Usage
Side Effects
Review
Morning Complete
$79.00
90-Day Money Back Guarantee

Yes

Support a Healthy Body Weight
Regular Digestive Function
Daily Energy Levels
Overall Wellness.

Results into No Side Effects.
Highly Recommend with Effective Result.
Live Conscious Beyond Greens
$39.99 ($24.99)
365-day money-back guarantee

Yes

Enhancing Immune Health and Detoxification
Increase the Antioxidant Level in the Body.

Gas or Bloating
Diarrhea
are sometimes reported.

Affordable, Effective but Experience some side effects.
Athletic Greens
$99.00 ($79)
90-Day Money Back Guarantee

Yes

Promotes Gut Health
Supports Immunity
Boosts Energy
Helps Recovery.

Stomach Upset
Gas or Bloating.

Expensive but Effective for lose weight.
Primal Greens
$49.95 ($39.96)

90-Day Money-Back Guarantee

None

Enhanced Energy Levels
Smoother Digestion
Fewer Cravings.

Stomach issues such as:
Discomfort
Stomach Cramps.

Affordable but not for overall health.
Provitalize
$49.00 ($41.65)
90-Day Money-Back Guarantee

None

Improved Weight Loss
Better Metabolism
Increased Energy

Nausea
Stomach discomfort eg. gas

Effective for lose weight but Not Guaranted Ingredients
Morning Complete Review – Final Verdict
All in all, Morning Complete is a dietary supplement that may be able to provide you with a handful of benefits. It is a great addition to your morning routine, plus you can start your day with an extra 8oz of water which is always healthy. Activated You Morning Complete results in improved digestion and more energy.
Every person is different and has different needs therefore what works for one person may not work for someone else. Nonetheless, most of the reviews on Activated You Morning Complete along with amazing morning complete before and after images had very positive things says about the supplement. Users said it gave them full of energy and eased bothersome digestive symptoms.
In our opinion, Activated You Morning Complete is a safe product made of extremely healthy, wellness-boosting ingredients like green superfoods, probiotics, and prebiotics. It does not lead to any harmful ingredients and is made by a very reputable manufacturer. This supplement is highly recommended for gut and overall health.