In This Review
What is Appetrex Control?
Appetrex Control is an appetite suppressing diet pill that claims to help users take charge of their food cravings, consequently allowing them to lose weight.
The pill is targeted towards people who find it difficult to control their hunger and cravings.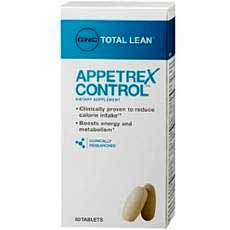 It also supposedly boosts energy during exercise, which ideally causes one to exercise longer and more intensely while at the same time raising the metabolism.
Users of this pill can expect to see effects such as a reduction in hunger, an energy boost and improved metabolic rates, the same things that many other weight loss pills promise.
Who is the Manufacturer of Appetrex Control?
Appetrex Control is a product of General Nutrition Centers Inc, popularly known as GNC, a giant company that is mostly involved with manufacturing health supplements, based in the US.
Besides having highly rated products, GNC is reputed for its exceptional customer care service – they are very responsive and attentive to user inquiries, just like most well-established weight loss pill manufacturers.
How Does Appetrex Control Work?
The producer highlights that this is one of their longest-selling weight loss products in the market, suggesting that it has a reasonable working mechanism.
They say that it's the ingredients in the formulation that work in sync to help it serve its purpose.
First, there is Yerba Mate, which reduces feelings of hunger[1], while Chrysin, Green tea, and Chromium are said to promote weight loss by elevating the user's energy to boost physical performance.
Alternatives to Appetrex Control
Appetrex Control Ingredients – Are they Safe & Effective?
Weight loss supplements can be rated how safe and effective they are based on the ingredients they use and you may see certain constituents in this product being used in other weight loss pills.
Advertisement
*All individuals are unique. Your results can and will vary.
The manufacturer claims that this particular pill uses only proven ingredients.
The official website provides a full list of ingredients which include:
Yerba Mate – Extracted from the mate tree. Findings show Yerba Mate has the potential of regulating and reducing weight by supporting the burning of calories as well as acting as an appetite suppressant.
Thiamin – Also called vitamin B-1, Thiamin is a water-soluble vitamin that is mainly found in foods and is essential for human health[2].
Black Tea Extract – Said to be full of Polyphenols and antioxidants that are necessary for weight loss and a healthy body.
Grape Seed Extract – Claimed to contain high levels of vitamin E and antioxidants that are very beneficial to the body[3].
Niacin – This ingredient can lower cholesterol levels when taken in high quantities. Niacin may also promote heart health[4] and can be found in many foods and plants.
---
What are the Pros of Appetrex Control?
It may enhance the user's physical performance by raising energy levels
Reduces appetite and hunger to help control food cravings
May minimize symptoms of mental fatigue
Might improve metabolic rate to help fat break down
What are the Cons of Appetrex Control?
It might not be consistent in the burning of fats
May not work effectively if used independently – exercise will still be important
The ingredients don't directly burn fat, they just reduce food cravings
The results may vary from user to user.
---
Read More About Similar Products:
FAQs
Q: How Should You take Appetrex Control?
A: The manufacturer suggests that two pills are to be taken 30-60 minutes before any meal and that they shouldn't be taken when one is about to go to bed.
Those who are pregnant, nursing, under medication or have a medical condition should seek professional advice before taking the pills.
Q: How Much Does Appetrex Control Cost?
A: The official website sells the product for $31.99.
Q: What is Appetrex Control's Return Policy?
A: The company has a 30-day refund policy for its products.
Advertisement
*All individuals are unique. Your results can and will vary.
Q: Does Appetrex Control Offer a Free Trial?
A: No. The product doesn't have this provision.
Appetrex Control Review – Final Verdict
The key benefit that this product is said to produce, is to suppress the appetite of the user, which may empower them to handle the demands of their cravings.
Having full control over one's appetite may be an effective shortcut to help reduce weight, but there is no evidence this can be relied upon without employing other efforts such as dieting and exercise.
But we should not dismiss this weight loss supplement as being ineffective, as it increases cell metabolism which helps in the breakdown of fats and calories.
However, it is not clear to the consumer if the product will work consistently over time and produce sustained results.
The other drawbacks are that there is no evidence the formula is safe for long-term use, and that users may get varying results with the product – for instance, some people may only get a reduced appetite during the first weeks of taking the pill and then feel no effects at all.
The market is packed with weight loss products one can choose from, so it is wise to look at all options before making a selection.
Below you'll find some of the most effective weight loss supplements on the market today, in our opinion.
Our Top Rated Weight Loss Supplement
Verdict on Claimed Benefits: Below is our summary of the available evidence for the claimed benefits of below mentioned diet pills and weight loss supplements based on the available research: