Kokoro Balance Cream Overview
Kokoro Cream is the best natural progesterone cream sold in the market to help women uphold a balanced, healthy lifestyle. The level of progesterone hormone decreases in women after menopause.
This results in many menopausal symptoms that deteriorate the females' health. Hence supplementation of progesterone has been proved to be effective in reducing this effect. Every ¼ of teaspoon contains about 22mg of progesterone.
Kokoro Balance Cream is also available in the 3.3ounce pump. The vegan formulated product has excellent absorption and is free from soy, gluten, paraben and other additives. It is approved by PETA for use in maintaining a healthy lifestyle.
Manufacturer Information and its claims about the Kokoro Balance Cream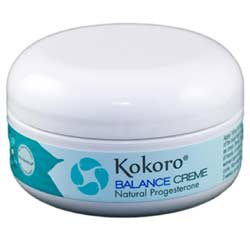 Kokoro manufactures products that effectively raise progesterone levels in the body. The manufacturer has an official website.
The website is a very important platform forming a connection between the customers and the manufacturer. Orders can be placed and shipping organized through the official website.
There are many consumer reviews about the product in the official website. Most of the consumer reviews are positive hence confirm the product's claim in balancing hormonal levels.
The formula effectively enhances the progesterone levels instantly immediately after use. The results are long-lasting. In men Kokoro cream helps improve prostate health.
How Does Kokoro Balance Cream Work?
The ingredients are easily absorbable hence readily enter blood circulation. Upon entry into the circulatory system, the ingredients cause an immediate change in hormonal concentration.
The cream increases progesterone levels in the blood. This is very important in reversing menopausal symptoms in women that occur due to hormonal imbalance. The hormone plays a crucial role in maintaining the health of an individual.
Kokoro Balance Cream Ingredients
The ingredients in this cream are either mineral or plant derived. It does not contain animal products or even petroleum-based compounds.
Advertisement
*All individuals are unique. Your results can and will vary.
The components included in this formula are as follows; Wild yam extract, Olive oil extract, coconut oil, Vitamin B-5, Vitamin A, Seaweed, Sugar beet extract, Plant fibers and de-ionized water.
The ingredients do not clog the pores of the skin hence does not cause the feeling of waxy or oily skin.
The preservative used in this formula, silver chloride, is natural and full-spectrum hence free from propyl paraben, methyl or even butyl.
The formula is also free from hyaluronic acid and keratin hence meets the standards of vegans and vegetarians.
Kokoro cream is, therefore, safe and very effective because it contains natural ingredients that are very powerful in their functions.
Kokoro Balance Cream Benefits
It is simple to apply.
The cream is affordable.
There are several positive customer reviews about Kokoro in the website.
Kokoro cream can be easily purchased through the internet.
Shipping and delivery of the product is easy.
Kokoro Balance Cream Drawbacks
There is no detailed description about the ingredients used in this formula in the official website.
It may be expensive due to additional costs on shipping and handling of the product.
Alternative Products to Kokoro Balance Cream:
Dosage Instructions
About 1/8 to ¼ teaspoon should be applied to the areas of the body that have high capillary count 2 times a day. These areas of application include; face, breasts, soles of feet, throat, and palms of the hand.
It should be applied 3 weeks on and 1 week off for non-menstruating women. On the other hand, the menstruating women should only use between the 12th to 26th day of the menstrual cycle.
Precautions
It is not advisable to use Kokoro before a thorough examination on the concentration of hormones such as estrogen. The product should not be used by children.
Overdose can cause serious complications that are hard to manage. Menstruating women should only be used between the 12th day and 26th day of the menstrual cycle.
Kokoro Balance Cream Side Effects
Kokoro cream is a natural and pure product that is free from adverse side effects.
The ingredients have been tested and confirmed to be free from side effects. It is, therefore, the safest enhancement product that balances hormones without causing side effects.
Advertisement
*All individuals are unique. Your results can and will vary.
Does it interact with other Medications?
Kokoro does not interact with other medications. This is because it contains natural ingredients that are pure and free from side effects.
Final Verdict
Kokoro cream effectively controls the menopausal symptoms that occur in women after menopause due to decreased estrogen levels.
Kokoro cream is backed by consumer reviews, which are posted in the website, to be the best progesterone enhancement product in the market today.
The product contains natural ingredients combined to form a formula that delivers natural progesterone at a level that is recommended by health professionals.
Kokoro cream is, therefore, the most recommended progesterone enhancement product because it is safe and effective.
Fortunately, natural therapies for menopausal symptoms such as weight gain, hot flashes, night sweats, decreased libido, and mood swings are available. Since many women experience weight gain during menopause, many natural menopause supplements contain herbs and botanicals that support a healthy metabolism. Menopause supplements should be evaluated on proven ingredients, ability to reduce hot flashes and night sweats, ability to provide hormonal balance and boost libido and its overall value.
Below you'll find some of the most effective menopause supplements on the market today, in our opinion.
Our Top Menopause Choices
Verdict on Claimed Benefits: Below is our summary of the available evidence for the claimed benefits of below mentioned menopause supplements and vitamins based on the available research:
Amberen | Best Multi-Symptom Menopause Relief Supplement

Reduces Hot Flashes*
Gold Star Evidence
Helps Restore Hormonal Balance*
Gold Star Evidence
Better Sleep*
Strong Evidence
Mood Improvement*
Strong Evidence
Estroven Complete Multi-Symptom Menopause Relief
Reduces Menopause Symptoms*
Gold Star Evidence
Reduces Night Sweats*
Gold Star Evidence
Improve Energy*
Strong Evidence
Support Mood Swings*
Moderate Evidence
Metagenics Estrovera | Plant-Derived Menopausal Hot Flash Relief
Assists With Hot Flashes*
Gold Star Evidence
Improve Mood Swings*
Moderate Evidence
Ease Menopause Symptoms*
Strong Evidence
Reduces Night Sweats*
Strong Evidence