In This Review
What Is Amberen?
Amberen is a menopause relief supplement that was developed to improve hormonal balance in the body, addressing the main cause of menopause symptoms. Amberen is specially formulated to target the most problematic menopause symptoms including weight gain, hot flashes, low libido, and irritability.
This product contains proprietary smart molecules which work together to address the hormonal imbalance of estrogen and progesterone which is the typical cause of many menopause symptoms. This particular vitamin to take during menopause was created to correct that imbalance and is available at a cost of $43.49 monthly, with free shipping.
This product has been manufactured by Lunada Biomedical, since 2008. They have a good reputation compared to some other competitors on the market and state that Amberen has been extensively studied and has passed all clinical tests. They also claim that all their products are manufactured from natural ingredients, making them safe to use.
How Does It Rate?
Overall Rating: 4.8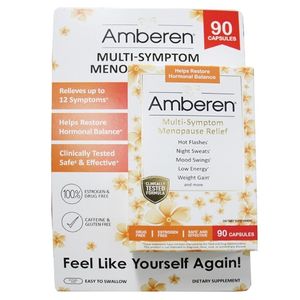 Amberen
Brand Highlights
Biogix, Inc. is the manufacturer of Amberen.
It is a science-driven company that develops, tests, manufactures, and distributes innovative products based on a unique platform of bioactive antioxidants.
In 2006, Biogix, Inc. acquired the rights to Amberen, its flagship product.
Key Ingredients
Bioidentical Progesterone
Grapefruit Seed Extract
Aloe Barbadensis
Pros
It's made from natural ingredients.
You feel the wonderful effects within 3 to 4 weeks.
It's backed by a variety of clinical studies.
It's made with years of research from experts who understand what women need during menopause.
Has been known to alleviate hot flashes and night sweats.
Has an official website.
Those who want to try it can avail of the trial bottle.
Recommended by doctors.
Comes with a self-assessment guide, so you'll know how many pills to take each day.
Cons
It doesn't contain black cohosh, which is known to stave off effectively the difficult symptoms of menopause.
Contains monosodium L-glutamate (or MSG), which may be found in some foods, but causes mild allergic reactions in some people.
Has done studies on animals.
Is not recommended for women with cancer or for those who suffer from goiter problems.
---
How Does It Work?
By aiding in the hormonal balance restoration process, Amberen's unique formulation works to address the underlying cause of menopause.
It has been demonstrated that Amberen's cutting-edge formula is a secure and reliable method of menopausal treatment. It has undergone clinical testing, and three randomized, placebo-controlled, double-blind tests on humans revealed no negative side effects. There are no herbs like Black Cohosh or estrogenic substances, including plant estrogens like soy, in Amberen's hormone-free formulation.
Amberen Ingredients – Are they Safe & Effective?
The major ingredients of this natural menopause supplement are: Gelatin, Rice Flour, Magnesium Stearate, Silicon Dioxide, Titanium Dioxide, Riboflavin, Carmine, Water
Ammonium Succinate
– This penetrates the biological membranes and swiftly acts as a signaling molecule, helping regulate the endocrine system in order to assist in normalizing the production of hormones in the body.
According to an article published in the Journal of Gynecology and Endocrinology, a three month study of 125 women between the ages of 42-60 concluded that those who used Amberen experienced menopause relief in 13 of 21 symptoms[1].
Calcium Disuccinate
– An excellent source of easily absorbed calcium, which is important in the formation of bone tissue.
Glycine
– An amino acid that plays an important role in the regulation of brain cell activity, normalizing the psycho-emotional balance, a common problem among menopausal women.
Monosodium L-Glutamate
– An amino acid form of salt that works as a neurotransmitter, regulating chemical reactions says the study. Some people are sensitive to monosodium glutamate which can cause nausea and flushing.[2]
Zinc Difumarate Hydrate
– Study says this ingredient may improve energy metabolism and work to normalize fat and carbohydrate metabolism[3].
Tocopheral Acetate
– Tocopherol Acetate which is also known as Vitamin E helps to prevent damage to cell membranes that can lead to premature aging. According to a study in Research Gate, vitamin E is recommended for the treatment of hot flashes[4].
Amberen FAQ's
Q: How Should You take Amberen?
A: It is directed to take two capsules daily after breakfast for a minimum of 90 days to observe the best results.
Q: Is Amberen Safe and Effective?
A: In a word, yes. This menopause supplement is effective, as evidenced by the clinical studies performed. This was firmly established during its double-blind placebo studies and two-year observational study.
Q: Is there any Clinical Trials Information Available?
A: Unlike some menopause products that are made without mention of clinical tests and trials, Amberen is 100% tested and recommended by reputable physicians.
In fact, it's gone through intensive research before it was released into the market. The experts behind its developments also made sure that while some may experience minor side effects, there are no reported serious complaints about the components used.
Q: Does Amberen has any side effects?
A: Yes but very rare. Few women have reported mild headaches, itching, rashes, and hot flashes.
Q: Does Amberen help with bloating and weight gain?
A: Amberen isn't a weight loss product, but they claim it helps prevent weight gain. According to the manufacturer, Amberen Menopause's most recent clinical studies have shown that it helps manage weight gain during menopause when taken as recommended for 90 days. It is recommended that Amberen Menopause be taken in combination with enjoying a healthy diet and exercise.
Amberen helps provide multiple-symptom menopause relief for hot flashes, night sweats, mood swings, low energy, menopause weight gain, and more
Q: What are the components consisting of Amberen?
A: Amberen's components consist of zinc fumarate, tocopherol acetate, ammonium succinate, magnesium succinate, and pharmaceutical-grade monosodium L-glutamate.
Q: What are the Precautions to Take When Using this Product?
A: Avoid using this product if you are allergic to any of the listed ingredients and consult with your doctor before using Amberen if you are taking medication.
Q: What Is the Cost of Amberen?
A: Amberen costs approximately $43.49. These pre-menopause vitamins don't need a prescription. In fact, you can simply get it from online stores and its official website.
Q: Where Can You Buy Amberen?
A: Amberen is available through its official website or other retail sites like Amazon, Walgreens, Walmart, GNC, etc.
Alternatives to Amberen
What Do the Reviews Say?
Definetly Excellent
I found Amberen to help with hot flashes. I did use it for a good amount of time. I would recommend Amberen. ~ Tina
Amberen Review – Final Verdict
These menopause herbal supplements are backed by several types of clinical research proving their safety and effectiveness and it even comes with a money-back guarantee which is a testament to their effectiveness and safety.
It contains several ingredients that address symptoms such as weight gain, hot flashes, night sweats, decreased libido, and mood swings[6] and since many women experience weight gain during menopause, it also contains herbs and botanicals that support a healthy metabolism.
As with any supplement, some women may find that it's not suitable for their particular needs or that they are allergic to one or more of the ingredients which is why it's important to thoroughly research it before making a decision to buy.
If you do suffer from a few health problems, then it's best first to talk to your physician before taking Amberen. Otherwise, this medicine is definitely worth a shot. After all, this is one of the few supplements available that's backed by several clinical trials and years of research.