Hydraflexin Overview
The Biocentric Health-manufactured product Hydraflexin, is designed to help those suffering from painful and stiff joints. Made of all natural ingredients, and available over-the-counter, Hydraflexin can treat* pain that is caused by old age or from a condition such as Arthritis or Tendonitis, etc. Although no proof is shown in clinical tests, the manufacturer states that the formula was in development for over 15 years, and it has been voted by Consumer Health as one of the more successful joint pain relievers on the market.
Hydraflexin is presented on the official website that is where the product can be ordered from. Although the majority of the site is not overly professional in its tone, it is reasonably informative, and there are customer testimonials included plus details of the 90-day money back guarantee. Hydraflexin can be purchased at a cost of $39.95 and discounts and free gifts, including a multivitamin supplement and joint pain report, are also available for the purchase of 2 or more bottles.
Active Ingredients
Hydraflexin consists of two natural substances, Andrographis and Hyaluronic acid. Together, these ingredients help to inhibit Cox2 and cytokines, both of which are responsible for causing inflammation, the source of joint pain and providing lubrication. Lubricating the entire joint will lead to less friction, while added synovial fluid works as a shock absorber.
It is not known if there are any additional ingredients in the formula and there is no mention of Glucosamine or Chondroitin, two commonly used substances in joint pain relievers.
Hydraflexin Strengths
The key ingredients are well explained
Hydraflexin is all-natural
There is a money back guarantee
Company contact details are shown
Discounts and bonus gifts are available
Hydraflexin Weaknesses
No clinical trials are shown
The formula does not contain Glucosamine or Chondroitin
The website is not professional
No dosage instructions are provided
Final Verdict
Although Hydraflexin does not contain Glucosamine or Chondroitin, it is good to see that the formula contains pain inhibitors and Hyaluronic acid, something many other brands do not. However, despite having a good money back guarantee, most consumers would like to see published clinical study results too.
Below we have ranked the best joint supplements to make it easy for you to find effective and safe products. The ranking is based on crucial factors like potential to alleviate joint pain, potential to promote joint cartilage and tissue regeneration, potential to prevent recurring damage, potential to improve overall joint health, and quality of ingredients. In the end, we were able to come up with the bottom-line value of each product.
Our Top Joint Pain Relief Choices

Fight Joint Pain and Inflammation
Fight Joint Pain and Inflammation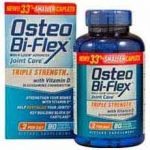 Fight Joint Pain and Inflammation
Fight Joint Pain and Inflammation
Fight Joint Pain and Inflammation