In This Review
What is Curamin?
Curamin is a dietary supplement that is comprised of herbal ingredients that have potent anti-inflammatory and analgesic properties.
According to the manufacturer, this supplement has the ability to effectively reduce symptoms associated with shoulder pains, osteoarthritis, migraines, muscle pains, headaches, and other inflammatory conditions.
How Does It Rate?
Overall Rating: 4.1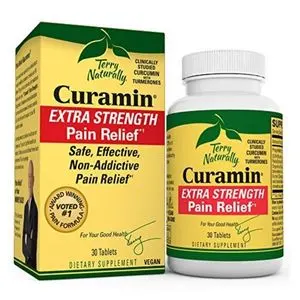 Curamin
Brand Highlights
Curamin is produced using mainly natural ingredients and is a supplement used to alleviate inflammation and joint pain within the body.
It is suggested by medical experts that up to 90% of chronic diseases start with inflammation and in one study, one of the ingredients listed in this product matched the effects of cortisone as a pain reliever and anti-inflammatory ingredient.
Key Ingredients
DLPA (DL-Phenylalanine)
Boswellia Gum Resin Extract (BosPure)
Curcumin Rhizome Extract (BCM-95®)
Nattokinase
Pros
It is available in a small packaging like their 21-capsule bottle so you can initially test the product without wasting much money.
The product contains natural herbal ingredients that have diuretic, antioxidant and anti-inflammatory properties.
This product is suitable for vegans and vegetarians.
This product has been certified as non-GMO.
Cons
Consumers need to take a total of 3 capsules in a day in order to experience optimum results from the product.
The product does not offer instant pain relief.
---
How Does Curamin Work?
This dietary supplement contains powerhouse ingredients that can provide anti-inflammatory benefits through the following mechanisms:
It reduces the production of certain pro-inflammatory enzymes which are responsible for swelling, pain, and stiffness of the affected part.
It blocks inflammatory pathways thereby effectively reducing inflammation and swelling.
It blocks certain neurotransmitters that are responsible for magnifying pain sensation.
It prevents oxidation of free radicals in the body which can cause further damage to the cells.
Curamin Ingredients – Are they Safe & Effective?
DLPA (DL-Phenylalanine)
– This substance contains two forms of the amino acid phenylalanine. Studies suggest that it can block a nervous system enzyme that amplifies pain signals.
Boswellia Gum Resin Extract (BosPure)
– According to the Indian Journal of Pharmaceutical Sciences, it supports vascular health and is a powerful anti-inflammatory herb. It is commonly used to relieve headaches, shoulder pains, migraines, and muscle pains. This extract blocks chemicals in the body that causes inflammation and pain.
Curcumin Rhizome Extract (BCM-95®)
– This extract is obtained from turmeric, a spice that is widely used in India. Numerous studies suggest that it can reduce pain and increase mobility in target areas. It can also block inflammatory pathways thus effectively preventing the launch of a protein that triggers swelling and pain. BCM-95 is enhanced with turmeric essential oil[1] and standardized for curcuminoid complex (curcumin, demethoxy curcumin, and bisdemethoxycurcumin)
Nattokinase
– It is a highly cleaned enzyme which is produced through the fermentation process of soybeans. It is suggested that Nattokinase[2] helps protect vascular health by breaking down deadly substances and fighting inflammation.
You May Also Like – Limbex and SynerFlex

Curamin Questions and Answers
Q: What are the Important Features?
A:
It has potent ingredients that have anti-inflammatory properties.
It contains ingredients that have the ability to effectively block pain receptors.
Q: How Should You Take Curamin?
A: Take 3 capsules a day of Curamin daily. 3 capsules can be taken once in a day OR 1 capsule can be taken three times daily.
Q: How Much is Curamin?
A:
a 21-capsule bottle of Curamin costs $20.95
a 60-capsule bottle costs $38.95
a 120-capsule bottle that costs $ 66.95
Q: What are the Precautions to take When Using Curamin?
A:
Avoid taking this product if you are pregnant or giving breastfeeds.
Avoid this product if you have known allergy to any of its components.
It contains ingredients that can decrease blood sugar levels, thus this product should be taken cautiously by people taking insulin injections or oral hypoglycemic agents.
It contains ingredients can significantly increase a person's risk for bleeding, thus this product should be avoided by people taking anticoagulant medications or people who have been diagnosed with bleeding problems[3].
Q: What is the Curamin's Return Policy?
A: The product does have a 90-day satisfaction money-back guarantee. But you will be charged with the shipping charges and return shipping costs.
Q: Can Curamin be taken with prescribed medication?
A: Some of the ingredients of this supplement may interfere with present medications. Therefore, it is safer to consult a healthcare provider prior to combining this joint pain supplements with your present medications.
Q: Is Curamin can be taken on an empty stomach?
A: Yes, many people prefer to take supplements with food, but Curamin is effective regardless of when you take it.
Q: Can kids take Curamin?
A: CAUTION: We are not aware of any reason why children ages 4 and up cannot use Curamin. However, we always recommend parents keep their child's healthcare provider informed of any dietary supplements they may be using.
Curamin Review – Final Verdict
Curamin can be considered as a satisfactory supplement for shoulder pains, osteoarthritis, migraines, muscle pains, headaches, and other inflammatory conditions since it has potent ingredients that reduce pain and swelling.
Its ingredients have also been subjected to several studies which suggest their effectiveness in reducing inflammation and pain.
However, this product does not provide immediate pain relief.
Instead, it has to be taken regularly when inflammation is present in order to achieve its optimum anti-inflammatory benefits.
Before deciding to order Curamin, you may want to look at an alternative brand such as Arthrozene and Arthri-D3.
Healthy joints allow us to move with ease. Joint damage can cause pain preventing you from doing the things you once loved. From aging to untreated sports injuries – many conditions lead to joint pain. A quality joint product may help reduce inflammation, repair existing tissue damage, and promote stronger joints, lessening susceptibility to future degeneration.
Below you'll find some of the most effective joint pain supplements on the market today, in our opinion.
Our Top Joint Pain Relief Choices
Verdict on Claimed Benefits: Below is our summary of the available evidence for the claimed benefits of below mentioned joint pain supplements based on the available research: