In This Review
Overview of 1MD CholestMD
1MD CholestMD is for heart health and assists in obtaining healthy blood levels of HDL, LDL cholesterol and triglycerides. The company also recommends this formula for metabolic function and blood circulation.
| | |
| --- | --- |
| Features | 1MD Nutrition CholestMD Promotes Cholesterol Health |
| Form | Capsules |
| Benefits | Promates HDL Production, Helps Maintain Normal Trighyceride Levels, Supports Heart Health |
| Ingredients | Bergavit, Niacin, Olive leaf extract, Garlic bulb extract |
| Type | Supplement |
How Does It Rate?
Overall Rating: 4.9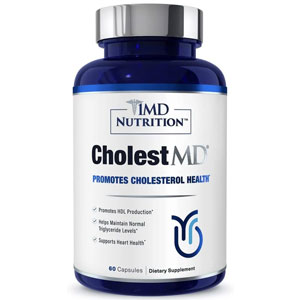 1MD CholestMD
Brand Highlights
1MD is the formulator and manufacturer of 1MD CholestMD.
They claim to use only the highest grade of ingredients that have been clinically studied and researched.
Their facilities are US-based exceed FDA standards and follow Good Manufacturing Practices to the letter.
Key Ingredients
Bergavit® Bergamot Orange Fruit Extract
Niacin (as Niacinamide and Niacin)
Olive Leaf 40% Oleuropein Extract
Garlic Bulb 20:1 Extract
Pros
Maintains healthy blood lipid levels.
Supports healthy blood circulation.
Normalization of blood pressure.
Easy to swallow.
No side effects noted.
Increases HDL levels important in cardiovascular health.
Cons
Works best with exercise and a vegetarian meal plan.
May be cost prohibitive for some.
Flushing of the skin occurs secondary to Niacin.
May only be purchased at the official website.
---
How Does 1MD CholestMD Work?
This product contains niacin which will assist with a healthy blood pressure. After 30 days your blood lipids will normalize after consuming this supplement which also contains garlic bulb extract and olive leaf extract.
1MD CholestMD Ingredients – Are they Safe & Effective?
Bergavit® Bergamot Orange Fruit Extract
– According to a research study published in Critical Reviews in Food Science and Nutrition, Bergamot was found to decrease LDL, total cholesterol and triglycerides significantly.[2]
Niacin (as Niacinamide and Niacin)
– It was shown to assist in improving cardiovascular disease according to a research article in JAMA.[3]
Olive Leaf 40% Oleuropein Extract
– According to European Journal of Nutrition, this extract lowered lipid levels and blood pressure.[4]
Garlic Bulb 20:1 Extract
– According to an article in Nutrition Journal, this ingredient was found to have a significant cardioprotective effect.[5]
---
1MD Cholestmd Customer Reviews
I took the 1MD Nutrition CholestMD off & on for 5 mo. due to moving. However, my cholesterol levels did come down so I am going to give it another try. ~ Ellen M Amador
I was taking CholestMD and LiverMD for 5 months …Both my LDL and Triglycerides were in the normal range. Waiting for my next 6 month supplies due to arrive in January. Both products are keepers. ~ Linda Theriault
I'm 52 and…I started researching diets, exercise…Thankfully I found 1MD Cholest MD. I started taking the product in July and had my bloodwork done last week. I have also changed my eating habits but believe Cholest MD was a great 'support'…Thank you!!! ~ David A Campbell
1MD Cholestmd Customer Service Info
Contact No – (888) 393-4030
Adddress – 1MD Nutrition™, 675 N 2800 W #101, Lindon, UT 84042
Hours – Mon-Fri 5 a.m. to 6 p.m. PST, Sat 7 a.m to 4 p.m PST, Sun 7 a.m to 11:30 a.m PST
1MD CholestMD – FAQ's
Q: How Should You Take 1MD CholestMD?
A: Take 2 capsules per day with a glass of water or as recommended by your physician.
Q: How Much Does 1MD CholestMD Cost?
A: One single bottle will cost you $45.99. If you purchase 3 bottles it costs $40.99 each and a 6-bottle purchase will run you $35.99 each plus shipping costs. use 1MD CholestMD promo code to get up to 35% Off.
Q: What is 1MD CholestMD Return Policy?
A: 1MD CholestMD has a 90-day return policy minus shipping costs.
Q: Who sells CholestMD?
A: 1MD designed CholestMD to support healthy HDL and LDL cholesterol levels it is sold on the official website as well as on other online stores.
Q: Is CholestMD affected by Omega 3 or Ubiquinol supplements?
A: According to the Drugs.com, No interactions were found between CoQ10 and Fish Oil. This does not necessarily mean no interactions exist. Always consult your healthcare provider.
Q: Can you take cholestMD in addition to the statin you are already taking?
A: Consult a healthcare professional before using this or any other dietary supplement, especially if you have or suspect you may have any medical condition, or if you are taking anticoagulants, blood thinners, immunosuppressants, or any other dietary supplement, prescription, or over-the-counter medications, as combining these products may cause side effects.
Q: Does 1MD CholestMD Offer a Free Trial?
A: The company does not offer a free trial currently.
1MD CholestMD – Final Verdict
This supplement appears to have health benefits that include lowering blood pressure, stabilizing blood lipid levels, and improving blood circulation. There does not seem to appear to be any side effects except for a flushing sensation to the skin secondary to the niacin that is an ingredient in this supplement.
The vast majority of the 1MD CholestMD reviews were highly positive. According to some CholestMD reviews, this product helped them regulate their excessive cholesterol levels while also keeping their blood pressure in balance.
Consumers say this product is easy to swallow and improved their cardiovascular health. The only downside is that it may be cost-prohibitive for some as one bottle costs $45.99 each. However, there is a discount if you purchase multiple bottles. There is a 90-day money-back guarantee if you are not completely satisfied with this product. The supplement can only be purchased at the official website.
The company follows safe manufacturing procedures and claims to thoroughly research each ingredient. For those that suffer from cardiovascular issues, this product may be worth the cost.