What is Pamelor?
Dealing with depression is extremely difficult. You constantly feel anxious with just about everything. If left untreated, you might even fall deeper into your predicament and end up giving up. This is what you need to avoid. Hence, the moment you start feeling that you're about to fall into the deep end of the ocean, get up from your seat and get help from a doctor, someone who understands your body and can explain to you why you're going through this dilemma.
People who suffer from severe depression lack the chemical serotonin. This is the very component that lifts your mood. Without it, you're physically unable to stop what you're feeling. In fact, you could be in this predicament for weeks or even months at a time. Some patients who haven't sought out the help they deserve end up in suicide. But if you're willing to admit that you need help, you can get a prescription for Pamelor and finally feel better. Just don't expect to feel the changes immediately. Give it time and in a few weeks, you'll notice that you have a much better grip on your emotions.
How Does Pamelor Work?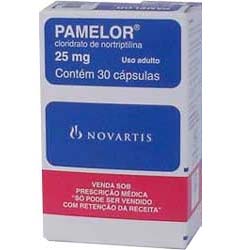 Pamelor is a nortriptyline, a second-generation tricyclic antidepressant. Take this as directed by your doctor and be mindful of what you feel. Drugs of this nature often come with side effects. Not to worry because this is normal, considering just how potent the components are. In fact, you need to be carefully monitored by your physician so that you're given further help if you start feeling some form of discomfort.
The most common side effects are as follows:
Constipation
Nausea
Blurred Vision
Headache
Weight Gain
Dry Mouth
Drowsiness
More importantly, this medicine isn't for everyone. If you suffer from other health issues, then you might want to resort to other forms of medicine. Just talk to your doctor because you can always get the help you need.
Alternatives to Pamelor
Pamelor Review – Final Verdict
Pamelor has helped thousands of patients cope with depression. If you're given a clean bill of health, then you can definitely be a candidate for this drug. However, make sure to stay away from caffeine, alcohol, and other medicines as you'll expose yourself to possible dangers such as internal bleeding and loss of consciousness. Antidepressants come with their own set of risks, but as long as you have a physician to help you on your journey to recovery, then you need not worry too much. Just take care of your problem and know that this difficult situation won't last forever.
Depression and anxiety are common disorders that can make daily tasks extremely challenging. Some estimates allege that approximately one in ten Americans suffer from some level of depression and/or anxiety. Symptoms of anxiety and depression include ongoing feelings of sadness accompanied by unease, irritability, tension, and nervousness. While some people require medication to deal with these occasionally crippling symptoms, others may find an all-natural product helpful. An all natural relaxation supplement should promote healthy neurological function. All ingredients should be clinically proven to reduce feelings of anxiousness, sadness, unease, irritability, tension, and nervousness.
Below you'll find some of the most effective natural nervousness relief supplements on the market today, in our opinion.
Our Top Depression Choices
Stress Support -
5% OFF Today

Supports a Healthy Stress Response*
Reduce Sadness and Stress*
Restore Healthy Serotonin Levels*
Improve Physical And Mental Well-Being*
Supports a Healthy Stress Response*
Reduce Sadness and Stress*
Restore Healthy Serotonin Levels*
Improve Physical And Mental Well-Being*