In This Review
What is Stress Support?
Vitapost Stress Support is a powerful supplement that helps people get rid of anxiety and stress issues. It is formulated from high-quality natural ingredients with stress management benefits. Different plants enable individuals to enjoy their lives without experiencing any sort of anxiety. Being an all-natural supplement, it eliminates the probability of experiencing any side effects. Stressed or anxious people usually do not want any more problems to worry about, which was considered when the supplement was being formulated. It is a simple capsule with very easy-to-use instructions and step-by-step directions of use labelled on the bottle, and it helps with mental health conditions.
How Does Stress Support Rate?
Overall Rating: 4.8
VitaPost Stress Support
Brand Highlights
Products are made in the USA.
VitaPost is a reputed manufacturer and has many positive reviews.
Made with 100% natural ingredients.
Produces results without any permanent side effects.
Formulated with 100% natural ingredients that include vitamins, minerals, and herbal extracts.
Key Ingredients
Chamomile
L-theanine green tea
Hops
Lemon Balm
Valerian
Passionflower
Griffonia seed Ext 5 HTP
GABA
Pros
100% natural plant and plant extracts.
Helps in stress control.
Easy to use.
Bottle has all the necessary information required.
Provides fast relief from anxiety, reduces stress levels and high blood pressure.
Cons
It does not have any disadvantages when used in the recommended doses.
---
Manufacturer Information of Stress Support
VitaPost manufactures the product. This stress relief is the source of several other anxiety add-ons. All these products have received amazingly positive reviews for their effectiveness and ability to produce results without making the user experience any side effects. The manufacturer also boasts state-of-the-art labs and equipment for making this product and a highly qualified team. The manufacturer claims that this supplement can reduce stress levels and provide instant results when taken in the recommended doses and that it is made of 100% natural plant ingredients.
How Does Stress Support Work?
Stress Support Supplement is a high-quality product that contains organic ingredients that boost mood and relieve stress. It works to support and fix everyday stress levels and gastrointestinal health. The manufacturer claims that all the ingredients are herbal extracts and can help treat health issues like sleep disorders, depression, and anxiety. VitaPost Stress Support is an easy-to-take capsule. Its ingredients are beneficial for mood enhancement, anxiety prevention, and tension and depression relief. It provides fast relief from anxiety and reduces stress levels and high blood pressure. It can be used for an extended period of time without causing harm, resulting in long-lasting effects. It can keep your mind calm and relaxed and help you avoid stress.
Stress Support Ingredients – Are they Safe & Effective?
According to the Official WebSite, the following are the active ingredients in this supplement: We've reviewed and researched each ingredient in this product. Ingredients play a crucial role in the effectiveness of any product. In this VitaPost Stress Support review, we will have a look at all the ingredients.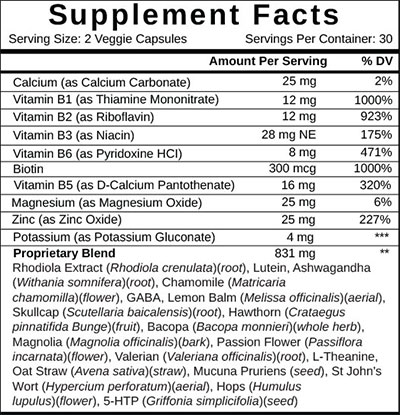 In order to support relief from anxiety, the antidepressant is formulated from the following ingredients:
L-Theanine
– This is a naturally occurring compound that is the active ingredient in this supplement, and it helps to reduce stress by stimulating the central nervous system. It also enhances mental focus and general mental performance. The researchers found that people who took L-theanine made fewer errors in an attention task than those in the placebo group.[1]
GABA
– Gaba is the main inhibitory neurotransmitter. It is supposed to produce a calming effect and help to reduce stress, fear, and anxiety.[2]
Chamomile
– It comes from the daisy-like flowers of the Asteraceae plant. It is common in dietary supplements for gastrointestinal health, sleep health, and stress support and can also prevent anxiety.[3]
Passion Flower
– Data suggests, this particular ingredient helps to reduce blood pressure and, therefore, relieves tension and depression. This product gives the user a more relaxed sense of being.[4]
Valerian
– This is another natural ingredient that is normally used to relieve sleeping disorders and enable the user to sleep well. One study also concluded that it might improve sleep quality. Getting enough good sleep helps the mind be calm and function well.[5]
Lemon Balm
– According to researchers, It works by acting as an antioxidant that cleans the body's systems to enable the body to function well and normally and subsequently relieve tension and anxiety.[6]
Stress Support – FAQ's
Q: Can Stress Support be used by expectant mothers?
A: The effects some of the ingredients used may have on the fetus have not yet been known, but it is recommended that pregnant mothers seek medical advice before use.
Q: What are the health side effects of Stress Supplement?
A: There are no side effects experienced when using this product to relieve anxiety. This is the best choice for stressed people.
Q: Is Stress Support FDA-approved?
A: FDA doesn't approve dietary supplements. However, Vitapost Stress Support is manufactured under FDA registered facility that follows GMP guidelines.
Q: What is the Refund Policy of Vitapost Stress Support?
A: VitaPost offers a 100% money-back guarantee to their customers in the first 30 days from their purchase without asking any questions.
Q: How much does this support supplement cost?
A: According to the Official Website, the price list of VitaPost Stress Support Plus is as follows:
| | 1 Bottle | 2 Bottles | 3 Bottles + 1 Free |
| --- | --- | --- | --- |
| Price | $29.95 | $56.96 | $85.44 |
| Capsules | 60 Capsules | 120 Capsules | 240 Capsules |
Q: Is Stress Support Safe?
A: Vitapost Stress Support is a naturally formulated and effective supplement. It can help reduce anxiety and stress. There are less likely to have any side effects.
Q: Does Stress Support Work?
A: Yes, this stress supplement actually works. VitaPost stress support has all the ingredients which are effective in reducing stress, and anxiety and produces a calming effect.
Q: How long does it take for This Support Supplement to work?
A: After consuming Stress Support, results may vary among individuals. Some customers notice the effects soon after taking this supplement, but generally, the effects gained from consuming It varies greatly among individuals.
Q: How should you take Stress supplement?
A: You should take 2 capsules of this supplement daily. To reduce stress extent, take it before breakfast.
Q: How effective is these supplements for continuous terrible panic attacks, and at what doses?
A: VitaPost Stress Support is a formula made with both modern and traditional ingredients that is designed to support a healthy stress response. You should consult with a healthcare professional before starting any diet, exercise, or supplementation program, before taking any medication, or if you have or suspect you might have a health problem.
Q: Would this product be good to take when starting a new anti-depressant?
A: It is perfectly ok to take a multi-vitamin while taking prescription medications for depression and anxiety. But never take more than the recommended daily allowance of any vitamin.
Seller info
Address – VitaPost Inc, 7400 Beaufont Springs Drive, Suite 300, Richmond, Virginia 23225, United States
E-Mail –

[email protected]

Contact – 1-888-455-9995
Video Review
Stress Support – Final Verdict
Having panic attacks and anxiety disorders is a common thing in today's world, and this can be attributed to the changing physical environment and lifestyles. With a lot to deal with and tight deadlines to beat to achieve economic growth both at work and in social settings, stress levels will rise. This product provides fast relief from these challenges so you can get back to your life and compete with others to make ends meet. It is formulated with all-natural ingredients; hence, no side effects are experienced.