In This Review
What Is Seredyn?
Seredyn is a dietary supplement made with natural ingredients for relieving stress and occasional anxiety. It uses a proprietary formula that delivers fast results in about 15 to 30 minutes from intake helping the user become calm, confident, and in control. The product is said to have undergone clinical research suggesting that it helps promote relaxation, reduce worry and ease tension. The formula is non-habit forming and doesn't contain any addictive ingredients.
How Does It Rate?
Overall Rating: 3.8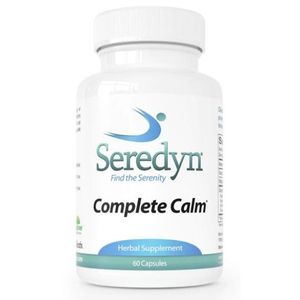 Seredyn
Brand Highlights
Encourages a tranquil and assured mindset.
Quickly relaxes and settles the anxious, restless mind.
Enhances the emotional networks in your brain to lessen anxiety.
For optimal purity and efficacy, only standardized plant extracts and amino acids are used.
Key Ingredients
L-Theanine
Niacinamide
Valerian extract
Passionflower
Mineral Magnesium and Taurine
Pros
The supplement is made with all-natural ingredients.
There is a 60-day return policy.
The active ingredients are backed by scientific data.
There are many positive feedbacks from people who have tried it.
Cons
The formula has not undergone independent clinical testing.
There is a possibility of side effects on certain individuals.
There are some bad feedback saying it isn't very effective.
---
Who Manufacture's Seredyn?
The dietary supplement is from BioNeurix, which is known to develop and distribute advanced natural formulations that set new standards in the Nutraceutical industry for safety, effectiveness, and consistency. They offer a wide range of supplements for different purposes. The company uses a balanced approach to health and wellness combining the power of natural ingredients and advanced science.
How Does Seredyn Work?
The dietary supplement uses a special blend of natural ingredients that have a positive effect on parts of the brain connected to mood, relaxation, and emotion. It contains an ingredient that increases GABA activity which is important in reducing feelings of worry and anxiety while offering many other psychological benefits. The formula also uses natural remedies for stress and anxiety like valerian extract.
Seredyn Ingredients – Are they Safe & Effective?
L-Theanine

– This amino acid has been shown to promote feelings of peace and tranquillity. It increases GABA activity promoting relaxation and reducing stress. According to studies it also stimulates dopamine release which helps improve confidence and gives the user a sense of well-being[1].

Passionflower

– Many Research claims This is a natural remedy for anxiety and occasional sleep problems. It has been used in traditional medicine for centuries[2].

Valerian extract

– This is a safe and effective natural remedy for calming the mind and body. Studies indicate that it is effective in reducing feelings of worry and improving sleep quality[3].

Niacinamide

– This is a form of niacin that has anxiolytic effects without stressing the liver or causing flushing.

Mineral Magnesium and Taurine

– These two ingredients work together to calm the mind and support overall mental well-being.
Seredyn – FAQ's
Q: What Is The Dosage and Directions for Use Of Seredyn?
For daily use, take 1 to 2 capsules up to three times daily. For occasional use or to relieve stress and anxiety, take 1 to 3 capsules. It can be taken with or without food, but the formula works faster on an empty stomach.
Q: How Long Will Seredyn Take to Show Results?
A: The calming effect of the formula is immediate and can be felt within 15 to 60 minutes of the intake.
Q: Where to Buy Seredyn and at What Price?
A: To ensure that you are getting the genuine formula, you should order only from the official Seredyn website. It is priced at $34.95 for a bottle of 60 capsules.
Q: Who Can Take Seredyn?
A: It can be taken by anyone in good health for relieving occasional anxiety and stress.
What Do the Reviews Say?
Costly But Good
Expensive but Seredyn works. I'm impatient and when I would get into a situation that I want to end and it goes on and on my jaws would tighten up and I would get very anxious. Eating out, boring meetings, and boring parties all could become a problem. Now I take two before leaving the house and they make my evening much more enjoyable. ~ Victoria Palmer
Final Verdict
After taking a close look at Seredyn, it is a good supplement for relieving stress and anxiety. The formulation is impressive and the product comes with a money-back guarantee so anyone can try it. There are also many positive reviews from people who have tried it. It is surely a product worth trying.
Depression and anxiety are common disorders that can make daily tasks extremely challenging. Some estimates allege that approximately one in ten Americans suffer from some level of depression and/or anxiety. Symptoms of anxiety and depression include ongoing feelings of sadness accompanied by unease, irritability, tension, and nervousness. While some people require medication to deal with these occasionally crippling symptoms, others may find an all-natural product helpful. An all natural relaxation supplement should promote healthy neurological function. All ingredients should be clinically proven to reduce feelings of anxiousness, sadness, unease, irritability, tension, and nervousness.
Below you'll find some of the most effective natural nervousness relief supplements on the market today, in our opinion.
Our Top Depression Choices
Verdict on Claimed Benefits: Below is our summary of the available evidence for the claimed benefits of below mentioned depression supplements based on the available research:
VitaPost Stress Support | Ashwagandha & Chamomile

Supports Daily Stress*
Gold Star Evidence
Keeps Mind Positive*
Gold Star Evidence
Prevents Chronic Stress*
Gold Star Evidence
Provides Relaxation*
Strong Evidence
Restilen | Stress Relief and Relaxation
Maintains a Positive Mood*
Gold Star Evidence
Reduces Stress Symptoms*
Strong Evidence
Combats Fatigue*
Gold Star Evidence
Boosts Energy Levels*
Strong Evidence
NuviaLab Relax | Stress Relief Mood Support
Promotes Relaxation*
Gold Star Evidence
Supports Calmness*
Strong Evidence
Improves Quality of Sleep*
Strong Evidence
Enhances Cognitive Function*
Strong Evidence