In This Review
What is Gut Connect 365?
United Naturals GutConnect 365 is a dietary support supplement that contains a blend of nine natural ingredients designed to promote gut health, according to the manufacturer. The manufacturer, United Naturals, claims that GutConnect 365 supports overall health and wellness and may result in the following:
Higher energy levels, Improved mood, Less fatigue, Fewer digestive issues, Better weight management, Deeper, & more restful sleep.
GutConnect 365 may help relieve the symptoms of leaky gut syndrome — a condition in which the lining of the gut is chronically inflamed, causing an increase in the permeability of the lining of the intestines. This allows larger molecules and toxins, that would normally be blocked, to enter the bloodstream. There still is much research to be done to help better understand leaky gut syndrome.
Researchers remain divided on whether leaky gut causes the development of disease or if it is the result of disease and/or substances that chronically irritate the gut lining.
How Does GutConnect 365 Rate?
Overall Rating: 3.2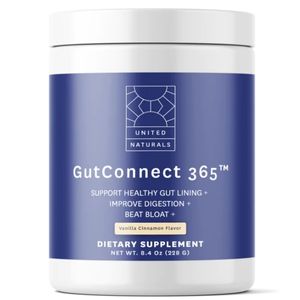 GutConnect 365
Brand Highlights
Manufactured in the Best Facilities.
It comes from reputable brand.
The brand is in market since many year.
The brand has legacy of using natural ingredients.
Key Ingredients
Slippery Elm Bark
Licorice Root Extract
Aloe Vera Extract
N-Acetyl Glucosamine
Marshmallow Root
Quercetin Dihydrate
L-Glutamine
Maitake Mushroom extract
Zinc Orotate
Pros
Blend of nine superfoods found in nature that will soothe, nourish, strengthen and protect the gut lining
Supports overall health and wellness
Man result in higher energy levels, improved mood, less fatigue, fewer digestive issues, better weight management and a deeper, more restful sleep
Cons
There is no warning that the ingredients may interact with certain medications.
Users may experience varying results or no results at all.
There have been complaints about the return policy so be sure to read the small print before buying this product.
Do your due diligence before taking a new supplement since the ingredients may not have been deemed safe and effective in clinical research studies.
---
Who is Manufacturer of GutConnect 365?
The manufacturer of GutConnect 365 is United Naturals. On their website they state the following:
We use pure and potent ingredients supported by scientific research
Our products are tested to meet strict quality standards
We use renewable energy and recyclable materials
We source some of the best ingredients in the world and assemble them with carefully chosen partners in the United States.
EDITOR'S PICK –
Colon Detox Plus
is a 15-day detoxifying course designed specifically to help support a healthy digestive system pass toxins and buildup.
Besides GutConnect 365, United Naturals also manufactures Enzyme 365, which supports digestive health, and Synbiotic 365, which promotes gut flora.
The brain behind GutConnect 365 is Dr. Vincent Pedre, a Certified Medical Doctor and Chief Wellness Officer at United Naturals.
How Does GutConnect 365 Work?
This formula has 9 active ingredients that work together to soothe, nourish, strengthen, and protect the gut lining.
For instance, Quercetin Dihydrate has antioxidant and anti-inflammatory effects, which may reduce inflammation.
L-Glutamine may protect the gut from atrophy and injury.
GutConnect 365 Ingredients – Are They Safe & Effective?
Slippery Elm Bark
Native to North America, slippery elm has a long history of use as an anti-inflammatory and healing agent. Native Americans used slippery elm as a remedy to heal ulcers, wounds, boils, burns, and to relieve diarrhea and gastrointestinal upset. Also In our review of Acid Relief 360 Ultra, we have outlined how this ingredient can enhance metabolic functioning and its associated benefits.
As with most herbal supplements, research is lacking, but the research that has been done shows promise with slippery elm and improved gut health [1].
A good review article appears in the Clinical Advisor.
Slippery elm is not recommended for infants, small children, pregnant or lactating women. Also, talk with your doctor before taking slippery elm as there may be a concern of slippery elm interacting with some medications.
Licorice Root Extract
Used for thousands of years in traditional Chinese medicine for its antimicrobial, antioxidant, and digestive support properties. Various health benefits are reviewed in an article in the journal Acta Pharmaceutica Sinica B [2].
It has also been used in many cultures as a remedy for stomach inflammation [3]. Again, research is lacking to validate the claims of licorice root.
Certain groups are advised to avoid licorice roots, such as pregnant women, people with high blood pressure, heart failure, and people with low potassium levels. Licorice root may interact with certain medications so be sure to discuss taking this supplement with your doctor.
Aloe Vera Extract
Is a widely known herb with many health-related benefits, including antioxidant and antimicrobial properties [4]. The anti-inflammatory effect may aid in the treatment of gastrointestinal diseases [5], inflammation, gastric ulcers, duodenal ulcers and intestinal ulcers.
An extensive review of aloe vera appears in the book Herbal Medicine: Biomolecular and Clinical Aspects. As with most herbal supplements, very few of the health claims associated with aloe vera extract are supported by clinical research studies. Aloe vera is unsafe at high doses. Make sure to research the side effects [7] before taking aloe vera.
Certain parts of the aloe plant can have a laxative effect and cause diarrhea. Always test a small amount to make sure you are not allergic to the plant. If you experience any stomach discomfort or diarrhea, discontinue the use of any supplement containing aloe vera and consult with your doctor. Certain groups are advised not to take aloe vera extracts, such as infants, children, pregnant or lactating women, people suffering from abdominal pain or obstruction, people with cardiac or renal disease, and people on diuretics or hypoglycemic agents.
There are several drug-nutrient interactions associated with aloe vera. It is essential to talk to your physician before taking aloe vera extract.
N-Acetyl Glucosamine
Widely used to improve joint health and mobility, reduce inflammation, as well as offer protection on other body tissues against autoimmune ailments. The research [8] is promising for the use of N-Acetyl Glucosamine for the treatment of inflammatory bowel disease. However, more research is needed to confirm its efficacy.
Certain groups of people are advised against taking N-Acetyl Glucosamine, such as infants and children, pregnant or breastfeeding women, people with asthma or diabetes, and people allergic to shellfish. There are drug-nutrient interactions associated with this supplement.
Do not take N-Acetyl Glucosamine if you take Warfarin (Coumadin). Talk to your doctor before taking N-Acetyl Glucosamine.
Marshmallow Root
Used as a remedy for several centuries [9]to treat digestive, respiratory, and skin conditions. It may help in the repair of leaky gut, as it actively promotes the growth of intestinal cells [10]. Research [11]shows promise in its antioxidant properties and gastroprotective effects.
Certain groups are advised against taking Marshmallow Root, such as pregnant or lactating women, and people with bleeding disorders. Moreover, Marshmallow Root may have interactions with certain medications. Concerning colon cleansers, various products and methods are available, including those provided by Viome, which assert their ability to eliminate accumulated waste from the colon.
Caution is recommended for people with diabetes because of concerns that marshmallow might interfere with blood sugar control. There are some drug-nutrient interactions associated with Marshmallow Root. Be sure to check with your doctor before taking Marshmallow Root.
Quercetin Dihydrate
A natural pigment found in various plants, vegetables, and grains, which functions as an antioxidant inside the body. Research in animals has shown that Quercetin Dehydrate improves oxidative damage [12]on important intestinal proteins. It is also associated with kidney health benefits [13]. Quercetin may interact with some medications so it's always a good idea to talk to your doctor first before starting a new supplement.
L-Glutamine
Although glutamine is an abundant amino acid in the body, it is now understood to be a conditionally essential nutrient [14], meaning that under certain conditions, such as extreme stress, chronic illness, trauma, or heavy exercise, your body may need glutamine supplementation. This review [15] discusses the role of glutamine in enhancing intestinal and whole-body growth, and at regulating intestinal barrier function in injury, infection, stress, and other catabolic conditions. This article in Today's Dietitian [16]reviews the potential benefits of Glutamine supplementation in patients with leaky gut syndrome.
According to Carolina Arreola, N.D. Naturopathic doctor, Taking L-glutamine supplements for gut health include cell regrowth to repair the gut lining.
Maitake Mushroom extract
Medicinal mushrooms [17]have been used for centuries for their healing potential. Current research[18]primarily focuses on the immunostimulant properties of mushrooms and their use as a complementary treatment for cancer. Use caution when taking Maitake Mushroom as some people have reported allergic reactions. Because Maitake Mushrooms can interact with some medications it is advised to check with your doctor before taking them. Certain groups should avoid taking this supplement, such as pregnant or lactating women.
Zinc Orotate
Zinc is an essential mineral involved in many functions [19]of the human body including immune function, protein synthesis, wound healing, DNA synthesis, and cell division. Zinc can interact with several medications so check with your doctor before taking zinc.

GutConnect 365 FAQ's
Q: How To Take Gut Connect 365?
A: Mix 1 scoop of the powder into an 8 oz glass of water and take the solution once per day, preferably before lunch.
Q: Does Gut Connect 365 Work?
A: Gut Connect 365 is a dietary supplement that claims to support gut health by providing a blend of natural ingredients. While some of the ingredients in Gut Connect 365 may have potential benefits for gut health. According to Gut Connect 365 customer reviews, it is an effective solution for digestive health.
Q: How long should you take GutConnect 365?
A: The first container should last you around 37 days with subsequent containers lasting 30 days. For the first two weeks you'll want to take half a scoop at a time and then, after two weeks, switch to one full scoop per day.
Q: Is Gut Connect 365 legit?
A: United Naturals is well-known for its products, and United Naturals provides extensive information about the manufacturing process, as well as several favourable Gut Connect 365 reviews found on the internet. So, Gut 365 powder is a legit product.
Q:Are there any possible Gut Connect 365 side effects present?
A: It contains L-glutamine, this ingredient could pose a threat to those who have epilepsy and take glutamate-blocking drugs. If you are sensitive to monosodium glutamate you should avoid glutamine, too, because the body breaks down glutamine into glutamate. By several GutConnect 365 reviews, the most common side effects of taking probiotics are a temporary increase in gas, bloating, constipation, and thirst.
Q: How long typically does constipation last?
A: According to the Cleveland Clinic report, Constipation occurs when bowel movements become less frequent and stools become difficult to pass. It happens most often due to changes in diet or routine, or due to inadequate intake of fiber. You should call your doctor if you have severe pain, blood in your stools, or constipation that lasts longer than three weeks.
Q: How Much Does Gut Connect 365 powder 365 Cost?
A: An 8.4 Oz Jar of this product retails at $54.00. There are also often discounts available for purchasing multiple bottles of Gut365 at a time. Check out the United Naturals site to see for yourself!
Q: What is GutConnect 365's Return Policy?
A: The company has a 60-day money-back guarantee that users can return the product if they don't find it helpful. Be sure to return the return policy.
Q: Does GutConnect 365 Offer a Free Trial?
A: There is no information on the producer's website that indicates they offer free trials for any of their products.
READ NEXT – Colon Broom and UMZU Zupoo
Q: How can you return GutConnect 365?
A: As for returns, if you're not happy with this product, the company will offer you a refund within 60 days of the date your credit card was charged for the order. You can return 2 empty containers of the same product with any additional jars needing to be still completely sealed.
Returning more than 2 GutConnect365 containers will result in a prorated refund for any sealed product. Your shipping costs will not be reimbursed.
You may contact them via:
Phone Support
1-844-794-7728
(Live support is available Monday to Friday 9 AM – 5 PM EST)
Address
United Naturals
1300 Altura Rd
Fort Mill SC 29708
Canadian Address
United Naturals Health Inc.
1790 Rue Du Canal St 401
Montreal QC H3K 3E6
Product Returns
1300 Altura Rd
Fort Mills SC 29708
You may also use the contact form to get in touch with GutConnect 365 customer support team via email.
Q: Is GutConnect 365 FDA Approved?
A: GutConnect 365 is an all-natural dietary supplement which has ingredients that likely have some effect on leaky gut, and overall health. Dietary supplements, in general, are not FDA-approved. Under the law (Dietary Supplement Health and Education Act of 1994), dietary supplement firms do not need FDA approval prior to marketing their products. It is the company's responsibility to make sure its products are safe and that any claims are true.
Q: Can GutConnect 365 probiotics be taken with other medications?
A: Doctor prescribed medications may interact with GutConnect 365 and cause harmful effects. Consult your healthcare professional (e.g., doctor or pharmacist) for more information.
Q: Where to buy it?
A: The best place to purchase GutConnect 365 is directly from United Naturals website. Plenty of Gut Connect 365 reviews have indicated that the website offers some pretty good deals.
Q: Does United Naturals Gut Connect 365 provide any fiber benefit?
A: Yes, it is generally safe to use. According to research, the ingredients included in the GutConnect 365 supplement are effective and do not cause adverse side effects. However, seek medical advice if you have other medical conditions.
GutConnect 365 Reviews from Customers
If you're looking for reviews on Gut Connect 365, you can check online forums or websites such as Amazon, Walmart and Reddit that specialize in health and wellness products. Below are the reviews of gut connect 365 –
I've endured digestive problems for a long time, but ever since using GutConnect 365, my gut health has significantly improved. I no longer get as much bloating or discomfort, and I feel much more regular. Highly suggested!"

"GutConnect 365 has completely changed the way I live. Although I was concerned, the natural ingredients and good ratings persuaded me to give a colon cleaner a try. I'm really happy I did since it makes me feel lighter, healthier, and more active-Gavriel F
I've endured digestive problems for a long time, but ever since using GutConnect 365, my gut health has significantly improved. I no longer get as much bloating or discomfort, and I feel much more regular. Highly suggested!"

"GutConnect 365 has completely changed the way I live. Although I was concerned, the natural ingredients and good ratings persuaded me to give a colon cleaner a try. I'm really happy I did since it makes me feel lighter, healthier, and more active.-Shoshana G
GutConnect 365 Reviews – Final Verdict
GutConnect 365 focuses on supporting gut health with its formulation of 9 natural ingredients. Some users have experienced additional benefits, such as increased energy levels, improved mood, weight loss, and improved digestion.
At this point, we can only look to user reviews to check outcomes as there are no research studies on this product to confirm efficacy and safety. Reviews of the company, United Naturals, on the BBB are mostly positive with the majority of complaints directed toward the return policy of the company. It is really "buyer beware" at this time.
It is highly recommended that anyone wanting to use this product consult their physician or dietitian first since many of the ingredients have known drug-nutrient interactions.
In simpler terms, the medications that you take may interact with some of the ingredients. Also, some of the ingredients are contraindicated with certain health conditions.
For example, pregnant or lactating women should not take this supplement. Please consult with your physician to make sure it is safe for you to take this supplement.
All of the cells and tissues in your body and your major organ of detoxification, the liver rely upon your colon. The colon processes waste and bacteria preparing it for elimination from the body. Colon cleanse products should be determined based on its: potential to clean the colon of harmful waste & toxins, potential to promote better digestion & increase elimination, potential to promote improved immune system function, potential to provide increased energy levels. The quality of the ingredients should be backed by clinical research.
Below you'll find some of the most effective colon cleanse supplements on the market today, in our opinion.
Our Top Gut Health Supplements
Verdict on Claimed Benefits: Below is our summary of the available evidence for the claimed benefits of below mentioned probiotic supplements and natural colon cleanse supplements based on the available research: