In This Review
What Is Vital Reds?
Vital Reds by Gundry MD are among the many supplements with diverse health advantages. While other wellness brands or supplements concentrate on providing a single health benefit, it is among the few products that deliver multiple benefits to the user.
Dr. Gundry Vital Reds blend consists of polyphenols, vegetable extracts, probiotics, organic fruits, Fructooligosaccharides, White Tea Leaf, and cinnamon bark, among other beneficial botanicals.
It is a dietary supplement with weight-loss claims, energy-boosting ability, fatigue reduction*, and antioxidant properties, among others. Indeed, this is the supplement many people should opt for due to the increasing* need for health-boosting supplements.
| | |
| --- | --- |
| Features | 34 Concentrated Polyphenol-Rich Superfruits Blend |
| Form | Powder |
| Benefits | Digestive Support, Energy, Fat Burning, Weight Support |
| Ingredients | Aronia Berries, Grape Seed Extract, Mulberry Extract, Bitter Melon Extract, Green Tea Extract |
| Type | Dietary Supplement |
How Does Vital Reds Rate?
Overall Rating: 4.7
Dr. Steven Gundry MD Vital Reds
Brand Highlights
Vital Reds is manufactured by a company called Gundry MD.
The company was founded by heart surgeon Dr. Steven Gundry. [1]
Manufacturer claim that the supplement is free of soy, sugar, synthetic ingredients, flavors, colors, preservatives, fillers, or binders.
This supplement can be used for the long term.
Key Ingredients
Polyphenol Blend
Metabolic Boosting Blend
Digestive Support Blend
Vitamin and Mineral Blend
Thiamin
Riboflavin
Niacin
Biotin
Folate
Pros
It is rich in polyphenols.
Claims to enhance the skin's appearance.
Improves energy levels.
Promotes better sleep.
Boosts digestion.
Relieves joint pain.
Made from safe and effective ingredients.
The company provides a money back guarantee.
It has no side effects.
Cons
Some users may prefer a capsule to a powder drink.
There is limited availability.
---
About Dr. Steven Gundry
Dr. Steven Gundry is a former cardiac surgeon who wrote best-selling books about diet and health that have helped many people worldwide. He is also the founder of Gundry MD, a company that aims to improve the overall health and energy of many users through proper diet and supplementation.
What Is The Purpose Of Vital Reds?
Vital Reds by Gundry MD is a powdered dietary supplement that contains a mix of polyphenol-rich fruits, vitamins, minerals, herbs, and probiotics.
According to the manufacturer, it is "100% natural and safe" and helpful in relieving joint pains, enhancing the appearance of the skin, boosting metabolism and energy, and promoting weight loss.
Feature Product & Coupon
Concentrated Polyphenol Blend, 30 Servings
Health Benefits of Gundry MD Vital Reds
Helps boost natural energy*
Promotes improved digestion*
Supports skin health & appearance*
"Quick-Dissolve" Mix with Natural Berry Flavor
Soy-Free / No Added Sugar / Lectin-Free
*Individual results can and will vary.
How Does It Work?
Vital Reds by Gundry MD work by using the components used to helps in boosting your digestion and increase the production of energy.
It potentially stabilizes the digestive system through the help of the probiotics present, thus helps improve your digestion and to promote nutrient assimilation. Being rich in antioxidants, it protects the skin cells from free radical damage.
Antioxidants helps to balance the blood sugar levels in diabetes patient, enhance skin appearance and promote the health of the skin [2].
Vital Reds Ingredients – Are they Safe & Effective?
We have reviewed and researched each ingredient in Vital Reds. Here in this review, we have provided evidence of each fact about every ingredient.
Gundry MD Vital Reds ingredients are used to support various parts through three proprietary formulas.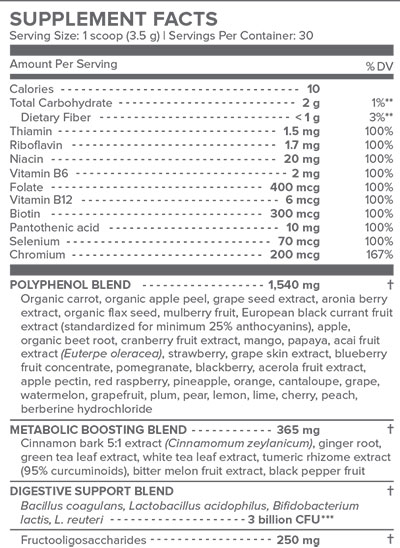 The Three Formulas Include:
A Polyphenol Blend(1540 mg)
This blend is made up of up to 21 polyphenol-rich fruits and vegetables. Polyphenols are antioxidants present in fruits. Polyphenol consumption may play a vital role in health through the regulation of the metabolic process, energy, weight, chronic disease effects, and an increase in cells [3].
Red Vitals contains carrot, apple, grape skin extract, Aronia berry, flax seed, acerola, blackberry, blueberry, cranberry, and other highly nutritious 100% natural and pure ingredients. The importance of including these antioxidant-rich ingredients is to combat toxic compounds, manage diabetes and free radicals present in the body.
The National Center for Complementary and Integrative Health suggests that antioxidants can prevent damage and reduce the risk contracting a number of diseases.
A Metabolic Boosting Blend(365 mg)
This blend of ingredients aims to boost the body's metabolic levels. This blend helps support fat-burning and weight loss. The mixture is composed of cinnamon bark, white tea leaf, green tea leaf, ginger root, turmeric, black pepper fruit, and bitter melon fruit.
Through effective metabolic support, the body will be free from metabolic problems. An article in the Journal of the International Society of Sports Nutrition explored metabolic adaptation to weight loss in athletes.
A Digestive Support Blend(3 billion CFU)
This probiotic blend is made up of up to 3 million colony-forming units. The colony units are of four probiotic strains. Probiotics are live microorganisms that have vital health benefits when consumed or applied to the body [4]. An article in Harvard Health Publishing discussed the health benefits of probiotics.
Vitamin and Mineral Blend
8 forms of Vitamin B and other minerals – Thiamin, riboflavin, niacin, vitamin B6, folate, vitamin B12, biotin, pantothenic acid, selenium, and chromium are present in it.
ALSO READ – Bio X4 and Morning Complete
---
Vital Reds – FAQ
Q: What Is Vital Reds Good For?
A: Dr. Gundry Vital Reds has all the natural as well as scientifically-backed ingredients such as vitamins, minerals, probiotics, and plant extracts.
These ingredients help to increase energy, improve digestion, and support skin health.
Q: How Do You Take Vital Reds?
A: Add the supplement to a glass of water, stir, and then drink. As per the company's recommendation, you should drink once daily.
Q: How Long Does Vital Reds Last?
A: If you take one scoop daily, one jar will last 30 days.
Q: Is Vital Reds Safe?
A: The ingredients used in Vital Reds offer multiple health benefits and are generally safe to use.
Q: Who Should Avoid This Supplement?
A: As Gundry MD Vital Reds is mostly just fruits and vegetables, it is likely safe for a maximum number of people. However, one must consult their physician before consuming any dietary supplement.
Q: How Much Does It Cost?
A: Vital Reds dietary supplement by Gundry MD is available in powder form. A bottle with 30 servings retails at $49.95 on the Official Website. Special offers and deals, along with coupon codes, are available on the website throughout the year. It is unavailable on Amazon at the moment.
One jar for a 30-day supply: $69.95 ($49.95 for First-time Customers)
Three jars for 90-day supply: $199.36 ($134.85 for First-time Customers)
Six jars for a 180-day supply: $377.73 ($254.70 for First-time Customers)
Q: Does Vital Reds Really Work?
A: Yes. Gundry MD supplement has received tons of positive reviews that it works. From the ingredients alone, you can tell that it can justify its claims as probiotics help enhance digestion. In contrast, a metabolic formula like green tea extract can help promote weight loss and increase energy.
Q: Is Vital Reds Legitimate?
A: Yes, this Gundy MD is a legitimate supplement. This is clear from the numerous customer reviews that rave about its advantages and the fact that the manufacturer is highly regarded.
Q: Is Vital Reds Keto-friendly?
A: Yes, it is keto friendly if you follow the direction and dosage mentioned on the label.
Q: Are Vital Reds Good For You?
A: The manufacturer Gundry MD claims that this is an extremely healthy supplement available at an affordable price. It's full of vitamins and minerals that resolve deficiency effects and support overall wellness. This product also contains antioxidants, which kill free radicals and promote healing. In addition, they strengthen the immune system and increase energy.
Q: What Are The Side Effects Of Vital Reds?
A: Dr Gundry Vital Reds formula is a very safe, high-quality product made of healthy organic ingredients. You should not experience any harmful side effects.
Q: Where to Buy Vital Reds?
A: One can buy Vital Reds on its Official Website at a reasonable price. You can also search for Vital Reds on Amazon, Walmart, eBay, and other e-commerce websites.
But it will be beneficial for the user to buy the product from the Official Website as the manufacturer provides different offers through which they can save your money.
Q: Is Vital Reds A Scam?
A: No, this supplement is not a scam. It has the power of 34 polyphenol-rich superfruits, prebiotics, probiotics, vitamins, etc. It has many positive real customer reviews that make this product legit.
SEE ALSO – Active PK and Bio Complete 3
Gundry MD Vital Reds Contact Info
Address: Gundry MD 9465 Wilshire Boulevard, Suite 300 Beverly Hills, CA 90212
Contact No: (800) 852-0477
Email: [email protected]
Summary
| Feature | Comments |
| --- | --- |
| Ingredients | 34 polyphenol-rich superfruits combined with clinically proven ingredients and probiotics for natural fat-burning. |
| Price | Regular Price is $69.95 and if you will buy it now, can save $20 instantly. The average cost for the market for a high-level supplement. |
| Safety | Gundry MD is a well-established company founded by the heart surgeon Dr. Steven Gundry, Soy-Free / No Added Sugar / Lectin-Free, 100% natural and pure ingredients, and offers a 100% money-back guarantee. |
Customer Reviews
For the most part, the Gundry MD Vital Reds real reviews were overwhelmingly positive, and none of the negative reviews was mentioned. Users claimed to get great benefits from the product, including weight loss and digestive health. Here are some of the best reviews:
The tastes are delicious – even in cold water. I throw in some frozen blueberries and a banana and/or an apple with some ice cubes. The blender turns it into a delicious slushy. I even add organic kale. Just by itself, I feel great knowing I am providing my digestive system extra energy with perfect nutrients. Thank you, Dr. Gundry, for making self-care easy and yummy! ~ by Wanda Brice
I purchased Vital Reds Dr Gundry to improve my diet and lose a few pounds. I decided to have it instead of lunch because lunch is the most difficult meal for me to eat healthily. The product's taste is terrific and I was surprised at how full I stayed all afternoon because of the extra energy. I also drink it in the morning when we are on the run. So easy. I have only been using the shakes for about two weeks, so I don't know about the long-term health effects. Hoping all will be good. ~ by Kim
I am 62 and working an active job that requires energy. I take this with me to work as I lose energy by noon. After drinking this I'm back to "full speed ahead." I know the ingredients are high quality, so that also helps my mind work with it to give me the energy I need to finish my job. Thank you for this great product. ~ by Rhonda
*Individual results can and will vary.
Alternative Comparison
Products
Vital Reds
Organifi Green Juice
Price
$69.95
$79.95
Refund Policy
90-day money-back guarantee
60-day money-back guarantee
Shipping
$4.95
Change depending on the location
Pros and Cons

Natural and scientifically-backed ingredients.
Trusted manufacturer
Helps promote weight loss
Contains antioxidants.

Contains caffeine which can have adverse effects.
Canister has a cancer warning (Prop 65)
Not designed for weight loss
Vital Reds Reviews – Final Verdict
Gundry MD Vital Reds is the jack of all trades regarding healthcare products. The manufacturer conducted thorough research before developing this brand and then said that it is the best and most reliable health product on the market. The supplement supports overall digestive health, increases energy, and decreases symptoms like gas and bloating. It also supports fat and weight loss.
The reviews for this product were very positive. Most users loved it and got excellent benefits. Many users said they lost a significant amount of weight and said it improved their digestive health. There were very few complaints or poor reviews.
With an endless list of working capabilities, this supplement provides a turn-around when aiming to lead a healthy lifestyle. It has comprehensive benefits, affecting almost all body systems. However, you should browse through similar products on the market to ensure you are confident in your choice. We're sure you'll see that this formula towers above all other products of its kind.