In This Review
What is UMZU zuPOO?
UMZU zuPOO Colon Cleanse & Gut Support is a natural product that supports gut health and cleanses the colon. It contains ingredients that can detoxify your digestive system by flushing out waste and hormone blockers.
In addition, it may eliminate symptoms like bloating and gas and elevate overall digestive health. This product suppresses appetite, and removes so much waste from your gut can help you lose weight.
Who is the Manufacturer of UMZU zuPOO?
A company by the name of UMZU manufactures this product, and its base of operations is in Boulder, Colorado. They produce organic products which are based on the principle of your body healing itself. An entrepreneur called Christopher Walker started the company in 2015 after he began developing natural health solutions based on science.
How Does UMZU zuPOO Work?
This product contains ingredients with laxative properties, which cleanse out the colon and remove toxins and hormonal blockers. This eases symptoms like bloating and constipation and promotes healthy bowel movements. An article in Science Direct discussed the properties and characteristics of laxatives.
| | |
| --- | --- |
| Key Facts | |
| Form | Capsule |
| Health Benefit | Digestive Health |
| Supplement Ingredient | Cascara Sagrada, Cayenne Red Pepper, Fennel Seed Powder |
| Type | Supplements |
| Count | 30 |
There are also ingredients which cleanse your blood, elevating overall health. The book Medical Herbs discussed the blood purifying effects of burdock.
When the colon is clean, you lose pounds of weight that were clogging up your system. In addition, there are ingredients in this product that curb the appetite, so you feel full and don't overeat. This should lead to weight loss over the period you take the product.
UMZU zuPOO Ingredients – Are They Safe and Effective?
Here are some of the primary active UMZU zuPOO ingredients:
Cascara Sagrada – This comes from the bark of a tree that grown in the Southern United States. It contains a substance called anthraquinone glycosides, which has laxative properties. It helps to cleanse and detox the colon (1). An article in the British Medical Journal discussed cascara sagrada as a treatment for constipation.
Cayenne Red Pepper – These are chili peppers that are part of the nightshade family of plants. They could speed up your metabolism, helping your burn fat and lose weight.
There's evidence that they have the ability to curb your hunger and cravings, which can help you lose weight. A study published in Food Quality and Preference found that cayenne pepper increases satiety, and decreased cravings for salt. However, it elevated cravings for fat and sweet substances.
Fennel Seed Powder – Fennel is a plant in the same family as the carrot, which originates in the Mediterranean region. They can relax the smooth muscles in the intestines, helping to relieve gas and constipation.
Advertisement
*All individuals are unique. Your results can and will vary.
This is due to the inclusion of a bioactive compound called anethole. An article in the Arabian Journal of Chemistry explored the pharmacology, phytochemistry and safety of fennel seeds.
What Are the Advantages of UMZU zuPOO?
It may flush the waste out of your gut and intestines.
UMZU zuPOO Colon Cleanse & Gut Support could help you lose weight.
The product might cleanse your blood.
It could flush out hormonal blockers in your stomach.
UMZU zuPOO may get rid of symptoms like bloating and constipation.
What Are the Disadvantages of UMZU zuPOO?
You may experience gas and bloating for the first 2 days.
UMZU zuPOO is expensive for only 15 servings.
You have to drink a lot of water for this to work, but they want you to take it before bed.
---
UMZU zuPOO – Alternatives
UMZU zuPOO – FAQ's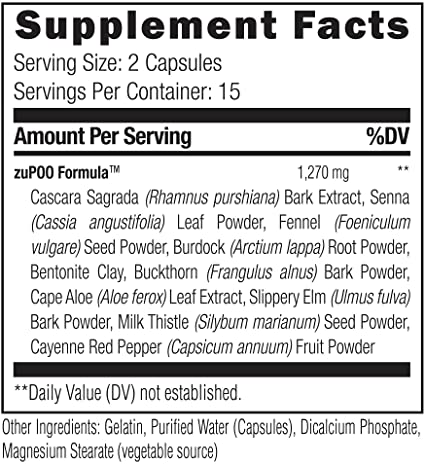 Q: How Should You Take UMZU zuPOO?
A: The manufacturer recommends that you take 1-2 capsules before you go to bed, with water. Over the next day or 2, you may experience bloating and gas. In 12-48 hours, there should be a flush of waste from your system.
They recommend that you take this product every evening for 15 full days to completely empty out your system.
Q: How long does zuPOO take to starts working?
A: Wait 12-48 Hours — You may notice a buildup of gas over the first 12-24 hours. Expect flushing of waste within 48 hours.
Take Consistently for 15 Days, Every 90 Days — Continue supplementing before bed for a full 15 days for a complete flush of the digestive system. We do not recommend taking zuPOO more frequently than one full cleanse per 90 days.
Q: How Much Does UMZU zuPOO Cost?
A: You can buy UMZU zuPOO on the manufacturer's official website, on UMZU zuPOO Amazon, eBay, and from a few other online and offline retailers. The price for a one-time purchase on the official site is $29.95. If you subscribe, the price drops to $25.46.
Q: What is UMZU zuPOO's Return Policy?
A: The manufacturer has a 60-day return policy, which begins 2 weeks after the item was shipped to you. If you want a refund, contact the company and send back the product within the 60-day window.
There is a limit of 3 bottles per 12 month period. You'll get a full refund, but they will deduct the shipping and handling fees.
Advertisement
*All individuals are unique. Your results can and will vary.
Q: Does UMZU zuPOO Offer a Free Trial?
A: As per Zupoo reviews, There is no free trial associated with UMZU zuPOO. However, you do have the option of signing up for the monthly subscription service, which will get you a 15% discount.
Q: Is UMZU zuPOO Safe?
A: UMZU zuPOO is a safe product on the whole, which uses ingredients that mostly lead to only mild side effects. However, this product is not safe for people who have serious intestinal problems like Crohn's disease, ulcerative colitis, irritable bowel syndrome, and sprue (2).
Q: Does UMZU zuPOO have any side effects?
A: Some users may experience some side effects with zuPOO. Since stimulant laxatives can cause diarrhea, we wouldn't recommend using this product regularly (source). A gas buildup at the onset, but it dissipates in about one day. Several ingredients in ZuPoo have some concerning side effects. Excessive trips to the bathroom can also result in intestinal cramping, nausea, dizziness, and weakness. Speak with your primary healthcare professional before starting ZuPoo or any other laxative cleanse supplement.
Q: Does UMZU zuPOO Work?
A: UMZU zuPOO appears to be an effective product. It contains ingredients that cleanse and detox the colon, removing waste. This helps to eliminate symptoms like bloating and constipation and to cleanse the blood. These are potent organic substances that should work well, and according to many of the UMZU zuPOO Colon Cleanse and Gut Support reviews, it does.
Q: Does zuPOO affect your blood pressure?
A: zuPoo claims to naturally clean out your colon of the 5-20lbs of toxic waste you may have. Although evidence is mounting that gut bacteria can influence hypertension, most of the studies to date have been observational.
This means that it has not been possible to determine whether changes in gut bacteria influence blood pressure, or whether hypertension (or the factors that produce it) alter gut bacteria.
Q: Is UMZU zuPOO Legit?
A: There's no doubt that UMZU zuPOO is a legitimate product made by a reputable company called UMZU. They base their formulations on scientific evidence and use high-quality ingredients. There are a number of UMZU zuPOO reviews that testify to the fact that this is a legitimate supplement.
Q: Does this product have any effect on the heart?
A: Umzu zuPOO is an organic supplement, so the possibility of having side effects is less. No report that it has any effect on the heart. In the event of any reaction to the supplement, discontinue use and see a doctor.
Q: Where to Buy the UMZU zuPOO?
A: It is available in different stores. You can also buy it from the official website.
Q: Is umzu legit?
A: It's a genuine product made by the trusted supplement manufacturer UMZU. UMZU is notable for using high-quality ingredients and embracing science-based compositions. A good chunk of UMZU zuPOO product reviews gives testament to the functionality of the supplement and its trustworthy nature.
UMZU zuPOO Reviews – Conclusion
UMZU zuPOO is an organic product that aims to support the digestive system by cleaning out the colon and flushing waste. This can help you lose weight, and the product also has appetite suppressants that curb your hunger. In addition, it can cleanse your blood, and ease symptoms like diarrhea and bloating.
The UMZU zuPOO Colon Cleanse reviews were relatively positive. According to UMZU zuPOO before and after pictures on the official site, most of the users said this product cleaned them out completely and they loved the results. Some customers said they lost weight. There were also a smaller collection of customers who said the product did nothing for them at all.
This is a relatively safe product with rich organic ingredients. There is a chance that you could have UMZU zuPOO side effects, however. If you experience unpleasant symptoms, stop taking the product immediately. Before you start taking it, see a doctor for medical approval.
All of the cells and tissues in your body and your major organ of detoxification, the liver rely upon your colon. The colon processes waste and bacteria preparing it for elimination from the body. Colon cleanse products should be determined based on its: potential to clean the colon of harmful waste & toxins, potential to promote better digestion & increase elimination, potential to promote improved immune system function, potential to provide increased energy levels. The quality of the ingredients should be backed by clinical research.
Below you'll find some of the most effective colon cleanse supplements on the market today, in our opinion.
Our Top Gut Health Supplements
Verdict on Claimed Benefits: Below is our summary of the available evidence for the claimed benefits of below mentioned probiotic supplements and natural colon cleanse supplements based on the available research: