In This Review
What Is Colon Clenz?
Colon Clenz is a dietary supplement from herbs and other natural ingredients. If eating lots of fiber isn't enough for you, then you should consider this colon health product that's claimed to be a balanced combination of organic cleansers. More importantly, this is said to be gentle and dependable. That's because Colon Clenz provides nutritional support for a healthy bowel function. It does this by cleaning your body's internal environment. Let's learn more about Colon Clenz reviews and their working process.
How Does It Rate?
Overall Rating: 3.9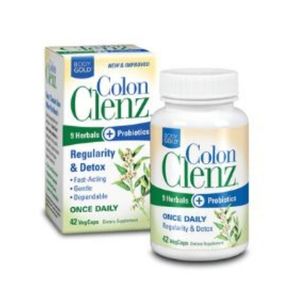 Colon Clenz
Brand Highlights
The manufacturer of this product is BodyGold. Colon Clenz is lab-verified for purity and efficacy, just like all BodyGold products.
All of our products go through a rigorous procedure to weed out contaminants and impurities and guarantee the quality of our raw materials and finished goods so that you receive only the best supplements made with the best ingredients.
Formulas we confidently take ourselves contain only the best ingredients, so you can be sure of that!
Try BodyGold Colon Clenz immediately for regularity and gentle eviction!
Key Ingredients
Cascara Sagrada
Senna Leaf
Rhubarb Root
Aloe Vera
Black Walnut
Oregon Grape
Yellow Dock
Valerian
Slippery ElmTrust Colon Clenz™
Pros
Colon cleansing & regularity herbal support that is gentle and trustworthy.
Colon Clenz gives your digestive tract a fresh start and assists in relieving sporadic constipation
Live cultures of Bacillus coagulans support healthy gut flora.
One capsule of Colon Clenz per day can assist overall health, energy, and detoxification.
Colon Clenz is free of soy, dairy, and other animal products; lab-tested; no artificial colours or preservatives.
Cons
Lack of reviews and user recommendation.
Colon Clenz is only available online.
It may cause some side effects like bloating, dehydration, and chest pain.
---
How Does Colon Clenz Work?
Colon Clenz comes from Mother Nature herself. The first four-block water absorption while the next four on the list soothe the digestive tract.
Valerian relaxes the muscle while the last one, in particular, is a patented component that helps you feel renewed, vibrant, and ready for a very busy day ahead.
With Colon Clenz, you don't need to worry about bloating and constipation.
Bowel elimination has been made easier, all thanks to the makers who have carefully measured the ingredients used.
Colon Clenz Ingredients – Are they Safe & Effective?
Bodygold Colon Clenz ingredients help you achieve optimal colon health –
Cascara Sagrada
– A plant known as cascara sagrada (Frangula purshiana). Previously, the dried bark had FDA approval as an over-the-counter laxative for constipation. These days, supplements contain it.[1]
Chemicals in cascara sagrada stimulate the intestines and have laxative effects.
Senna Leaf
– Senna is the name for the Senna alexandrina plant's fruit (pod) or leaf.
It is authorized in the US to be used as a laxative to relieve constipation temporarily.[2]
Sennosides are a class of compounds found in senna. Sennosides have a laxative effect because they aggravate the bowel's lining.
Rhubarb Root
– A plant is rhubarb. Medicine is made from the subterranean stem (rhizome) and root. [3]
Rhubarb is mostly used to treat gastrointestinal (GI) symptoms such as constipation, diarrhea, heartburn, stomach pain, and GI bleeding as well as to get ready for specific GI diagnostic procedures.
Aloe Vera
– Aloe juice has calming properties.
Constipation may also be relieved by drinking juice made from aloe latex, which contains anthraquinones, or natural laxatives. [4]
Though there are certain safety issues with aloe latex, you should be aware of them. A laxative overdose could exacerbate your symptoms.
Black Walnut
– Black walnut hulls, wormwood (a plant), and cloves are used to make the tincture known as the wormwood complex. [5]
It works as a natural treatment for parasite infections. To eliminate oral microorganisms, some people gargle with the extract.
Oregon Grape
– It eases the signs of IBS and heartburn, as well as the symptoms of psoriasis and other skin disorders.
It may also improve your mood and have antimicrobial properties.[6]
Yellow Dock
– Yellow dock is used as a laxative, tonic, and remedy for respiratory tract and nasal inflammation as well as discomfort and swelling. [7]
Additionally, it is employed in the treatment of bacterial infections and STDs.
Valerian
– People have used the plant valerian for ages to treat insomnia, migraines, exhaustion, and cramps in the stomach.[8]
Slippery ElmTrust Colon Clenz™
– Mucilage, a component of slippery elm, transforms into a slick gel when combined with water. [9]
It coats and calms the stomach, intestines, throat, and mouth. Antioxidants included in it also aid in the treatment of inflammatory bowel diseases.
---
Colon Clenz – FAQ's
Q: Where to buy Colon Clenz?
A: You can purchase Colon Clenz online from their Official Website
Q: How much does the Colon Clenz cost?
A: The cost of Colon Clenz is $10.99 for a one-time purchase and if you Subscribe, you will get a 10% off which is $9.89.
Q: What is Colon Clenz's return policy?
A: It provides 60 Day Satisfaction Guarantee. Your request for the Guarantee must be made within 60 days after the purchase date.
The costs associated with mailing the product and the proof of purchase fall under your responsibility.
Q: Are there any alternatives of Colon Clenz?
A: Yes, you can check these products also before sitting to any product Colon Detox Plus, Morning Complete, Vital Reds,Multi-GI 5.
Q: Is colon clenz safe to use?
A: Given that Colon, Clenz is made up of a variety of natural substances, it is thought to be a safe product.
Before using this product, women who are expecting, nursing, or going through menstruation should consult their doctor.
Additionally, this product is not recommended for those who are on medication, have a history of stomach problems, or are younger than 12 years old.
Q: How should you take Colon Clenz?
A: Take one or two capsules daily. Make sure to store the bottle at room temperature and to keep it away from children.
Q: Does Colon Clenz really work?
A: You should research the efficacy of a colon health supplement before purchasing it. Bodygold Colon Clenz detoxifies your body as well as removes waste.
The sole purpose of the vitamins is to help you cleanse your body, but you shouldn't become overly reliant on them.
Q: What are the Colon Clenz side effects?
A: While there have been no reported negative side effects, experts say that you could possibly experience the following:
Gastrointestinal pain

Electrolyte depletion
Dependency
Discoloration of the urine
Allergies
SEE ALSO – Colon Broom and UMZU zuPOO

Colon Clenz – Final Verdict
While colon health supplements such as Bodygold Colon Clenz are helpful, just make sure that you don't become too dependent on these.
Nothing still beats a change of diet or lifestyle if you want to achieve health.
All of the cells and tissues in your body and your major organ of detoxification, the liver rely upon your colon. The colon processes waste and bacteria preparing it for elimination from the body. Colon cleanse products should be determined based on its: potential to clean the colon of harmful waste & toxins, potential to promote better digestion & increase elimination, potential to promote improved immune system function, potential to provide increased energy levels. The quality of the ingredients should be backed by clinical research.
Below you'll find some of the most effective colon cleanse supplements on the market today, in our opinion.
Our Top Gut Health Supplements
Verdict on Claimed Benefits: Below is our summary of the available evidence for the claimed benefits of below mentioned probiotic supplements and natural colon cleanse supplements based on the available research: