In This Article
Aging gracefully is everyone's goal, but modern life can make it difficult to avoid the stress and toxins that are associated with causing the common signs of aging, such as wrinkles and other skin imperfections. By having an understanding of the causes of skin aging and wrinkles, though, you can take charge by taking steps every day to protect your skin and keep it looking as youthful and beautiful as possible.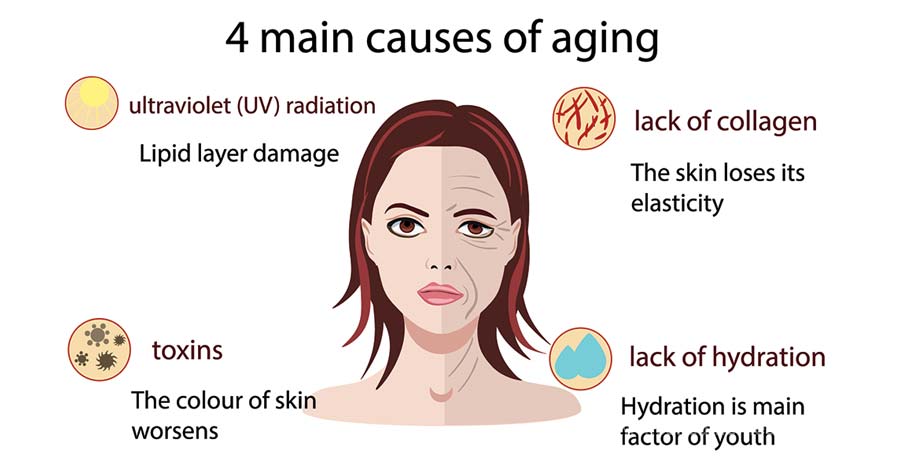 Below is some helpful information that is designed to put your mind at ease, as there are several ways that you can effectively treat aging skin and wrinkles. After all, there is a huge anti-aging market out there, with a wide range of skin care products such as Lifecell, that are formulated to work on decreasing the appearance of fine lines, as well as preventing the formation of new wrinkles. So rather than losing hope and resigning yourself to looking older, you can get the smooth skin that you want.
What causes skin aging and wrinkles?
Many factors could contribute to the formation of wrinkles and other signs of aging on the skin, but some of the main causes of wrinkles include:
Some of your first wrinkles might simply be due to your most common facial expressions. So if you tend to smile and laugh a lot, for example, you might start to notice some fine lines around your lips. Or you might start to notice that you are developing fine lines on the outer corners of your eyes, and they become even more apparent whenever you smile or laugh [1]. In the same way, you could develop wrinkles around your lips from smoking, or you might develop lines in between your eyebrows from frowning a lot.
How do facial expressions lead to wrinkles? Well, every time a facial muscle is used, a groove could develop underneath the surface of your skin. When you are young, the skin on your face will spring back so you won't develop those fine lines just yet. However, as you age and as your skin gets older, it will begin losing its natural flexibility [2]. This means that it won't be able to immediately spring back wrinkle-free like it used to. Instead, the grooves hang around all the time, causing you to look older than you used to.
Another one of the biggest causes of premature wrinkles is excessive exposure to sunlight and damaging UV rays. Spending time sunbathing by a pool or at the beach, and the use of tanning beds, may boost the odds that you will develop wrinkles and fine lines at a younger age.
This is because the ultraviolet radiation that is emitted by the sun and by tanning beds could actually speed up the aging process by breaking down the connective tissue within the skin. Your skin ends up losing flexibility and strength, resulting in wrinkles and sagging. Yikes! So be sure to wear sunscreen before stepping out, avoid the use of tanning beds, and consider using a self-tanner.
Other factors that may contribute to the formation of wrinkles include genetics, exposure to environmental toxins like air pollution, stress, poor diet, excessive alcohol consumption, a lack of sleep [3], and dehydration.
But it's also important to note that wrinkles are a totally normal part of the aging process. As you age, your skin will become less elastic, as well as drier and thinner. Because your skin becomes increasingly fragile and there is also a reduction in the production of oils in your skin, wrinkles can form more easily.
How to treat skin aging and wrinkles?
Walk into any store that sells personal care products and you will find a host of options in the realm of anti-aging and wrinkle prevention and reduction. Beyond products that you can purchase over-the-counter, though, there are also several medications and surgical procedures that may work on your skin.
Over-the-counter skin creams can be purchased without a prescription, and they vary in price. Also, their level of effectiveness will ultimately depend upon their formulation and active ingredients. If you wish to try over-the-counter creams, look for those that contain antioxidants, peptides, and retinol, which might help reduce the appearance of your fine lines and wrinkles.

If you are looking for top rated anti aging creams then you may consider LilyAna Naturals Retinal Cream review.

Medications that can be used to improve the appearance of your skin are typically more effective than over-the-counter products because they contain greater amounts of active ingredients that can penetrate the skin.
Retinoids, which are derived from vitamin A and can be applied topically, are a popular option. These include tazarotene and tretinoin. Your dermatologist may prescribe these medications in an effort to make your skin softer and to reduce the appearance of splotches and wrinkles. However, retinoids do come with some potential side effects, such as dryness, tingling, burning, redness, and itching. It's also wise to apply a good sunscreen because these creams might make your skin more prone to sunburn.
Surgical procedures, as well as fillers, injectables, and various techniques designed to resurface and tighten the skin, are also available if topical treatments aren't providing the results that you want. Examples include dermabrasion and microdermabrasion, chemical peels, Botox and soft tissue fillers, facelift procedures, and laser treatments. You can talk to your dermatologist about which of these treatments, or which combination of these options, would be best for your skin.
If you aren't keen on the idea of applying conventional topical creams to your skin because they might contain harmful ingredients, there are also a lot of options within the realm of natural skin care products. These claim to use organic, natural ingredients, such as botanicals, extracts, and oils, that may help to reduce the appearance of existing wrinkles and potentially stop new wrinkles from forming. Like other over-the-counter creams, however, results can vary from one person to another, and consistent, long-term use may be required before you see a difference.
You May Also Like – Hearing Loss After Botox Treatment and 5 Effective Anti-Aging Supplements
Can acupuncture help aging skin?
Advertisement
*All individuals are unique. Your results can and will vary.
Did you know that acupuncture treatments might help diminish the signs of aging on your face? The idea is that acupuncture could help balance the internal body, thereby helping to improve the appearance of your skin from the inside out. For example, a practitioner can strategically apply needles to clear up acne, reduce puffiness, tighten the skin, brighten skin that's dull, or calm skin that suffers from conditions like rosacea [4].
Just keep in mind that, if you are thinking about trying acupuncture to reduce the appearance of your wrinkles, you may need to go for several sessions on a regular basis, and the results may only be subtle [5].
Which anti-aging skin care is the best?
Everyone's skin is different, so a bit of trial and error may be necessary before you find what works with your skin. In addition to trying the topical treatments and procedures that are available, taking steps every day to maintain the health of your body may help keep your skin glowing. For example, staying hydrated, eating a balance diet packed with fruits and vegetables, exercising, applying a moisturizer and sunscreen daily, and gently cleansing your skin daily may all help to inhibit premature aging. There are many anti-aging creams available, but Plexaderm can be one which will work for preventing wrinkles as well as aging too.
Final Verdict
Now that you know a few of the common causes of skin aging and wrinkles, you can better comprehend what is going on in your skin when those fine lines and wrinkles appear. Beyond knowing the causes of the signs of aging, however, you now also know what you can do about it. From skin care products that can be applied topically, to acupuncture treatments and surgical procedures, there are so many options to choose from in order to see what works for you. So here's to smoother, more youthful skin!
5 Sources
We review published medical research in respected scientific journals to arrive at our conclusions about a product or health topic. This ensures the highest standard of scientific accuracy.