In This Review
What is LifeCell cream?
Manufactured by South Beach Skin Care, LifeCell is an anti-wrinkle cream that is marketed in a very confusing but ultimately uninformative way.
There seem to be numerous official websites for LifeCell and it is hard to know exactly which is giving the correct information, although none of the sites are very professional either in tone or appearance.
How Does It Rate?
Overall Rating: 3.7
LifeCell
Brand Highlights
South Beach Skin Care is brands of this product.
LifeCell claims that formula have been featured on numerous news outlets.
But no clinical trial results are shown as evidence.
Key Ingredients
Silicon Dioxide
Ascorbyl Palmitate
Ubiquinone
Pros
Lifecell skin reverses the signs of aging.
Studies have been performed on some of the individual ingredients.
It works on signs of skin aging including wrinkles.
Cons
No free sample is offered
The South Beach Skincare company is not well-known
Information about LifeCell is extremely over-exaggerated
Ingredient information is confusing and limited
LifeCell is very expensive
The money-back-guarantee is not clear
---
Editor's Pick — Kollagen Intensiv improves the appearance of wrinkles and deep lines by about 354% as compared with placebo.
Learn More
How Does Lifecell Work?
The Lifecell anti-wrinkle cream contains strong chemicals that may improve the firmness of your skin by reducing wrinkles. They combine and collaborate in a variety of ways.
To begin with, Lifecell increases collagen formation. Furthermore, the good vitamins in it prevent the skin from UV radiation, which is one of the primary causes of wrinkles. The numerous components work together to remove free radicals that cause wrinkles while also strengthening your muscles and boosting skin firmness.
Advertisement
*All individuals are unique. Your results can and will vary.
Lifecell is also known to help with skin renewal and blood circulation.
Overall, Lifecell may reduce wrinkles and prevent new ones from emerging in four to six weeks.
LifeCell Skincare Ingredients – Are they Safe & Effective?
LifeCell anti-aging cream is used to help reverse the signs of aging and consumers are promised that they will see results in as little as 60 seconds after application.
From the information given on the websites and LifeCell blog, it is very hard to determine exactly what is lifecell made of and no actual product label is provided.
It is known that Lifecell Anti-aging Cream ingredients do include:
Silicon Dioxide
– It helps to deflect light and diminish the appearance of wrinkles.[1] Silica is most typically utilised in cosmetic and skincare products to improve formulation feel and texture.
Silica is a multi-functional substance with numerous effects. It works as an absorbing agent, bulking agent, anti-caking agent, and scrub abrasive.
Ascorbyl Palmitate
– A research reveal that Ascorbyl Palmitate possesses an antioxidant effect which is responsible for the protection of skin from free radicals and oxidation.[2]
The anti-oxidant Ubiquinone
– According to a study, it improves skin's Q10 level and provides antioxidative effects.[3]
Most of these ingredients OF lifecell cream reviews are not likely to be very well known to consumers and no full explanation as to what they do is given.
Overall though, deep wrinkle cream that really works to diminish fine lines, reduce the depth of wrinkles, fade age spots and increase and maintain skin hydration.
Advertisement
*All individuals are unique. Your results can and will vary.
SEE ALSO – Plexaderm Reviews and Lift Factor Plus Reviews
LifeCell FAQ's
Q: How To Apply LifeCell All-in-One Anti Aging Treatment?
A: Here's a quick step-by-step tutorial on how to apply LifeCell to ensure you get a lifetime of younger looking skin!
Q: What are the LifeCell cream side effects or Lifecell complaints?
A: According to Lifecell Skin Care Reviews, No side effects of LifeCell have been reported yet. According to SiteJabber, LifeCell Cream has a consumer rating of 1.74 stars from 47 reviews indicating that most customers are generally dissatisfied with their purchases.
Q: Is LifeCell safe during pregnancy?
A: LifeCell is safe to use during pregnancy. As the Society of Obstetricians and Gynaecologists of Canada notes, topical creams can cross the placenta and enter the baby's bloodstream. And some common ingredients in anti-aging products, including retinoids, should be avoided during pregnancy, according to Health.com
Q: Is LifeCell only for women?
A: No, Lifecell skin cream can be used by both. LifeCell for men, women and works equally.
Q: Do you need to have a prescription to buy LifeCell?
A: No, its not necessary to have a prescription to buy LifeCell.
Q: Does Lifecell work on all complexions?
A: LifeCell is known to work on every complexion.
Q: Is LifeCell hypoallergenic?
A: According to dermatological assessment, LifeCell has been proven hypoallergenic
Q: Are LifeCell products paraben-free?
A: As per LifeCell reviews, the cream is paraben-free.
Q: Could it be used for African American women?
A: The short answer is yes, LifeCell contains Retinol and it can be as good for African American skin as it is for lighter skin tones. Retinol has a ton of anti-aging advantages, from minimizing dark spots to renewing collagen production.
Q: What are some similar products to LifeCell Cream?
A: Similar products include Rodan And Fields Acute Care, StriVectin-SD and Vibriance Super C.
Q: Where to Buy LifeCell anti aging cream?
A: 'LifeCell' can be purchased from Amazon, Walmart and also through their Official Website
Q: What are the different LifeCell products?
A: LifeCell products are as follows:
LifeCell Cooling Under-Eye Treatment – Price: $127.00
LifeCell Neck Firming Serum – Price: $139.00
LifeCell pH Balanced Cleanser – Price: $39.00
LifeCell Hair Restoration System – Price: $189.00
Q: Who sells LifeCell anti aging cream?
A: LifeCell anti aging cream can be bought from Amazon and Walmart and also from lifecellskin.com (official Website)
Advertisement
*All individuals are unique. Your results can and will vary.
Q: Does Lifecell cream work?
A: The LifeCell anti-wrinkle cream has powerful ingredients that may improve the firmness of your skin by reducing wrinkles. They combine and collaborate in a variety of ways. In four to six weeks, Lifecell can reduce wrinkles and prevent them from forming again
READ NEXT – DRMTLGY Reviews and Genucel Reviews
LifeCell Skincare Reviews – Final Verdict
Most of the information is written in an extremely over-exaggerated way, it is very repetitive and takes away from the credibility of the product and the company.
No consumer would be advised to purchase the LifeCell all in one anti-aging treatment given the unprofessional appearance of the website, the limited formula information, and lack of details regarding the manufacturers. But before and after changes can be seen by using LifeCell skin care cream.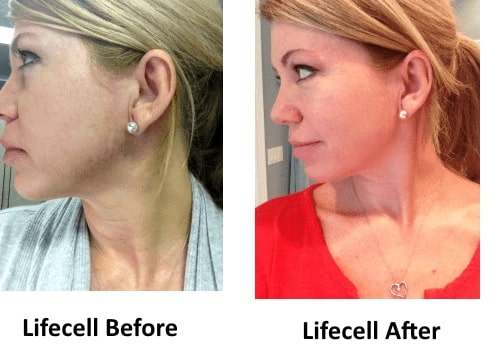 In addition to this, LifeCell anti-aging wrinkle cream is very expensive and despite a generous money-back offer, there is no guarantee that it will have the miraculous age-reversing effect on the skin as is promised.
However, interested customers can look into best anti-wrinkle cream review which may help you to choose the better one.
As we age the composition, texture and appearance of our skin changes. Signs of skin aging include wrinkles, fine lines, loss of moisture, uneven tone, and dull, tired-looking skin. There are countless anti-wrinkle creams on the market promising to make skin look and feel younger. Many anti-wrinkle creams promise everything short of a facelift or to provide the much sought after "fountain of youth". In reality most are just moisturizers marketed as anti-aging products.
Below you'll find some of the most effective wrinkle serum/cream formulations on the market today, in our opinion.
Our Top Wrinkle Cream Choices
Verdict on Claimed Benefits: Below is our summary of the available evidence for the claimed benefits of below mentioned anti-aging products and anti-wrinkle creams based on the available research:
Kollagen Intensiv - Skinception | Collagen Renewal For Ageless Skin

Fills in Fine Lines*
Gold Star Evidence
Diminishes Crows Feet*
Gold Star Evidence
Minimizes Dark Circles*
Gold Star Evidence
Evens Skin Tone*
Strong Evidence
XYZ Smart Collagen | The Best Collagen Cream
Wrinkles Reduction*
Gold Star Evidence
Improves Skin Firmness*
Gold Star Evidence
Improves Skin Texture*
Strong Evidence
Smart Collagen Management*
Strong Evidence
Serious Skincare Insta-Tox - Instant Wrinkle Eradicator
Decreases Sagging Skin*
Gold Star Evidence
Reduces Under-eye Puffiness*
Moderate Evidence
Instantly Fills Deep Lines And Wrinkles*
Strong Evidence
Eliminates Crows-Feet*
Strong Evidence