What is Triple Leaf Detox Tea?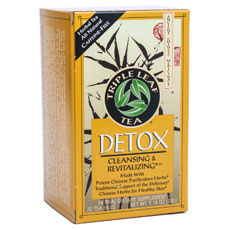 Triple Leaf Tea Detox is a supplement that is designed to help you detoxify your body through a refreshing drink. It enhances your body health by eradicating the toxic agents in your body system. This keeps you safe from ailments and diseases caused by these toxins. It is a blend of tea and herbal supplements. It is manufactured using the age-old Chinese way with more than 20 Chinese ingredients. It is available on the company's official website.
How Triple Leaf Tea Detox Works?
Triple Leaf Tea Detox works by enabling your body to shed toxins regularly in a natural way. It contributes to boosting your energy levels and lowering the red blood cell count in the blood for it to purify your bloodstream. It keeps away diseases and ailments that might be as a result of toxins in your body at bay. This helps to promote good health and strengthen your immune system. The ingredients promote calm and peaceful emotions to the user. This tea also supports healthy functions of various vital organs such as the kidney, lungs, liver and skin.
Triple Leaf Detox Tea Ingredients – Are they Safe & Effective?
Ginger – has the capabilities to cure an array of diseases as well as a great detoxifying agent.
Red clover – this flower part is used for making medicines that are used to treat various diseases. It also adds to the tea flavor.
Japanese Honeysuckle – it helps your body to get rid of toxins.
Dandelion – it is effective in increasing bowel movement and controlling internal gas and stomach upsets. It is therefore used as a detoxifier.
Chinese Cinnamon
What are the Advantages of Triple Leaf Detox Tea?
This product helps to keep your body from toxins
It is made from natural ingredients hence it is safe to use
The refreshing drink will boosts your energy level
The product aids in weight loss
It improves your immune system, thus enhancing your overall wellness
You May Also Like – Calorad
What are the Disadvantages of Triple Leaf Detox Tea?
The product should not be used by nursing mothers and pregnant women
It should not be used by children with less than 18 years
It comes with a neutral taste to be used as a beverage
The company does not offer a money back guarantee in case of any dissatisfaction
The product should not be used by anyone with chronic diseases or recent surgeries
The effects of some of the ingredients are unknown
FAQ's
What are the dosage instructions of this product?
It comes inform of tea and thus it can be used as a daily beverage. You can take 1-2 bags of tea when hot. If you prefer stronger tea, you can use more than 2 bags. For effective results, use Triple Leaf Tea Detox product twice in a day.
Triple Leaf Tea Detox Side Effects
Triple Leaf Tea Detox has no known side effects since it is made from natural ingredients. Most of the customers have reviewed the product positively. However, it should not be used by children, pregnant women, and nursing women.
Alternatives to Triple Leaf Detox Tea
Triple Leaf Detox Tea Review – Final Verdict
Triple Leaf Tea Detox is claimed to be an effective product that helps you to maintain a fit and healthy body. It works mainly by helping your body to do away with toxins. The refreshing drink is easier and faster to use. It is also necessary to take a well-balanced diet. It also aids in weight loss, boosts your energy level and improves your immune system. It is necessary to carry out research about the product to ascertain for its ingredients effectiveness and safety. You can also consult a physician on the same.
Below you'll find some of the most effective weight loss supplements on the market today, in our opinion.
Our Top Rated Weight Loss Supplement
PhenQ Complete Meal Shake

Boosts Energy and Controls Cravings*
Helps Shed Excess Weight*
Helps Meet Weight Loss Goals*
Promotes Appetite Suppression*
Boosts Energy and Controls Cravings*
Helps Shed Excess Weight*
Helps Meet Weight Loss Goals*
Promotes Appetite Suppression*
Boosts Energy and Controls Cravings*
Helps Shed Excess Weight*
Helps Meet Weight Loss Goals*
Promotes Appetite Suppression*
Boosts Energy and Controls Cravings*
Helps Shed Excess Weight*
Helps Meet Weight Loss Goals*
Promotes Appetite Suppression*