In This Review
Biguerlai Tea Overview
Biguerlai Tea is a weight loss of cum detoxifying tea. This supplement can remove excess wastes and toxins that have accumulated in the body over time and as such expel them out consequently leaving the body clean, pure and optimally performing, speaking from a physiological perspective.
In addition to that, the tea is also an effective weight loss agent particularly owing to the removal of the excess body weight in terms of wastes and also keeping the body in prime condition for the rigorous weight-loss period that one has set.
This slimming product can also treat constipation and related problems of the digestive system.
How Does It Rate?
Overall Rating: 3.5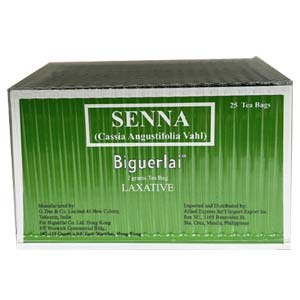 Biguerlai Tea
Brand Highlights
Manufactured by G. Das & Co. Limited.
Biguerlai Tea is a "slimming" product that aids in the elimination of harmful impurities and impurities from the body, alleviates constipation, and promotes weight loss.
Uses natural Ingredients.
Pros
It cleans the digestive system of the body by eliminating impurities and toxins.
It improves the digestive process.
It prevents constipation.
The tea promotes a healthy life style.
It is suitable for all body types.
It also improves the body's physiological performance.
It promotes weight loss by facilitating the reduction of fat deposits in the body.
Cons
Insufficient ingredient list: it is not known whether Senna is the only ingredient in the product or whether there are other trace ingredients. The manufacturer is very vague about this.
Adverse side effects: Senna is known to cause uncomfortable side effects in some of its users namely stomach cramps, bowel movements and in extreme cases, diarrhea.
There is inadequate clinical evidence to support its weight loss claims.
There is no pricing information provided.
In addition to that, there is no money back guarantee either.
---
Biguerlai Tea Ingredients – Are They Safe And Effective?
The human body holds waste products and impurities from the different systems of the body such as the digestive system.
If these impurities accumulate in the body for long periods of time, the body starts to become sluggish and as a result, physiological processes slow down than usual and in worst-case scenarios, leads to other complications.
This toxic build-up in the colon can also lead to weight gain. Biguerlai Tea contains solves these problems by cleansing the colon and generally the digestive tract of these impurities which also explains why it treats constipation.
The cleansing process improves the performance of the body's physiological activities thus providing a positive environment for weight loss as well.
Senna extract
– This Chinese herb has been used for generations to cure bowel complications as well as constipation[1].
It cleanses the digestive system of toxins and impurities and has been recognized as a non-prescriptive laxative. It is the predominant ingredient in the formula, apparently.
Biguerlai Tea Questions and Answers
Q: What are Biguerlai Tea Dosage Instruction?
A:
Heat water until lukewarm temperature.
Add the bag of the tea to the water and brew.
The recommended dosage for this tea is a maximum of one brew per day.
Q: What are some similar products to Biguerlai Tea?
A: Similar products include BioFit Tea and Pinalim Tea.
Biguerlai Tea Review – Final Verdict
Biguerlai Tea is a good detoxification supplement that can effectively eliminate impurities from the body system in as far as its working process and the main ingredient is concerned.
However, this slimming supplement has credibility issues that still need to be resolved especially with reference to its unconfirmed weight-loss claims.
The supplement is also missing key information crucial to the buyers-complete ingredient list and the price.
Below you'll find some of the most effective weight loss products on the market today, in our opinion.
Our Top Rated Weight Loss Shakes
PhenQ Complete Meal Shake

Boosts Energy and Controls Cravings*
Helps Shed Excess Weight*
Helps Meet Weight Loss Goals*
Promotes Appetite Suppression*