Nutrisystem Protein Shakes Overview
Nutrisystem protein shakes are a product that aims for reducing weight. It comes in powdered form to be mixed in water. It has four different flavors
Creamy chocolate
Refreshing coffee
Smooth vanilla
Sweet strawberry
The shake contains 1 gram fiber, 15 grams of protein, 110 calories, per serving 6 grams sugar and 8 grams of carbohydrate. Nutrisystem protein shakes also offers a Money back guarantee within 14 days with the remaining food. They provide two different diet plans, one for diabetics and one for vegetarians.
Manufacturer Information and Claims about Nutrisystem Protein Shakes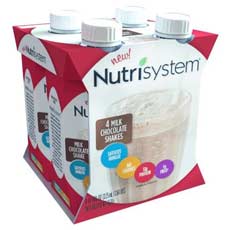 Nutrisystem is a US based company that offers weight loss products and programs. The foundation offer protein shakes and protein bars in various delicious flavor. They offer home delivery services. Nutrisystem claims to offer a dietary supplement that is high in whey protein and fiber. Moreover it is also rich in vitamin C and calcium.
One glass of protein shake per meal will keep you feeling full and satisfy your hunger needs. Nutrisystem offers a proper diet program to follow with their protein shakes that will help you get rid of unwanted weight and then keep it off.
Nutrisystem Protein Shakes Ingredients
Whey protein concentrate: Whey protein concentrate contains low but significant amount of fat and cholesterol and high level of lactose (bioactive compounds and carbohydrates) and protein. It is a byproduct of cheese. The right amount of whey protein concentrate helps burn fat specially if taken before a workout and it also suppress hunger and reduce appetite.
Calcium Phosphate: It helps strengthen your bones and protect your teeth.
High Oleic Sunflower Oil: It helps control cholesterol level and also aids in prevention of heart diseases.
Vitamin A Palmitate: It is known for maintaining body cells. It is used in the treatment of skin and eye related problems.
How Does Nutrisystem Protein Shakes?
Nutrisystem protein shakes provide you with a perfect amount of protein which will satisfy your appetite and reduce your hunger. Although this shake is not a meal replacement but you can couple it with some low calorie food items to make one healthy and non fattening meal.
The protein contained in the mix helps lose weight particularly if you are a regular workout person.
Nutrisystem Protein Shakes Pros
The protein in the shake helps control your appetite and burn fat.
It makes you feel light and active.
Nutrisystem protein shakes have three flavors.
Shakes taste pleasant and satisfy your sweet tooth.
It comes with a 14 days money back guarantee.
Nutrisystem Protein Shakes Cons
May cause constipation and headaches.
May cause dizziness and fatigue.
You may complain about gas.
Pregnant and nursing women should avoid Nutrisystem Protein Shakes.
It is not recommended for people under the age of 18.
You will have to follow a proper exercise program along with the protein shakes to drop weight.
Good About Nutrisystem Protein Shakes
Nutrisystem protein shakes are protein rich dietary supplement that has good nutritional value and if consumed with proper diet plan can help you deal with a lot of your physical problems along with the healthy loss of weight. It has a money back guarantee if you are not satisfied with it. It comes in four pleasant flavors and helps you satisfy your sweet cravings without increasing your weight.
Suggested Dose
The suggested dosage of protein shakes is 2 times a day at least 30-45 minutes before the major meals. It will leave you feeling full, suppress your hunger and lead you to eat smaller portions, eventually resulting in the reduced weight.
Where to Buy?
You can buy nutrisystem protein shakes from an online store. You can either buy one or a pack of seven protein shake mix. Also the company offers you with a proper diet plan along with their protein shakes for best results.
What Kind of Reviews are Out there for Nutrisystem Protein Shake?
Nutrisystem protein shake customers have mixed reviews about the dietary supplement. Most of customers are satisfied and feel the product and their program has positively helped them lose weight and manage their eating habits for good. They declare this product to be the best they have ever tried. But only a few complained that the frozen meals they offer in their program are terrible and therefore they could not follow the program.
Read Next – LA Slim Whey
Conclusion
Nutrisystem protein shakes are a good source of protein and healthy nutrients for our body. The program they offer helps improve the eating habits of customers and keep them feeling full. There is no harm in going for it if you wish to lose a few pounds in a healthy way. Nevertheless no supplement should be taken without consultation of a physician who can tell you if the ingredients of the product are good for your body and whether it will help you in a way it promises.
Below you'll find some of the most effective weight loss supplements on the market today, in our opinion.
Our Top Rated Weight Loss Supplement
PhenQ Complete Meal Shake

Boosts Energy and Controls Cravings*
Helps Shed Excess Weight*
Helps Meet Weight Loss Goals*
Promotes Appetite Suppression*
Boosts Energy and Controls Cravings*
Helps Shed Excess Weight*
Helps Meet Weight Loss Goals*
Promotes Appetite Suppression*
Boosts Energy and Controls Cravings*
Helps Shed Excess Weight*
Helps Meet Weight Loss Goals*
Promotes Appetite Suppression*
Boosts Energy and Controls Cravings*
Helps Shed Excess Weight*
Helps Meet Weight Loss Goals*
Promotes Appetite Suppression*