FatBlaster Shakes
FatBlaster shake is a fat killing diet product with the sole purpose of reducing weight.
The new FatBlaster Shakes are filled with nutrition, fibers, vitamins, and minerals. These shakes give you the feeling of being full and give you all the energy you need.
This increases the body metabolism and finally leads to weight reduction.
FatBlaster Shakes Description
The FatBlaster shakes are a blend of different natural and healthy ingredients, which catalyze the fat burning rate of the body.
It helps you cover and control different angles of weight loss, giving you a full weight loss program.
Some of the important areas the shake targets include diet, nutrition, supplementation, and exercise. It is the new easy way to lose unnecessary weight.
FatBlaster Ingredients
Following are the ingredients of the product according to the available data from the manufacturers.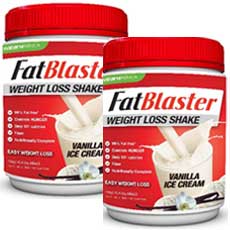 Energy or Calories: FatBlaster contains 509 to 879 KJ of energy or calories. These calories are vital for the body to properly function and perform day to day activities because they provide an ideal source for energy to your body. However, too much of it can cause weight gain that is why the product provides just enough for the body according to its daily requirements.
Proteins: Proteins are an important biological compound. It helps to keep your body and muscles healthy especially when you are on a strict diet. Fish, eggs, and meat are a great source of proteins; you can also get them from different vegetables. The product contains 6.5 g to 15.3 g.
Fat: The product contains total of 2.4 g of fat. The fat is a high requirement for the body to get energy when it needs and doesn't get enough food. It acts as a reserve; your body burns fat to give you the necessary amount of energy it needs to stay active.
Carbohydrate: The product contains 17.8g to 13.1 g of carbohydrates. These carbohydrates are an important source of energy for the body.
Sugars and Dietary Fibers: The product contains 132 to 260 mg of sugar which is also a source of energy for the body; the however excess amount of sugar is dangerous for the body. Moreover, the body contains 15.4 to 27.7g of dietary fibers, which are used to decrease the want to eat and to fill the stomach.
Minerals: The shake contains a huge variety of natural minerals which are necessary to keep your body healthy and maintain it well. These include Riboflavin 0.85mg, Niacin B3, Vitamin C 16.5mg, Vitamin D 5mg, Vitamin E 5 mg, Vitamin B6 0.7mg, Vitamin B12 1mg, Folate 100mg, Vitamin A 257 mg , Magnesium 135mg, Calcium 400 mg, Phosphorus 250mg, Zinc 3mg, Iodine 75mg , Biotine 5 mg, Pantothenic Acid 0.8 g, Vitamin K 33 gm, Chromium 30gm, Copper 0.5 gm, Manganese 0.86 mg and Potassium 210 mg.
Advantages
Reduces weight as a result of increased metabolism.
Increases stamina.
Boosts energy levels.
Suppresses the appetite.
Disadvantages
Not permanent. Rapid weight gain is reported as soon as the users stop using the product.
Usage Instructions
You need to mix one sachet of FatBlaster shake into skin mil (250ml). Now to make a nice shake you either need to shake the mixture well or blend it until it gets completely dissolved in water.
Do not keep or store the shake after making it, you must drink it immediately.
Tip: to consume fewer calories you can use water in place of skim milk.
Caution
2 liters of water should be consumed every day for as long as you are taking FatBlaster. For maximum results, you must put yourself on a diet that has controlled calories along with a regular exercise program.
If you are pregnant, breastfeeding or under 15 years of age then do not use the product.
The product contains milk products, soy products, and milk, people who are allergic to these ingredients should avoid this product.
The product is gluten-free and should be stored below 30 degree Celsius in a dry place.
It is specially designed for obese people who expect rapid weight loss when losing extra weight gets vital for someone after doctors recommendation.
The product should not be considered a replacement for your diet.
Read Next – Insta Ketones Reviews
Conclusion
The FatBlaster Shake is a weight killing product specially designed for the over-weighted obese people who need to lose the weight on an urgent basis on doctor's recommendation.
The product is highly effective for a short term weight loss, however, does not guarantee weight loss for a longer period of time. Like any other weight reducing the program, it also works effectively in the short run.
People with various allergies should avoid the product on the doctor's consultations. Not suitable for children under 15 years old. The product increases and balances the body's metabolic system which starts burning extra fat stored in the body.
The users apart from enjoying the benefits might also have to face some disadvantages like rapid weight gain after stopping the program, headaches, weakness, and dizziness.
We encourage to check out other alternatives like Hydroxycut Instant Drink Mix, Garden Of Life RAW Fit, and Ideal Shake.
Below you'll find some of the most effective weight loss supplements on the market today, in our opinion.
Our Top Rated Weight Loss Supplement
PhenQ Complete Meal Shake

Boosts Energy and Controls Cravings*
Helps Shed Excess Weight*
Helps Meet Weight Loss Goals*
Promotes Appetite Suppression*
Boosts Energy and Controls Cravings*
Helps Shed Excess Weight*
Helps Meet Weight Loss Goals*
Promotes Appetite Suppression*
Boosts Energy and Controls Cravings*
Helps Shed Excess Weight*
Helps Meet Weight Loss Goals*
Promotes Appetite Suppression*
Boosts Energy and Controls Cravings*
Helps Shed Excess Weight*
Helps Meet Weight Loss Goals*
Promotes Appetite Suppression*