What is Xyngular Core?
The Xyngular Core is a wellness line with a range of products designed to help you lose weight, tone your muscles, and increase energy. Their weight management plan is based on using nutritional kits (capsules, liquids, and drink powders), and meal replacement plans.
Each nutritional kit has a proprietary blend of ingredients that help to maintain appetite control.
More so, the supplements offered by the manufacturer are; appetite suppressants, detoxifiers, meal replacement shakes, fat burners, and sleep-regulating supplements.
How Does It Rate?
Overall Rating: 3.2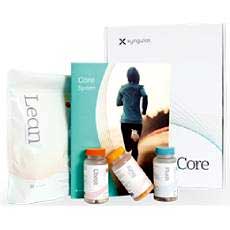 Xyngular CoreX Reviews
Brand Highlights
This range of weight loss product is manufactured and distributed by Xyngular Systems.
The company operates directly from the U.S, and Canada.
They manage the sales to consumers through a pyramid system of multi-level (MLM) marketing.
Brand claim that there is no side effects.
Key Ingredients
Xyngular Core Lean
Xyngular Core Xyng
Xyngular Core Cheat
Xyngular Core Flush
---
Pros
The fat-burning nutrition kit helps to promote appetite suppression
The formula may boost your mood and rate of metabolism
According to the manufacturer, the nutrition kits are designed to promote weight loss by increasing fat oxidation
Apart from weight management, it may improve your digestive health and aid nutrient absorption
Cons
The supplement is a multi-level (MLM) marketing exclusive, and it's not sold in the pharmacy.
The prices tags on the kit are too expensive. It discourages consumers from completing the weight loss program
The consumer might need to spend more and purchase all four products to enjoy the maximum benefit from the Xyngular Core brand
---
How Does Xyngular Core work?
The Xyngular Core supplement is a blend of proprietary ingredients in starter and transformation kits. The Xyngular Core fat burning program is designed with a 'simple and complete' kit for adults.
The kit contains different products. They are designed to help consumers tone up their body shape, support their physical exercise regimen, and maintain slimmer physiques. The four main Xyngular Core products perform specific functions.
The Xyngular Cheat is a capsule that increases satiety while preventing the absorption of calories. The Xyngular XYNG is a capsule that boosts mood, energy, and suppresses appetite. The Xyngular Lean is a premium protein shake that offers nutritional value. The Xyngular Flush is an all-natural cleanser.
Xyngular Core Ingredients – Are They Safe and Effective?
The Xyngular kit includes dietary supplements with respective ingredients. Even when the product is designed for weight management, each formula has a specific purpose.
Xyngular Core Lean
– Is a blend of whey protein powder. According to its manufacturer, this meal replacement shakes contains vitamins, amino acids, digestive enzymes, and minerals. This product contains 50 calories per serving.
Xyngular Core Xyng
– Is a blend of natural ingredients that suppresses appetite. It also helps to boost metabolism, and mood. According to its manufacturer; the product contains caffeine anhydrous, Garcinia cambogia, White willow bark extracts, Cayenne pepper fruit and bitter orange extracts. Yohimbe bark extract has been effective for weight management[1]. Bioprine, Rhodiola root extract, and 5-HTP are included.
Xyngular Core Cheat
– Is a fiber product of 2 capsules per serving. According to its manufacturer, the capsule contains Konnyaku root powder (Glucomannan), Phytosterois, Hydroxypropyl cellulose, and Green coffee bean extracts (GCE) is an active weight-reducing agent[2].
Xyngular Core Flush
– Is a detoxifier that contains Senna leaf powder, cinnamon bark powder, and slippery elm bark powder. According to its manufacturer, the toxin-expelling formula also contains dry garlic, aloe vera, fenugreek seed, and Gandelion root powder. More so Ginger root extracts provide digestive stimulatory effects[3].
Read More Article Here:
Here's a list of Xyngular Core product range include
Lean – The appetite suppressants and meal replacement shakes product. Lean has 10g of protein in each 50 calorie serving, and contains vitamins and minerals. The formula in Lean offers nutrition and helps you attain satiety.
XYNG – The appetite suppressants, energy and metabolism booster product. XYNG helps to control healthy weight by restricting the accumulation of calories. More so, XYNG may increase your natural energy, boost mood, and appetite.
Cheat – This appetite control supplement has a proprietary bend of organic formula in the shape of capsules. The active compound in Cheat is fibre, and it's from the Japanese Konnyaku root.After consumption, the capsule is expected to form a gel, trap the food in your stomach and increase your satiety. While boosting fiber intake, Cheat helps to control cravings.
Flush – It's a digestive tract (gut) health cleanser that helps consumers' resets their body in a natural manner. The gut is a common passage for toxins to buildup, and the toxins affect your immune system.So Flush may help consumers boost intestinal health, and nutrient absorption while combating microorganism affecting their natural defenses.

FAQ's

Q: How Should You Use the Xyngular Core Product?

A:

Xyngular Core Lean – Use a regular tablespoon, and add a one scoop of Xyngular Core Lean protein to a cup of beverage.
Xyngular Core Xyng – Without eating food, ingest one capsule of Xyngular Core Xyng (before 3:00 p.m.) daily, and drink plenty of water.
Xyngular Core Cheat – Consume one capsule before eating any meal, and you will gain satiety with a loss of appetite for food.
Xyngular Core Flush – Skip your dinner as you prepare to sleep at night; then consume two capsules in an empty stomach. However, you must refrain from taking the daily dosage after 10 consecutive days.

The manufacturer recommends consumers to track their weight loss progress after a treatment plan of 10 days.

Q: How Much Does Xyngular Core Cost?

A: The official website of Xyngular products doesn't give detailed price information. However, independent distributors have different prices for all Xyngular products in the suggested retail and membership categories.

Q: What is Xyngular Core's Return Policy?

After signing up to enjoy Xyngular products, you can return the product and get a refund (excluding delivery charges and membership fees) within 30 days. However, damaged products will not be accepted by the manufacturer.

Q: Does Xyngular Core Offer a Free Trial?

A: There's no option for free trials.

Read Next – Skinny Fit Keto


Xyngular Core Review – Final Verdict

The Xyngular Core product is a range of supplements. While the Lean has digestive enzymes, vitamins, and minerals that have a sweet taste of shakes, the Cheat is an all-natural fiber that increases satiety.

These nutritional packages may help consumers achieve weight loss, increase rate of metabolism and support detoxification. The Xyngular XYNG may energize your body, and boost your mood.

Unlike other effective weight loss dietary supplements that are sold as single products, the manufacturer of Xyngular products expect consumers to use the kit for optimal result.

However, it's not cost-effective to rely on Xyngular products for your weight loss program when you could spend less the price to obtain safer weight loss pills.

There are alternatives of safe & natural weight loss supplements if you don't get the desired results with this Xyngular Core brand.
Below you'll find some of the most effective weight loss supplements on the market today, in our opinion.
Our Top Rated Weight Loss Supplement
Verdict on Claimed Benefits: Below is our summary of the available evidence for the claimed benefits of below mentioned diet pills and weight loss supplements based on the available research: