In This Review
What is TrimStix?
TrimStix is a dietary supplement in the form of a drink mix stick. It should be added to water and taken daily after lunch.
It is designed to control cravings by suppressing the appetite, thus controlling the food intake.
It also balances blood sugar levels in the body. Regular use also helps to boost the energy levels of the user.
Advertisement
*All individuals are unique. Your results can and will vary.
It involves powerful and active ingredients that boost its performance and effectiveness.
How Does It Rate?
Overall Rating: 3.2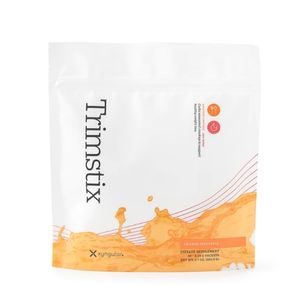 Xyngular TrimStix Reviews

Brand Highlights
The manufacturer of this product is widely known as Xyngular Corporation.
The company available not only in the US but also in the UK.
They are committed to their work to ensure they offer the most quality and effective appetite suppressant.
Key Ingredients
Myrica Rubra
White Willow Bark Extract
Coffea Robusta
Garcinia Cambogia
L-Carnitine
Fibersol Soluble Corn Fiber
Green Tea Leaf Extract
Citrus Aurantium (Bitter Orange)
Fucoxanthin Rich Seaweed
Pros
It may help to eliminate excess and unwanted weight.
It may help to balance blood sugar levels in the body.
It boosts energy levels.
It suppresses appetite by controlling food intake.
It Gives a Feeling of Fuller After Eating That Doesn't Let You Overeat.
Cons
TrimStix contains caffeine, which can negatively affect some people who prefer to avoid caffeine or cannot sleep after consuming caffeine.
The ingredient bitter orange extract has been shown to have links to cardiovascular system problems and other health issues in some individuals.
Some people have been affected by nausea and dizziness while taking TrimStix.
Cost is quite expensive as compared to other similar products.
---
How Does TrimStix Work?
This weight loss supplement is commonly known for delivering quality and reliable results to the user. It is boosted by potent and natural ingredients synergize to convey maximum benefits. It is claimed to work to cut down excess weight and stubborn fats accumulated in the body.
It also works by controlling appetite and cravings, thus regulating food intake. It also helps balance blood sugar in the body and improves body energy levels. Only the committed customers are promised to receive the above benefits.
They claim that it helps an individual with issues of overweight and obese lose weight safely and tremendously. This is achieved by burning fats that accumulate in the body and also prevents further deposition.
It also controls cravings by suppressing appetite by regulating food intake. It also works great to regulate blood sugar levels in the body. Regular consumption also helps to boost energy levels in the body.
Users benefit from overall body health when they choose to be committed to this product. It is readily available online via the company's official website.
TrimStix Ingredients – Are they Safe & Effective?
The manufacturer also incorporates the following ingredients during the formulation of the above product:
Myrica Rubra
– Research efforts suggest Myrica Rubray[1] extracts contain antioxidants that exhibit bioactivities counteracting inflammation, allergens, diabetes, cancer, bacterial infection, diarrhea and other health issues. It is also known as "Yangmei" which motivates digestion and reduces thirst.
White Willow Bark Extract
– Willow Bark[2] contains a chemical called salicin, which is similar to aspirin. It has pain and fever-reducing effects on the body. People commonly use willow bark for back pain, osteoarthritis, fever, flu, muscle pain, and many other conditions.
Coffea Robusta
– Regular consumption of Robusta Coffee increases energy and improves mental health and well-being in the users. It contains antioxidants, which are beneficial for skin and hair. It has a diuretic effect that can help with nausea.
Garcinia Cambogia
– Garcinia Cambogia[3], a tropical fruit also known as the Malabar tamarind, is a popular weight-loss supplement. It supports appetite and could also help blood sugar and cholesterol control. Its active ingredient, hydroxycitric acid (HCA), is believed to inhibit fat production, reduce appetite, and enhance metabolism, making it a popular choice for individuals seeking to achieve their weight loss goals.
L-Carnitine
– L-Carnitine[4] is often promoted as an aid for weight loss. It boosts the energy that improves exercise performance and increases the metabolism that, enhances a sense of general well-being.
Fibersol Soluble Corn Fiber
– Soluble Fibre helps meet the population's fiber needs and provides health benefits, including supporting gastrointestinal health, maintaining healthy blood glucose, and enhancing calcium absorption, thus potentially supporting bone health.[5]
Choline
– Choline[6] is one of the important nutrients that a body requires for optimal health. It impacts healthy liver function. It's important in the nervous system and in developing normal brain functioning. It is also useful in regulating memory, mood, muscle control, and other functions. .
Green Tea Leaf Extract
– Green Tea Extract[7] is rich in antioxidants. It has multiple benefits that promote heart health, can help in weight loss, good liver functioning, and increases energy and metabolism.
Citrus Aurantium (Bitter Orange)
– Citrus aurantium refers to the Bitter Orange Fruit.[8] It is useful to ease anxiety, digestion, and sleeplessness. Citrus aurantium has also been effective in weight loss.
Fucoxanthin Rich Seaweed
– Fucoxanthin[9] is rich in antioxidants and has an anti-inflammatory effect. Studies have shown that Fucoxanthin has been effective in the prevention of chronic diseases. It is rich in brown seaweed.
FAQ's
Q: Is TrimStix Safe For Use By Both Gender?
A: Yes. It produces equal results to both men and women.
Q: How Should You Take Trimstix?
A: Take one serving of Trimstix after a meal with 8-12oz of cold water.
Q: Is this all-natural?
A: Yes, it is formulated with a patented proprietary blend of all-natural ingredients. Trimstix is a delicious 10-calorie drink that curbs unwanted cravings to support healthy weight loss.
Q: How Much Caffeine in Trimix?
A: According to the information available on the official site, there is 50 mg of caffeine per serving.
Q: What Are The Side Effects Of Trimstix?
A: The known side effects of Trimstix include nausea, dizziness, and jitteriness. The bitter orange extract may cause or exacerbate certain health conditions in some individuals.
Q: When should you take Trimstix?
A: According to the official site, it is advisable to take TrimStix after lunch as it helps to curb the afternoon sugar cravings.
Q: Is there any difference between the flavors of Trimstix?
A: Apart from the difference in the flavors, there are no differences in the ingredients.
Q: How Much Does TrimStix Cost?
A: The wholesale price of the Trimstix Xyngular is $67.99, and the retail price is $82.00.
Q: Where To Purchase Trimstix?
A: TrimStix can be purchased through the Official Website or through their distributors.
Read Next – Trim Fit Garcinia
Trimstix Alternative
TrimStix Review – Final Verdict
Individuals who wish to maintain good health may add this drink to their diet plan. It is also available in the form of a transformation kit. This product is specially designed to help with weight loss. Users only take eight days to notice the changes.
It is simple to use and does not require any backup. It improves fat burning and prevents further fat deposition in the body. It is available on the company's official website.
TrimStix is a dietary supplement specially designed to help reduce excess weight. It may work by controlling hunger and cravings.
It may also reduce the appetite thus regulating the food intake. It may work greatly by burning all fats deposited in the body while preventing further accumulation. Regular consumers also enjoy other benefits such as balanced blood sugar and increased energy level in the body.
This product is made from all-natural ingredients that may work in synergy to produce desirable results for the consumer. It aims at maintaining the high health levels of the user. You may also check some other best weight loss pills reviews that can help you to take a strong decision.
Below you'll find some of the most effective weight loss products on the market today, in our opinion
Our Top Rated Weight Loss Shakes
Verdict on Claimed Benefits: Below is our summary of the available evidence for the claimed benefits of below mentioned weight loss shakes, and juices based on the available research:
Ikaria Lean Belly Juice | Advanced Superfood Complex

Supports Weight Loss*
Gold Star Evidence
Increases Metabolism*
Gold Star Evidence
Promotes Healthy Digestion*
Gold Star Evidence
Improves Bowel Regularity*
Strong Evidence
PhenQ Complete Meal Shake | Weight Loss Support
Provides Complete Nutrition*
Gold Star Evidence
Suppresses Appetite*
Gold Star Evidence
Controls Food Cravings*
Gold Star Evidence
Boosts Metabolism*
Strong Evidence
Lanta Flat Belly Shake | Metabolic Superfood Formula
Supports Digestive Health*
Gold Star Evidence
Helps Reduce Belly Fat*
Strong Evidence
Control Blood Sugar Levels*
Strong Evidence
Provides Essential Nutrients*
Strong Evidence