In This Review
What Is Metabolic Renewal?
The Metabolic Renewal Program is a specialized weight loss program for women. This 12-week program works by optimizing metabolism to help women lose weight. This is done by emphasizing the use of minimally processed foods and whole foods to promote healthy metabolic activity. The Metabolic Renewal program is based on a 4-part framework that includes mindset, movement, meals, and metabolic. These are based on the work of the Personal Trainer and Naturopathic Medicine Physician, Dr. Teta.
Let's look at these in detail below.
Mindset – The first part of this framework is designed to teach participants techniques to reduce stress and adopt a positive mindset. This approach is supposed to help balance their hormones and kickstart their weight loss program. Participants also gain access to a like-minded community of people on Facebook. Community support is known to boost weight loss. As a result, it is a good strategy for those who have a tough time adjusting to a positive mindset.
Movement – These Metabolic Renewal exercises include a series of non-exercise associated thermogenesis (NEAT), also known as non-exercise types of movement.These activities aim to bring more movement through daily activities instead of heavy workout exercises. Since these exercises are easier to incorporate into everyday life the program is easy to follow through.
Meals – Participants are required to complete a quiz that determines their hormone type. Based on the hormone type an individualized diet plan is prepared. It targets specific health issues such as:
Weight gain (especially around the belly)
Poor sleep
Low energy levels
Imbalanced cravings and hunger issues
Mood swings
Weak heart, bones, or mind
High fluctuating weight
The idea behind the diet is that people have specific hormone types. According to Dr. Teta's research, women's bodies have 7 major hormone types. With an imbalance in hormonal activity, issues like weight gain, sleeping disorders, etc. are common. Hence, the diet aims to balance these hormones to promote overall balance in the person's life.
Metabolics – The fourth part of the framework focuses on regular and scheduled Metabolic Renewal Workouts. If you're thinking these routines focus on sweating it out you drop, then you're in for a surprise. This program only requires you to do three 15-minute workouts once a week. The idea behind it is that small duration workouts produce results for up to 48 hours. Hence, helping participants optimize their workouts.
How Does It Rate?
Overall Rating: 3.6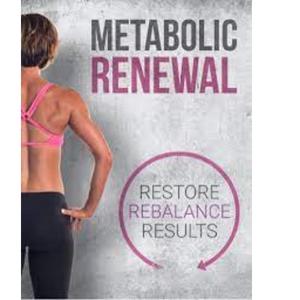 Metabolic Renewal

Brand Highlights
Natural Health Sherpa is the parent company of Metabolic Renewal.
Based on things like the company's complaint history and business procedures, the Better Business Bureau (BBB) has given the company a "A" rating as of right now.
Additionally, there are a number of worries regarding the program's effectiveness and safety, particularly in light of the scant research that supports it.
Positive reviews claim that the program is successful and mention how simple, quick, and straightforward the workouts are.
Pros
Focuses on whole foods and nutritious diets
Variety of individualized meal options and recipes
Support group for accountability
No heavy workouts
Targeted towards women
Cons
Post-program weight gain risk
Restricted carb intake
Not useful in long term
---
Permitted Foods and Ingredients
Meat: beef, lamb
Fish: salmon, cod, sardines, mackerel, or halibut
Poultry: turkey, chicken, or duck
Vegetables: Any vegetable can be included
Fruit (limited portions): apples, oranges, kiwi, melons, plumbs, berries, or peaches
Grains (limited portions): Quinoa, couscous, rice, oats, or buckwheat
Fats and oils (limited portions): olive oil, avocados, coconut oil, butter, or ghee
Herbs and spices: turmeric, garlic, cumin, black pepper, or cinnamon
Beverages: water, unsweetened tea, or black coffee
Prohibited Foods and Ingredients
Processed foods: frozen meals, breakfast cereal, microwave popcorn, granola bars, or any fast food
Sweets: cake, cookies, baked goods, or candies
Salty snacks: crackers, pretzels, or potato chips
Sugar-sweetened beverages: soda, sweet tea, sports drinks, or energy drinks
Added sugars: honey, table sugar, maple syrup, or brown sugar
The program also suggests recipes that participants can prepare using these ingredients. However, the recipes are quite tough and might discourage some participants from following through.
Price of the Metabolic Renewal Program
The program costs a one-time fee of $37 to $97. It is available in an online-only option or a DVD plus online option. Users can purchase it from the website or Amazon for the same price. Those purchasing the program directly from the website get a 90-day money-back guarantee.
Advertisement
*All individuals are unique. Your results can and will vary.
See Also – Bio X4 Reviews
Metabolic Renewal Program – FAQ's
Q: What Can You Eat on a Metabolic Diet?
A: A metabolic diet includes weight loss foods such as meat, fish, poultry, herbs, spices, fruits, vegetables, grains, and fats in limited proportions.
Q: How Much Weight Can I Lose on a Metabolic Diet?
A: A metabolic diet followed with discipline is said to reduce 10 to 13 pounds of weight in 12 weeks.
Q: What Is the Metabolic Diet Plan?
A: A metabolic diet plan is a weight-loss strategy that builds your body with proteins and fats instead of solely focusing on carbohydrates.
Q: How Can I Renew My Metabolism?
A: Renew your metabolism by practicing a holistic 4-part framework from Dr. Teta's Metabolic Renewal program.
Q: Does a Metabolic Weight Loss Diet Work?
A: Low carb diets help people lose weight but the diet itself is not very sustainable in the long term. Without carbs, the body relies heavily on fats therefore the risk of cardiovascular diseases increases.
Hormone-type diets hold little depth and their accountability isn't tested yet. So, it's difficult to say whether these diets work. There is similarly no study that people have hormone-type bodies.
Q: How Much Does a Metabolic Renewal Program Cost?
A: The program costs from $37 to $97.
Q: Safety and Side Effects
A: Side Effects
The program hasn't been studied extensively, so its effectiveness and dangers are still unconfirmed.
However, the program does restrict carbohydrate consumption. Therefore, the chances for increased cravings are high. Especially for those with past eating disorders.
There is also a complicated risk to brain function from reduced-carb use, which might not affect all participants the same. Other than the meal plan there's no significant risk from following the other parts of the program.
Advertisement
*All individuals are unique. Your results can and will vary.
Safety
The program does not include any strenuous activity so it is rather safe in that sense. While the food restrictions aren't too strict and allow a fair amount of healthy, nutritious food.
Since it is targeted towards women the program is safer than programs that apply the one-size-fits-all approach. Men have considerably different metabolisms, resulting in lots of inaccurately designed health plans for women that offer poor end results.
Overall, it is a safe program for women with no major health issues.
Read Next – KetoBello Patches
Metabolic Renewal Review – Conclusion
Our review of the Metabolic Renewal program is that it is a multi-factor strategy to deal with weight loss. The program promises participants weight loss, reduced stress, better sleep, and much more. Its approach affects the body and mind in positive ways, even if the weight loss claims aren't strongly scientifically backed.
The program certainly challenges popular conventions about weight loss strategies. Most participants loved it for its simple and easy-to-complete activities.
There's also little to say in terms of hormone-based diets due to the lack of research. While low-carb diets are not sustainable, they do give you faster results. Therefore, this program is good for someone who needs to lose weight quickly.
However, if you've suffered from any previous eating disorders, then consulting your doctor may be the best thing for you.
Below you'll find some of the most effective weight loss supplements on the market today, in our opinion.
Our Top Rated Weight Loss Supplement
Verdict on Claimed Benefits: Below is our summary of the available evidence for the claimed benefits of below mentioned diet pills and weight loss supplements based on the available research:
Product reviews are provided for informational purposes only and reflect solely the views and opinions expressed by the contributors and not those of Consumer Health Digest. We do not verify or endorse any claims made in these reviews. Please read the full product reviews disclaimer. *All individuals are unique. Your results can and will vary.
Ask a Question
Have a Question? Please Tell Us What We Are Missing Here!
PRODUCT NAME
Metabolic Renewal
PRODUCT BRAND
Metabolic Renewal
PRICE (in USD)
$37 - 97
ITEM FORM
program
INGREDIENTS
Grains, Fats and oils, Herbs and spices and Beverages.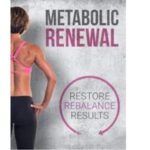 **This is a subjective assessment based on the strength of the available informations and our estimation of efficacy.
*Result may vary. If you are pregnant, nursing, have a serious medical condition, or have a history of heart conditions we suggest consulting with a physician before using any supplement. The information contained in this website is provided for general informational purposes only. It is not intended to diagnose, treat, cure, or prevent any disease and should not be relied upon as a medical advice. Always consult your doctor before using any supplements.
Disclosure of Material connection: Some of the links in the post above are "associate sales links." This means if you can click on the link and purchase an item, we will receive a commission. Regardless, we only recommend products or services which we use personally and/or believe will add value to our readers. We are disclosing this in accordance with the Federal Trade Commission's 16 CFR, Part 255: "Guides Concerning the Use of Endorsements and Testimonials."