In This Review
Overview – Fenphedra
One thing that might scare off many buyers right from the start is that the product is marketed as the first chemically altered diet pill.
The captivating, user-friendly website goes into great detail on how the product works. It says many people are overweight due to an imbalance of stress hormones in the brain that increase appetite ("bad") versus those that suppress it ("good").
Since Ephedra was banned, Fenphedra was created as a new product to take its place. Even though Ephedra was dangerous, causing death sometimes, it was still considered one of the best ingredients for weight loss.
Advertisement
*All individuals are unique. Your results can and will vary.
People might be interested in purchasing this best weight loss medicine because it has an 'Ephedra' sounding name.
How Does It Rate?
Overall Rating: 3.8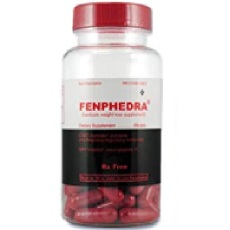 Fenphedra
Brand Highlights
Fenphedra has a lifetime guarantee.
It's ingredients have been successful in increasing the metabolism.
Key Ingredients
Cocaine Amphetamine Regulatory Transcript
Di Caffeine Malate
Chocomine
Phenylethylamine
Synephrine
Pros
It has a lifetime guarantee.
A few of the ingredients have been successful in increasing the metabolism[4].
The website is easy to access and user-friendly.
Cons
A few people complained of disorientation and feeling tired.
The manufacturers of

Fenphedra

do not provide any information about themselves.
There is no clinical evidence to support the theory of the "good and bad" battle.
The company fails to correlate taking the product and completing a diet and exercise regime.
The product is advertised illegally by using 'spamming' through e-mail.
Nuphedragen and many other brands are exactly the same as this product.
The website contains a couple of testimonials.
---
How Does Fenphedra Work?
Fenphedra capsules contain two main formulas. The first is a blend known as CART or Cocaine Amphetamine Regulatory Transcript.
Despite its name, there is no cocaine in the product. What it does contain is a cocaine alternative, a blend of Di Caffeine Malate, the substance found in cocoa plants called Chocomine, the love drug Phenylethylamine[1], which is found in chocolate, and Synephrine HCL[2], which is related to the drug Ephedra.
These ingredients work together to activate metabolism and decrease appetite as documented in Vysera CLS Review. According to the company, something called NPY comprises another part of the formula. It contains Humulus Lupulus[3], which is made from hops and has been used to treat insomnia.
It creates a calm feeling in the user and prevents the production of the stress hormone neuropeptide-y, which increases appetite and can cause overeating.
Ingredient amounts are not given on the website. It is recommended the user take the product twice daily, a half hour before lunch and a half hour before dinner. Each bottle of the product contains 69 capsules and they claim that it will last 34 1/2 days.
What Are the Ingredients?
Cocaine Amphetamine Regulatory Transcript
– The CARTPT gene in humans encodes the neuropeptide protein known as Cocaine and amphetamine-regulated transcript, or CART. CART possesses the functional characteristics of an endogenous stimulant and appears to play functions in reward, eating, and stress.
Di Caffeine Malate
– According to recent studies, consumers typically claim that caffeine malate gives them more energy, better attention, a faster metabolism, less exhaustion, and helps with weight loss.
Chocomine
– Chocolate is beneficial to your digestive system and may aid with weight loss. Eating chocolate every day may seem like the last thing you should do to lose weight, but the study indicates that dark chocolate may help regulate appetite, which may aid in weight loss.
Phenylethylamine
– The body naturally contains a substance called phenethylamine. It can also be created in a lab. There isn't sufficient scientific evidence to support the use of phenethylamine for improving mood and attention, weight loss, depression, or sports performance.
Synephrine
– Because it may generate considerable increases in basal metabolic rate and lipolysis by activating the 3 adrenergic receptors, p-synephrine is frequently used in weight loss products.

Frequently Asked Questions
Q: Where To Buy Fenphedra?
A: You can purchase Fenphedra from its official website.
Q: How To Take Fenphedra?
A: As per the recommendation, take the product twice daily, a half hour before lunch and a half hour before dinner. Each product bottle contains 69 capsules, claiming that it will last 34 1/2 days.
Fenphedra Reviews from Customers
Fenphedra Best Product!
It is the best weight loss product I have ever used in my life. It really helps me to lose 30 pounds of weight and also improve my metabolism rate-Jenifer B.
Fenphedra Worth Money!
Fenphedra is cost-effective product for weight loss. It easily burns excess fat in the body. I would suggest this supplement to people who are looking for weight loss-David
Read Next – CarniSlim

Fenphedra Review – Final Verdict
The ingredients used in Fenphedra could lead to successful weight loss. It should be noted, however, that there is an overall impression that weight loss is easy as popping a pill.
It's common knowledge that diet and exercise must be included in any weight loss program. They make the buyers feel like they are getting a great deal by the old marketing trick of reducing the "regular" price of $179.99 down to just $69.99. Even when it's at a reduced rate, it is way too expensive for a one-month supply for a questionable product.
'Fenphedra' can be purchased through their Official WebSite. Meanwhile, there is an alternative like Vysera CLS Review so you should check it out and decide for yourself.
Below you'll find some of the most effective weight loss supplements on the market today, in our opinion.
Our Top Rated Weight Loss Supplement
Verdict on Claimed Benefits: Below is our summary of the available evidence for the claimed benefits of below mentioned diet pills and weight loss supplements based on the available research: