In This Review
What is Diadem Forskolin?
Diadem Forskolin is a nutritional supplement intended to help people lose weight fast.
The main ingredient in the product is Forskolin, which is a plant extract that has shown in some studies that it could assist in weight loss and burning fat.
It's also meant to provide you with a lot of extra energy, which can help you to be more motivated for your workout.
According to information provided about the product, it may work in several other ways too such as supporting the metabolism, enhancing the mood by boosting serotonin[1] levels and acting as an appetite suppressant.
How Does It Rate?
Overall Rating: 3.6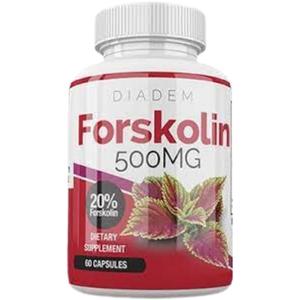 diadem forskolin

Brand Highlights
The manufacturer of this supplement is a company called Diadem Forskolin. This is a recently founded organization which is in the health supplement industry.
Specifically, the company directs its supplements towards dieters that are looking to lose weight and make changes to their body.
The products are composed of natural, organic ingredients like plant extracts which tend to have fewer side effects than prescription diet pills.
Pros
This product may help your body to burn fat.
The supplement could give you increased energy.
Diadem Forskolin might improve your mood.
It may help you lose weight fast.
The product could curb your hunger, so you eat less.
Cons
There are many popular weight-loss ingredients omitted from the formula.
Studies have shown that Forskolin isn't ideal for weight loss[4].
This product may be associated with side effects like insomnia, dry mouth, and dizziness.
It is not clear if Forskolin causes allergic reactions in some users.
---
How Does Diadem Forskolin Work?
As noted, this weight loss product may work in several ways, including increasing your metabolism[2], so you burn calories faster and lose weight.
The product may also curb your appetite so that you don't feel as hungry. This way, you won't snack or overeat, and your weight-loss progress will be faster.
Diadem Forskolin Ingredients
The only ingredient in this product is 100% Forskolin[3]. There are no other ingredients listed, not even inactive filter ingredients. This substance comes from the Indian Coleus plant (Plectranthus Barbatus).
Advertisement
*All individuals are unique. Your results can and will vary.
It has long been known to have powerful medicinal properties, having been used since ancient times to treat cardiovascular conditions and other health issues.
Studies show that it may be able to prevent new fat from forming, and there's a limited amount of evidence showing that it may be effective in promoting weight loss.
---
Read More Article Here:
FAQs
Q: How Should You take Diadem Forskolin?
A: The recommended dosage of this supplement is 2 capsules per day. Take one in the morning and one in the evening with a full glass of water.
Do not exceed the recommended dosage or it could cause harm to your body. In addition, follow a healthy diet while taking this product.
Q: How Much Does Diadem Forskolin Cost?
A: There's no price listed for this product anywhere on the internet, not even on third-party sites featuring the supplement.
Q: What is Diadem Forskolin's Return Policy?
A: There's no return policy listed anywhere online.
Q: Does Diadem Forskolin Offer a Free Trial?
A: Yes, the company is offering a free trial of this product. You sign up for the trial and they send you a one-month supply of the supplement – one bottle. All you pay are the shipping and handling fees.
Q: What are some similar products to Diadem Forskolin?
A: Similar products include BioMax Pro, Tea Rexx and Chili Burn.
Diadem Forskolin Review – Final Verdict
Diadem Forskolin is a weight loss pills supplement based on the natural tree-extract Forskolin. The manufacturer claims that it can burn fatty acids and help the user lose weight quickly.
They also purport that it can increase your serotonin levels thus enhancing your mood, and suppress your appetite, so you eat less.
On the downside, this product is composed only of one ingredient, and the evidence for Forskolin as a powerful weight loss substance is rather limited.
Advertisement
*All individuals are unique. Your results can and will vary.
There are several other popular weight-loss substances that could have been included and since we aren't provided with a full ingredient list it's impossible to check whether there are any potential allergens.
There are also mild side effects that may occur when you're using this substance, including dizziness, insomnia, and fatigue.
This supplement is supposed to increase your energy levels, which can motivate you to exercise for longer. This will help you burn more calories and lose weight more quickly.
This product may interact with some medications, so check with your doctor before you start taking it and conduct your own research into the main ingredient to see if it's going to suit your needs.
Below you'll find some of the most effective weight loss supplements on the market today, in our opinion.
Our Top Rated Weight Loss Supplement
Verdict on Claimed Benefits: Below is our summary of the available evidence for the claimed benefits of below mentioned diet pills and weight loss supplements based on the available research: