In This Review
Alpha Cuts Overview
Alpha Cuts is a thermogenic burner dietary supplement that enables you to achieve your fitness goals.
It supports weight loss while promoting the growth of your muscles.
It claims to boost your energy, suppress your appetite. It is packed in a bottle containing 60 capsules each.
Advertisement
*All individuals are unique. Your results can and will vary.
How Does It Rate?
Overall Rating: 3.6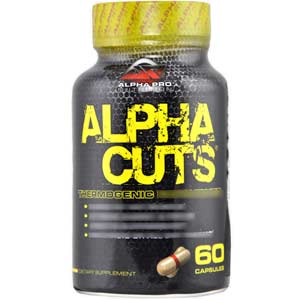 Alpha Cuts

Brand Highlights
Burns Fats.
Suppresses your appetite.
Provides thermo all day long.
Promotes muscle gain.
30-Days Refund Policy.
Key Ingredients
Alpha Lipoic Acid
Cinnamon Bark Extract
Oolong Tea Extract
Chromium Polynicotinate
Caffeine Anhydrous
Citrus Aurantium
Bioperine
Synepherine
Pros
Enables you to manage your weight effectively and safely
Suppresses your appetite levels
Aids in the development of your muscles
Contains all natural ingredients making it safe for use
Cons
Not suitable for children under the of 21 years, pregnant or nursing women
There is no mention of money back guarantee; whether they offer returns in case of any dissatisfaction or not.
---
How Does It Work?
This product works by promoting fat burning by inducing thermogenesis. It increases your metabolism to accelerate the rate at which body fats are broken down. It helps to suppress your appetite levels to reduce the intake of calories.
Alpha Cuts Ingredients – Are They Safe and Effective?
Alpha Lipoic Acid
– It is a fatty acid that is a potent antioxidant that helps increase insulin sensitivity, boost metabolism, and aid in weight loss[1].
Cinnamon Bark Extract
– It helps to fight free radicals, as it is rich in antioxidants[2].
Oolong Tea Extract
– It helps to accelerate weight loss by boosting your energy and enhancing the oxidation of fats[3].
Chromium Polynicotinate
– It helps to suppress your appetite levels, promote lipolysis, improve your mood and aid in the development of lean muscle[4].
Caffeine Anhydrous
– It helps boost your energy, metabolism, and power output and improves your mental focus[5].
Citrus Aurantium
– It contributes to thermogenic reactions in your body[6].
Bioperine
– Maximizes the absorption of other active ingredients[7].
Synepherine
– It helps to increase your metabolism and energy levels without increasing your heart rate or blood pressure[8].

FAQs
Q: How Do I Use This Product?
A: This product comes in capsules that are small and easy to swallow. You are recommended to take 2 capsules of this product in a day. You should not exceed the recommended dosage to avoid any adverse effects resulting from an overdose.
Q: What Are The Precautions When Using This Product?
A: You are cautioned not to take this product within 6 hours of bedtime. You should consult your doctor before using it if you are taking other medications. In case of any side effects, you should immediately discontinue using it.
Q: How Long Before I See Any Improvements?
A: The manufacturer claims that this product is fast-acting. However, the results might differ from one person to another.
Q: What Are the Possible Side Effects?
A: It has no known side effects associated with it. It is produced from natural ingredients that are considered safe for use. It is free of artificial colors.
Alternatives to Alpha Cuts
What Do the Reviews Say?
Works great!!!!
It really works well for me, and I have lost weight. If used correctly, you will lose weight, and it curbs your appetite more so. But it's good.
– Tatiana
Alpha Cuts – Final Verdict
Fitness enthusiasts desire a lean body physique, which has led to the formulation of numerous weight loss supplements to help you manage your weight effectively. They claim to help you achieve your fitness goals and attain the body physique you always desire.
Their popularity and saturation in the market have equally increased the difficulties of finding a reliable supplement. To know whether a specific product is the right weight management supplement, you need to research more on the ingredients used.
Some thermogenic fat burners have thermogenic effects on your body and are considered the most effective.
Alpha Cuts is a weight loss supplement that promises to help you manage your weight effectively, mainly by inducing thermogenesis.
It claims to stimulate the metabolic process in the body that helps to increase the burning of fats, suppress your appetite, boost your energy, and promote lipolysis.
It is always necessary to research on more information about this product and the ingredients used to formulate it. This ensures that the product is safe and effective for the user before purchasing it.
You will also be able to make an informed decision on whether to buy the Alpha Cuts or look for another alternative to lose weight.
Below you'll find some of the most effective weight loss supplements on the market today, in our opinion.
Our Top Rated Weight Loss Supplement
Verdict on Claimed Benefits: Below is our summary of the available evidence for the claimed benefits of below mentioned diet pills and weight loss supplements based on the available research: