In This Review
Overview of Nadinola Fade Cream
As you continue to expose yourself to the harmful UV rays and the harsh elements of the environment and then you can expect dark spots and hyperpigmentation. You can always hide these imperfections with makeup, but when you wash all that gunk off, then you'll see these spots marring your beautiful complexion once again.
Don't you want skin that looks perfect even from up close? This is when a skin brightener comes in handy. It's time to address the very root cause of your skin issues and do something about it by simply using the right product. With the ideal brand, you don't even have to hide your real skin. Of course, choosing which brand works best isn't always easy.
You'll find so many products out there and all of them promising to work better than anything else. So, which one should you invest in? It all really depends on you. There's a product called Nadinola Skin Discoloration Fade Cream. Should you get this? Read further before you decide.
In a world of skin brightening products, you may come across Nadinola Skin Discoloration Fade Cream. Sold makes this cosmetic brand at a variety of online retail shops. It works to lighten dark, uneven areas and moisturize the skin so that your skin is soft, smooth, and flawless.
It's best that you apply the skin brightener on a daily basis, and it promises to deliver results in a short amount of time. That's because Nadinola is made from potent ingredients that work hard to erase those dark spots.
How Does It Rate?
Overall Rating: 3.9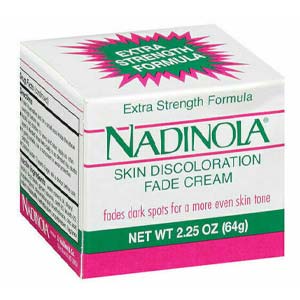 Nadinola Skin Discoloration Fade Cream
Brand Highlights
J.Strickland & Co. is the manufacturer of Nadinola Skin Discoloration Fade Cream.
The brand claims that this formula was uniquely formulated with carefully chosen ingredients that promise to brighten the skin.
Nadinola is a company that prides itself on formulating products for its consumers.
As per the brand claims, the skin brightening features seems to be a result of the potent ingredients used.
The company is based in the USA.
This skincare formula conditions and moisturizes your skin giving you a completely natural glow and smooth feel.
Pros
It might remove dark spots.
It may moisturize your skin & make it soft & more radiant.
The full ingredients can be accessed online.
It gives you a even skin tone.
Cons
Some of the ingredients used might be harmful to the skin.
It might cause skin allergies.
The supplement seems to lack informative details.
---
Nadinola Fade Cream Reviews – How Does It Work?
Nadinola Fade Cream has ingredients that help skin to brighten, reduce dark spots, and soften skin texture by eliminating rough blemish.
Nadinola Skin Discoloration Fade Cream Ingredients – Are they Safe & Effective?
The active ingredients found in Nadinola Skin Discoloration Fade Cream are as follows:
Hydroquinone (3%)
– It is a renowned compound which attributes skin-bleaching properties[1]. This supplement lightens dark areas like acne scars, age spots, and freckles.
According to the Journal of Clinical and Aesthetic Dermatology, Hydroquinone has proven to be effective in the treatment of hyperpigmentation.
Octisalate (3%)
– It effectively absorbs the UV rays while protects the skin from harmful effects that might be caused by skin exposure to sunlight.
Its inactive ingredients are Water, Mineral (Paraffinum Liquidum) Oil, Stearyl Alcohol, Decyl Oleate, Glyceryl Stearate[2], Oleth 20, Laureth 23, Propylene Glycol, Stearamidopropyl Dimethylamine, Citric Acid, Sodium Metabisulfite[3], Propylparaben, and Fragrance (Parfum).
Alternatives to Nadinola Skin Discoloration Fade Cream
Nadinola Skin Discoloration Fade Cream Questions and Answers
Q: How Should You Use Nadinola Fade Cream?
A: You can follow the instructions given on the product label which says that the product can be used by adults & children 12 years & older. You should apply this cream twice a day or you can consult with your doctor before using it.
Q: How Much is Nadinola Skin Discoloration Fade Cream?
A: This product is only available online only. You can research on any third party site to get its price.
Q: Is Nadinola Fade Cream Safe?
A: There's no doubt that Nadinola Skin Discoloration Fade Cream has worked for many users. It lightens age spots and gets rid of skin hyperpigmentation. It also comes with sunscreen, which means that you get the protection you need whenever you go out and get exposed to sunlight for a certain period of time.
However, many users are concerned about the fact that as a skin brightener, this contains hydroquinone. People have debated the safety of this product and studies have yet to show its long-term effects. And because it is made to be potent, it may not be safe for those who suffer from extremely sensitive skin.
Q: Will This Skin Discoloration Fade Cream Show Results?
A: Some of those who have tried Nadinola Skin Discoloration Fade Cream say that they did see signs of improvement after about a month. Then, there are those that have used this skin brightener in conjunction with other products. They didn't see results despite their efforts and are truly disappointed with the outcome. Instead of seeing dark spots fade, they didn't see an improvement in their complexion.
Q: What Can I Expect from Using Skin Discoloration Fade Cream?
A: It all depends on the type of skin you have. If you have sensitive skin, then you might expect to see rashes on your skin.
Q: Can this cream be used all over your body to lighten skin discoloration?
A: Follow all directions on the product package, or use as directed by your doctor. Before using, apply a small amount of this cream to an area of unbroken skin, and check the area within 24 hours for any serious side effects. For more information on Nadinola Skin Discoloration Fade Cream please visit Official Website.
Q: How do I purchase this cream?
A: Nadinola Skin Discoloration Fade Cream can be purchased through their official website.
Nadinola Skin Discoloration Fade Cream Review – Final Verdict
Nadinola Skin Discoloration Fade Cream Extra Strength Formula promises to eliminate dark spots and brighten your skin naturally. It seems to be a good choice due to carefully chosen ingredients which might offer the desired effects.
Unfortunately, this cream is composed of some ingredients which might be harmful to the skin and might not be suitable for sensitive skin type. For the better option, you may compare this review with the other best skin brightening cream.
Skin Brighteners aid in reducing post-inflammatory hyperpigmentation revealing even skin tone. Skin brighteners also can help revitalize tired and dull skin resulting in a youthful, healthy glow.
Below you'll find some of the most effective skin brightening products on the market today, in our opinion.
Our Top Rated Skin Brighteners
Verdict on Claimed Benefits: Below is our summary of the available evidence for the claimed benefits of below mentioned anti-aging supplements, creams, serums, and moisturizers based on the available research:
Essential Skin Food | Skin Nourishing Collagen Support

Diminishes the Dark Spots*
Gold Star Evidence
Boosts Skin's Plumpness*
Gold Star Evidence
Improves Skin's Radiance*
Gold Star Evidence
Brighten Skin Naturally*
Strong Evidence
Dermelect | Advanced Skin Formula
Nourish and Protect Skin*
Gold Star Evidence
Rejuvenate the Skin*
Strong Evidence
Non-Irritating Formula*
Gold Star Evidence
Suitable for All Skin Types*
Strong Evidence
Skin Whitening Forever | Whitening Your Skin Permanently
Minimizes Skin Pores*
Gold Star Evidence
Restores Uneven Skin Tone*
Strong Evidence
Enhances Skin Radiance*
Strong Evidence
Fades Discoloration*
Strong Evidence