In This Review
Overview of Super fade Cream
When searching for a skin-lightening product, there are so many brands to choose from. But among all of these products, only a few can deliver what they promise. So, just before you finally decide to buy anything, you should carefully research and get information about the product. Among the most talked-about skin-lightening products is Superfade Cream.
Super fade Cream is formulated to provide a skin brightening product to those who want to get rid of skin discoloration. With this product's formulation, the brand claims that it can effectively solve dark spots, freckles, etc. By applying this lightening cream, you get to have reduce the appearance of dark areas in your skin. Super fade Cream is priced at about $25.39.
How Does It Rate?
Overall Rating: 3.9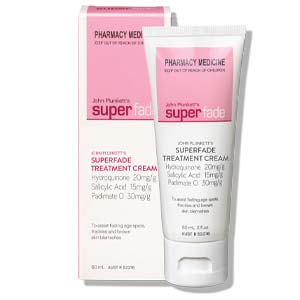 Superfade Cream
Brand Highlights
Superfade Cream is created by Plunkett Pharmaceuticals.
The company has been known to produce a wide array of products and among their top-of-the-line brand is the Superfade Cream.
Key Ingredients
Panthenol
Milk Protein
Soy Protein
Pros
The product is created by a highly reputable brand.
Can reduce the appearance of dark spots.
Can help you avoid skin discoloration.
Very easy to use.
Makes use of natural ingredients.
Cons
Superfade contains controversial ingredients namely Hydroquinone and Benzene 1 which are said to cause harm.
No money back guarantee.
---
How Does Superfade Work?
Superfade contains different ingredients that are known to be truly effective in removing freckles, blemishes, age spots, etc. The brand claims that it can give you a better skin tone with the product's strong formula. Unlike other products, the brand makes use of natural ingredients that can give you the best possible results. From dark spots to other forms of discoloration on your skin, the brand claims that with just a few weeks of use you can already witness a huge difference.
Superfade Ingredients – Are they Safe & Effective?
Before using any skin lightening product, you need to know the different ingredients that are used. The ingredients for Superfade Cream include the following:
Panthenol
– Known as a natural humectants, it is an ingredient that has good hydrating properties. It is widely used in various skin brighteners [1].
Milk Protein
– Derived either from enzyme or hydrolysis; milk protein is used for its strong absorption. It is used in various products like cleansers and moisturizers. It can soothe any irritated and dry skin [2].
Soy Protein
– This ingredient gives a lot of amazing benefits for people with combination skin. It is known to have amazing moisturizing properties perfect for those who have really dry skin [3].
Superfade – FAQ's
Q: Where to Buy Superfade?
A: Superfade Cream is readily available online. You can just purchase it over the Internet.
Q: How Long Will It Take to See the Results?
A: The results may differ depending on your skin condition. Since people have different needs, their skin's reaction also varies. When it comes to the results, the brand promises that it can deliver results in just a matter of 6 weeks.
Q: How to Use This Skin Brightener for Better Results?
A: For better results, you can either apply the product in the morning or evening. Just apply it directly to the skin.
Q: Are There Side Effects of Superfade Cream?
A: When using a skin-lightening product, you have to get to know more about the product. For this brand, there are no reported negative side effects. However, the product contains controversial ingredients that are said to cause harm.
Superfade Review – Final Verdict
With the available information and details, Superfade Cream appears to be a good skin-lightening product. It contains various natural ingredients that are known to have excellent skin whitening properties.
The only concern is that it contains ingredients that are quite controversial. If you have really sensitive skin, you have to be mindful when it comes to the different ingredients used. You can compare this skin brightener results with the other best skin brighteners to find the desired one.
Skin Brighteners aid in reducing post-inflammatory hyperpigmentation revealing even skin tone. Skin brighteners also can help revitalize tired and dull skin resulting in a youthful, healthy glow.
Below you'll find some of the most effective skin brightening products on the market today, in our opinion.
Our Top Rated Skin Brighteners
Verdict on Claimed Benefits: Below is our summary of the available evidence for the claimed benefits of below mentioned anti-aging supplements, creams, serums, and moisturizers based on the available research:
Essential Skin Food | Skin Nourishing Collagen Support

Diminishes the Dark Spots*
Gold Star Evidence
Boosts Skin's Plumpness*
Gold Star Evidence
Improves Skin's Radiance*
Gold Star Evidence
Brighten Skin Naturally*
Strong Evidence
Dermelect | Advanced Skin Formula
Nourish and Protect Skin*
Gold Star Evidence
Rejuvenate the Skin*
Strong Evidence
Non-Irritating Formula*
Gold Star Evidence
Suitable for All Skin Types*
Strong Evidence
Skin Whitening Forever | Whitening Your Skin Permanently
Minimizes Skin Pores*
Gold Star Evidence
Restores Uneven Skin Tone*
Strong Evidence
Enhances Skin Radiance*
Strong Evidence
Fades Discoloration*
Strong Evidence